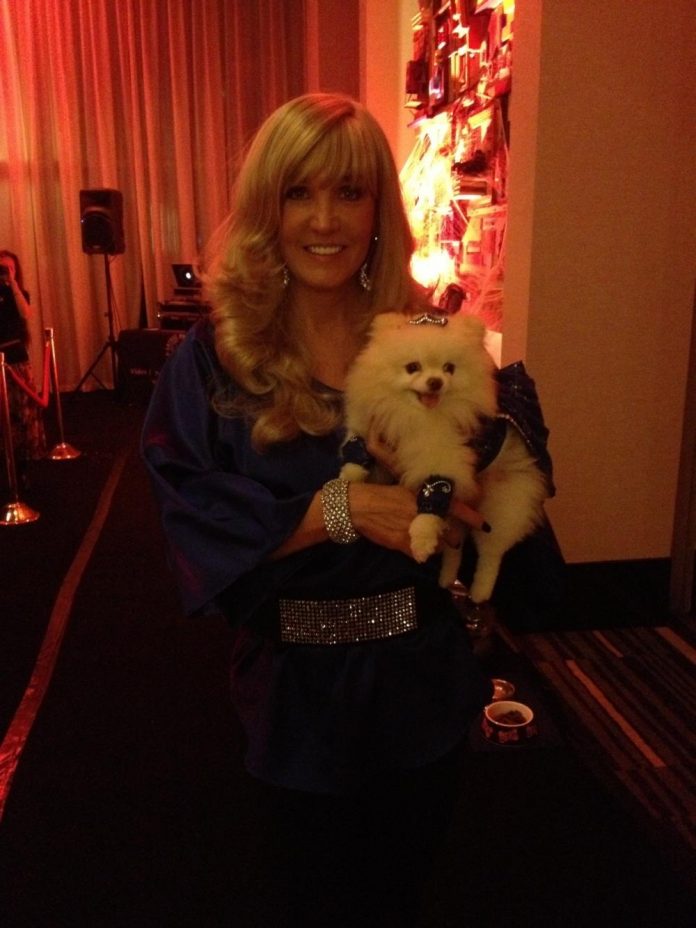 As one first-time Costumes on the Woof attendee observed as he scurried back to the bar Tuesday night, "My God, it looks like 'Best in Show' had a head-on collision with 'Toddlers & Tiaras' in here." Welcome to the third annual Halloween pet costume contest and benefit for Canine Assistants at the Loews hotel in Midtown where festively outfitted pooches and their owners try to outdo each other with a sea of sequins, flocks of feathers or a glitzy YouTube channel dedicated to their dog's accomplishments.
In my role as an Atlanta magazine columnist, I presided at the Costumes on the Woof judge's table, along with Q100's The Bert Show co-host Kristin Klingshirn and AJC Peach Buzz columnist Jennifer Brett. With 21 costumed canines and their owners (often in matching attire) marching toward us amidst a drool-inducing smorgasbord of doggie treats lined up to tempt the contestants, our task was onerous. Assisting us in our endeavors? An incredibly intuitive Loews waiter with close proximity to the bar.
Among the more creative costumes on the, um, catwalk? A dog named Otis arrived wearing an Elvis jumpsuit, tiny contestant Lovely was dressed as a Pam Am stewardess, complete with tiny passport and tickets and Coco, the vampire terrier with bloody whiskers who thoughtfully deposited a tiny leg from his mouth in front of us on cue.
After a lengthy debate between the judges and what appeared to a be a 12-minute dance remix of Baha Men's "Who Let the Dogs Out?" (the delay inspired one anxious attendee to inform me, "I'm having 'Glee' Regionals deliberation flashbacks!"), we had arrived at our winners. In a tie for third place: Dachshunds and Dragons and Cornbread the Circus Weiner; second place: Mimi the Peacock and in first place: Chloe as a "Dancing with the Stars" contestant. Did I mention that her costume came complete with a human dance partner, a miniature dance floor, mirror ball, mirror ball trophy, the reality show's theme music on an iPod and that she cha–cha-ed on command?
Chloe and owners won a weekend stay at the pet-friendly Midtown Loews.
Flanked in real peacock feathers, Mimi, a long-haired chihuahua was savoring her win with owners Benson Nanag and Jason Non. "I made Mimi's costume and I had it planned for a year now," Nanag told me afterward. "I made her costume last year as well. She was an angel. Her birthday was on the 16th. She just turned two. It probably took me two weeks to put the costume all together."
The evening's winner, Chloe, a tiny five-pound Pomeranian, was greeting fans, still perched on her dance floor. It was her third year in Costumes on the Woof competition but her first win (in 2011 she came in a "Black Swan"-inspired ensemble and in 2010 she arrived as a peacock). Smyrna resident and Chloe's mom Karen Lee-Christian says winning didn't matter to her or Chloe. "This event is so much fun it didn't really matter. This is my creative outlet. I love doing this. This is fun for me. It's gravy on top if she wins. Believe it or not, I started working on her costume last Halloween. I found the mirror ball down in Beau Rivage in Biloxi. I design all her clothes and a found a gentleman who builds doll furniture and he did the dance stage for me. It just kind of came together." For more information on Chloe, you can visit her blog at Chloe Princess Pom or her YouTube channel.