See all Best of Atlanta 2020 winners
Best Stage Set: Glo
Sometimes the best ideas are the simplest. Back in May, when we were all still figuring out where to buy toilet paper, the team at Glo—which stages live art engagements dreamed up by choreographer Lauri Stallings—thought to sow seeds of 37 native wildflowers on 2.5 acres at 17th and Peachtree streets. With support from the Dewberry Foundation, a small company performed in the "micro-prairie" in September, and the site was used again in preparation for a November Tanz Farm performance. Flowers were harvested and given to local essential workers during the summer, and supporters can still order free seeds in packets featuring Stallings's artwork and poetry by her Glo colleague Candice Thompson. gloatl.org
The increasingly vibrant Marietta Square has long been known for its First Friday events, showcasing makers, artists, shops, and restaurants. By April, five local art galleries had already taken their monthly exhibitions online, nabbing the URL onlineartwalk.com and earning notice from the Washington Post. Dk Gallery's 3-D tours allow viewers to "walk" around the show—clicking to zoom in, to reveal artists' statements, or even to measure a canvas. The best part? If you missed last month's show, you can catch up online.
Best Local Curator: Michael Rooks
Embracing Black, female, queer, and international artists with major acquisitions from heavyweights like Julie Mehretu, Kara Walker, Shirin Neshat, and Paul Stephen Benjamin, High Museum curator of modern and contemporary art Michael Rooks has become something of a local folk hero for his commitment to socially engaged art. That passion is founded on personal experience, coming out as a gay man during the AIDS crisis, when Rooks learned that "difference is something to value." In 2022, Rooks will turn to the subject that drives social activism from AIDS to Black Lives Matter: a desire for acceptance and respect. A blockbuster in the making, What Is Left Unspoken: Love will feature an international cast of 30-plus artists like Félix González-Torres, Ebony Patterson, General Idea, and Felicita "Felli" Maynard and will speak about the purest notion of all.
Best Open-Air Arias: The Atlanta Opera
General and artistic director Tomer Zvulun's mission is to "reimagine" opera. Under his direction, the Atlanta Opera's award-winning Discoveries series has taken chamber works to unconventional venues such as Paris on Ponce. That experience primed the company for its greatest experiment yet: performing an entirely reimagined lineup under a circus tent erected on the baseball field of Oglethorpe University. Bonus: A night featuring mezzo-sopranos brought hometown superstar Jamie Barton back to town. The much-anticipated 2021 season, ranging from Madama Butterly to the (R)evolution of Steve Jobs moves in its entirety to next year. After months of virtual concerts, we agree with Zvulun: "There's absolutely no replacement for the miracle of live performances."
Best Homegrown Film Talent: Danielle Deadwyler
With an ongoing commitment to Georgia-made indie films, Danielle Deadwyler had standout roles in locally lensed Watchmen and Atlanta—receiving a shoutout from the episode writer at this year's Emmy awards for her incredible performance in Watchmen's "This Extraordinary Being." This Grady High School and Spelman grad writes, acts, and directs, and her solo multimedia exhibition will be featured at Mint in January. She's just nabbed a role in the 2021 Netflix Western The Harder They Fall alongside Regina King and Idris Elba, and we're predicting more great things to come from this multifaceted powerhouse.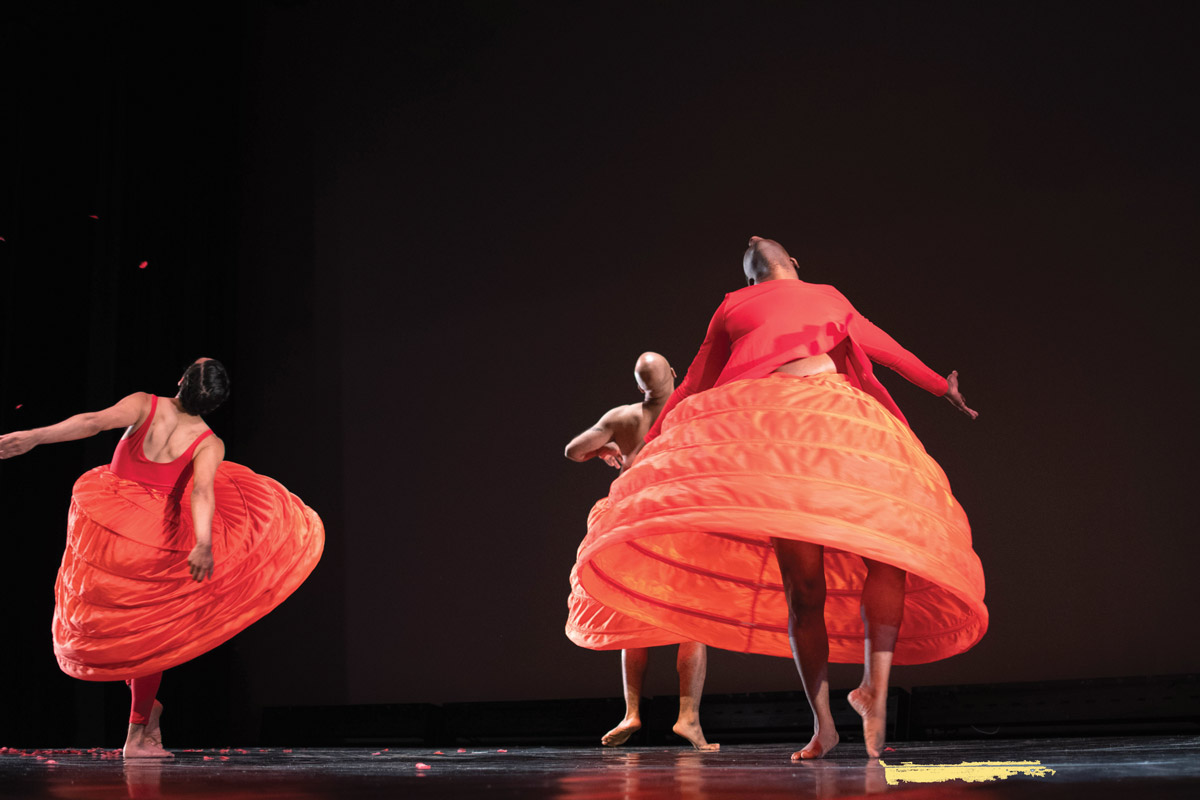 Best Online Access: Art Beats
It's a testament to Atlanta's collegial arts community that, within just a couple of months of Georgia's sheltering-in-place, members from all different disciplines—theater, dance, music, visual arts—had banded together to create a central online portal to keep fans updated on virtual programming from 78 outlets. Ironically, it's never been easier to sample the local repertoire. Enjoy live performances by Aurora Theatre, Dad's Garage, or the Center for Puppetry Arts. Join lunchtime stitching sessions, meditation workshops, or comedy happy hours. How about trying "Beginning Hip Hop," sponsored by the Atlanta Ballet's Centre for Dance Education? Come on—no one's watching. artbeatsatl.com
Photographer Sheila Pree Bright has made it her mission to go wherever there's unrest. She first rose to national acclaim nearly a decade ago for her Plastic Bodies series, which juxtaposed real women's figures with those of Barbie dolls. For #1960Now, she traveled to Black Lives Matter demonstrations in Atlanta, Baltimore, and Ferguson, Missouri between 2015 and 2017. Now, she's taking photos of how the city has been impacted by the Covid-19 pandemic—capturing long lines at the grocery store and empty shelves. Her black-and-white images render the best and worst of human nature in a way no one else can. sheilapreebright.com
Best Upstart Gallery: Mint
With an epic new 7,300-square-foot space in the booming Adair Park creative headquarters the Met, this indie gallery has hosted a rotating cast of adventurous curators and an ongoing Leap Year fellowship that provides support and a showcase for emerging artists. With their national W.A.G.E. certification, Mint Gallery is also making sure artists are paid fairly for their labor. Support Mint and artist-made goods at the Covid-safe holiday sale and exhibition MerriMINT. mintatl.org
Best Georgia Filmmaker Made Good: Danny Madden
At his Peachtree City high school, Danny Madden sold DVDs of his homemade films out of his locker to classmates for $1. Now, Madden's first feature, Beast Beast, is slated for a 2021 release. The Georgia-made title tells a story of three high school kids (featuring Danny's brother Will) growing up in a quiet Southern town. The director worked alongside Georgia-based producer Tara Ansley and executive producer Alec Baldwin, and some key members of the production team, like Madden himself, are alumni of McIntosh High School in Peachtree City. After a Sundance run, Beast Beast won this year's Georgia Film Award at the Atlanta Film Festival.
This has been a banner year for Jericho Brown. In May, he won the Pulitzer Prize for Poetry for his third book, The Tradition. In it, he offers an arresting examination of race through the lens of Greek mythology, our relationship to the natural world, and our interactions with each other—the title poem concluding with tragically familiar names: "John Crawford. Eric Garner. Mike Brown." We expect to hear more from Brown, who directs the creative writing program at Emory University. jerichobrown.com
Best Proof ATL Is a Contemporary Art Force: Yanique Norman and Paul Stephen Benjamin (tie)
Between them, Norman and Benjamin have been featured in exhibitions both locally at Atlanta Contemporary, the High Museum, and the Hudgens Center for the Arts (where Benjamin won the coveted $50,000 Hudgens Prize in 2019) and nationally at New York's Marianne Boesky Gallery, the NADA House, and the Studio Museum in Harlem. Challenging our views of race in often subtle, provocative ways, these accomplished artists have been in it for the long haul but continue to innovate and create socially relevant work. In the new year, look for Norman in a solo show at Georgia Southern University and in the Atlanta Biennial at Atlanta Contemporary. Benjamin will show his work at Prospect 5 New Orleans and the University of Kentucky Art Museum.
Best Film Events: Christopher Escobar
When movie theaters were shuttered by Covid, Atlanta Film Society executive director and Plaza Theatre owner Christopher Escobar launched pop-up drive-ins in the Plaza's back parking lot and at partner venue Dad's Garage. For the Atlanta Film Festival, he even created the first-ever, indoor drive-in at the massive Pratt-Pullman Yard warehouse. Like previous owners of the historic 1939 landmark, he's "determined to persist and press on." This month, he launches the PlazaPlay digital-streaming service, offering indie film, filmmaker workshops, collaborations with partners like Videodrome, and more, now viewable from the comfort of home.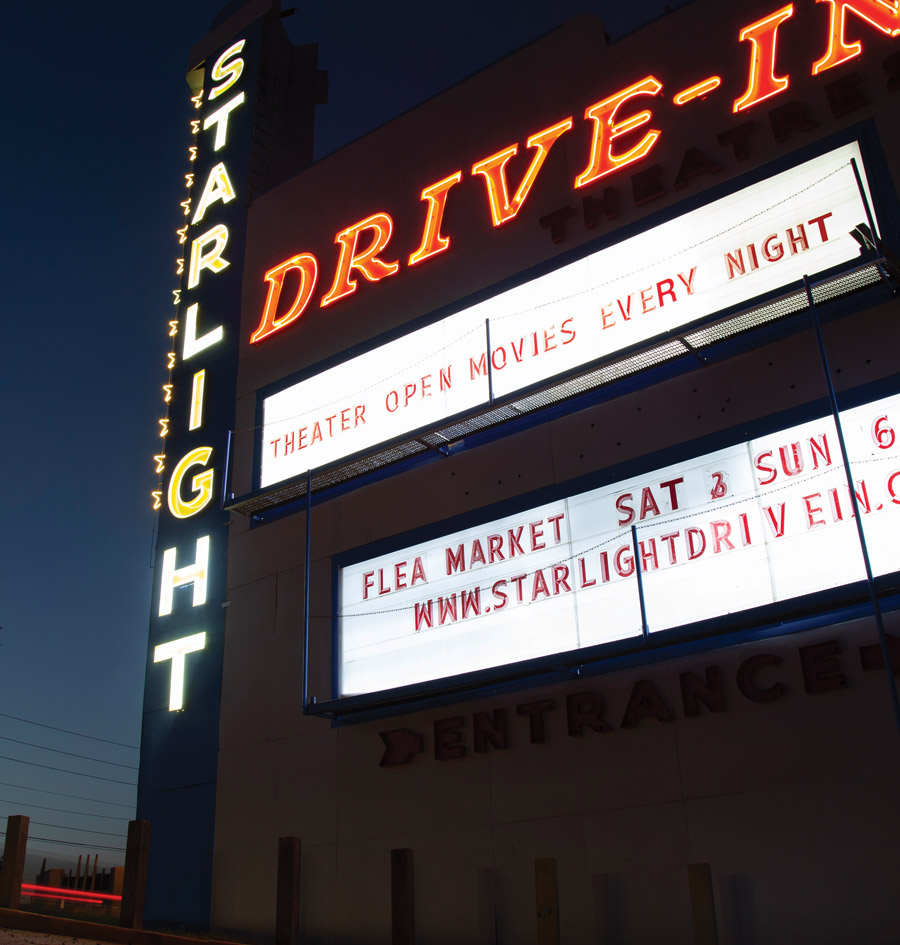 For many years, Starlight Drive-In Theatre has been a relic of the past, but what's old is new again. With the Covid-19 pandemic shutting down movie theaters across the country, many people returned to Starlight in order to experience the silver screen. Adult tickets are $10 and children ages five to nine years old are $1, making this an affordable, fun family outing. starlightdrivein.com
Out of Hand Theater stages original plays in living rooms across the city in hopes of sparking conversations among strangers. Last year, they hosted Decatur Dinners, using theater to discuss race at 100 homes in the area. This year, they've continued with virtual Equitable Dinners. Artistic director Ariel Fristoe and her team have commissioned a number of Atlanta-based playwrights to pen original scripts about various social issues, such as housing, education, and health—all experienced over dinner. outofhandtheater.com
Best Way to Get Your Kicks: Dad's Garage
The improvisers and comedians at Dad's Garage have kept Atlanta laughing for 25 years. The theater has been a training ground for up-and-coming performers, as well as a favorite place for established acts to test out new bits. This year, they haven't missed a beat. With a Twitch channel that's offering 24/7 content, from interactive improv games to classes for novices, they have kept the laughs coming. twitch.tv/dadsgarageatl
When RTJ4 was released in early June, as massive protests against police brutality sparked by the death of George Floyd were held daily in Atlanta and across the country, it was hailed as a necessary protest album, with lyrics that sounded as if they'd been written days, rather than months, prior to release: "And every day on the evening news they feed you fear for free / and you so numb you watch the cops choke out a man like me / Until my voice goes from a shriek to whisper, I can't breathe / and you sit there in house on couch and watch it on TV," Killer Mike raps on "Walking in the Snow," written as a reference to Eric Garner's cries that showed, in light of Floyd's death, how horribly history repeats itself. RTJ4 became a release valve for the anger and grief felt across the country without any hint of melancholy, just a 40-minute adrenaline rush worth listening to over and over again.
What's an amphitheater to do without concerts? From escape rooms to art classes for kids to morning sessions for seniors, Mable House has continued to find creative ways to engage new audiences. The drive-in Movies & Bands series featured four films with memorable soundtracks and cover band performances. This holiday season features a market, "art box mystery" craft subscriptions for kids, and free downloadable coloring books. mablehouse.org
Nestled in the Little Five Points Community Center—formerly Moreland Elementary School—Horizon might be Atlanta's scrappiest theater. So, it's no surprise that when Covid-19 hit, they quickly adapted. The Horizon Home series features original shows such as Cooking a la Lala with actress Lala Cochran, Tom Talks with director Thomas W. Jones II, and a variety of classes and workshops. Plus, they've turned the screen into a stage with original productions for the whole family. horizontheatre.com
Flux Projects is celebrating 10 years of pushing the boundaries of how Atlanta defines art. Their annual signature event, Flux Night, has brought thousands of people to different parts of the city for immersive experiences that combined an art crawl with a bar hop. This year, they've commissioned local artists to create public art for the digital realm, including a series of virtual Juneteenth celebrations featuring Charmaine Minniefield's Remembrance as Resistance: Preserving Black Narratives and Don't Waste Your Vote, a recycling bin installation that prompts passersby to "vote" by throwing their waste in one of two bins attributed to rotating questions. fluxprojects.org

True Colors Theatre
Kenny Leon's True Colors Theatre Company produces at least three shows and the annual August Wilson Monologue Competition, which takes high schoolers to compete on Broadway. This year, artistic director Jamil Jude and director of education Nikki Toombs quickly moved to produce the competition online. In addition, True Colors has completely revamped its lineup. The Joy & Pain season has made the theater a place for virtual community conversations about human rights. truecolorstheatre.org
CREAT
The killings of unarmed Black people across the country have pushed many individuals and institutions to reexamine their practices and attitudes toward race. The Atlanta theater community was not exempt from this introspection, thanks to the Coalition for Racial Equity in Atlanta Theatre (CREAT). This organization, founded by actors Cynthia D. Barker, Lee Osorio, J.L. Reed, and Diany Rodriguez, hosted a three-night town hall for racial reckoning this year, in which artists had the opportunity to share their experiences—uninterrupted. They also created a rating system for local theaters to assess their season offerings based on racial diversity and inclusion. atlcreat.com
Atlanta Artist Relief Fund
AARF is a social services organization founded by artists, for artists. They connect creatives with a variety of resources—from groceries and childcare to voter registration and mental-health services. So far, they've raised more than $40,000 and mobilized more than 100 volunteers. atlartsrelief.org
Ballethnic
The stereotype of a ballerina has long been a woman who is petite, long-limbed, graceful, and, well, white. That image inspired wife-and-husband team Nena Gilreath and Waverly Lucas II to cofound Ballethnic Dance Company in 1990: Atlanta's first and only African American–founded, "classically trained, culturally diverse performing company." Ballethnic blends ballet with African dance concepts and presents the movements sur la pointes. Both cofounders danced with the Dance Theatre of Harlem and the Atlanta Ballet. Lucas has choreographed more than 30 ballets, including the seasonal favorite Urban Nutcracker. ballethnic.org
Civic Walls Project
Marketing entrepreneur Toyin Adon-Abel founded the Civic Walls Project this year. It began as "a street-art initiative aimed to join together Black creatives, artists, and community leaders in support of equality, #BlackLivesMatter, and any family who has lost a loved one due to senseless violence and racial injustice." So far, a half dozen murals are up at places like the Beacon and Krog Street Market, including a tribute to John Lewis by Choze. Adon-Abel is now in talks with Georgia State Representative Erica Thomas to launch a new series in support of foster care. civicwallsproject.com

This article appears in our December 2019 issue.