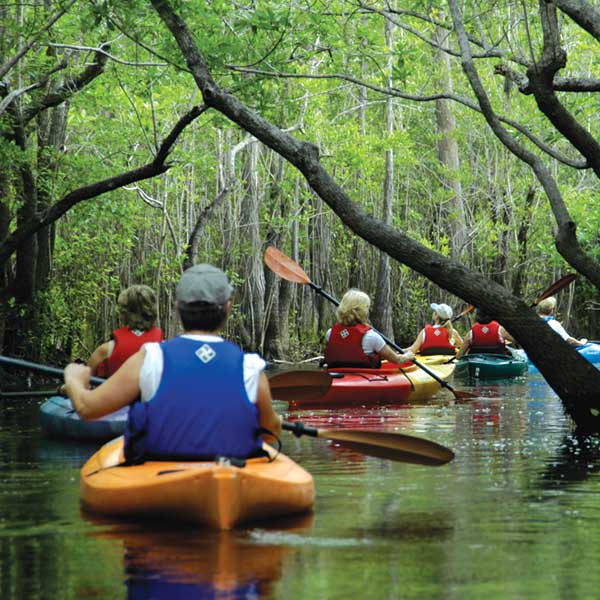 Dawn came so softly that I could hear a dolphin breathing, exhaling through its blowhole while swimming slowly up the Apalachicola River only a few feet away. I had just settled onto a porch chair with my coffee at the elegant Water Street Hotel & Marina, as sunrise painted the watery landscape before me: the channel deep blue, the islands of tall grass beyond it the color of wheat, the sky streaked pink and orange.
Then, with the sun above the horizon, the whole scene burst into life. A cormorant, its iridescent dark feathers painted red-gold by the sun's rays, surfaced from its dive with a little fish snug in its beak. A majestic osprey flew past so close to my second-story balcony that I could read the few brown spots on its snowy breast; a moment later it flew by in the opposite direction, now with a fish clasped in its talons, on its way back to a car-sized nest high up across the delta.
White herons, blue herons, green herons. Eagles and owls. Plus river otters, raccoons, bobcat, deer, and alligators, all inhabiting more than a half million acres of public wilderness—Apalachicola National Forest—so close by. During our latest trip to the remote Florida Panhandle oyster port of Apalachicola, my husband and I felt like spectators at nature's pageant. Last fall, it had been just eighteen months since the infamous BP oil spill, but we saw no trace of ecological damage.
The historic town of Apalachicola is Florida unplugged and unglitzy, still a working port that supplies 90 percent of the state's oyster harvest, plus shrimp, grouper, snapper, even jellyfish for Asian markets. The bounty of its waterways, where freshwater meets salt, makes the area fascinating to explore by boat. Franklin County boasts nearly twenty marinas and some fifty registered guides (inns are happy to make recommendations). Tours range from kayaking and pontoon rides up the jungle-lined Apalachicola River to oystering excursions in shallow Apalachicola Bay. Fishing options include inshore saltwater, freshwater, offshore saltwater, and surf fishing. Summer tarpon charters sometimes sell out a year in advance.
A chain of barrier islands shelters the bay from the nearby Gulf. At public parks such as St. George Island State Park, Alligator Harbor Aquatic Preserve, and Dog Island, the powdery white sand is brilliant and the surf wild. Rare flora like dwarf cypress trees and native pitcher plants, plus endangered fauna like black bears and manatees—reportedly the greatest biodiversity in the nation—draw hikers and ecotourists.
After trying other options, Saul and I now stay at Water Street, just four blocks from town along the tidal marsh. These apartments are large and luxurious, with full kitchens and screened balconies for taking in the superb river view. We love to rent bikes from the hotel and cycle around the historic district, stopping to sample oysters or admire the hundreds of nineteenth-century houses surrounded by moss-draped live oaks.
Mainly we like to eat. Apalachicola Bay is the only place in the country where wild oysters are still harvested by hand with tongs. A favorite haunt of ours, Boss Oyster, sends its own oyster boat out daily and offers the catch in dozens of configurations. Next door, Caroline's River Dining serves up great riverside views along with middle-brow gourmet fare like soft-shell crabs Benedict on fluffy homemade biscuits. Best of all may be Up The Creek Raw Bar, walking distance from downtown like everything else in Apalachicola. It's a jolly barn of a restaurant with a skillful locavore chef and two outdoor decks perched over the wide river—the perfect place to be when the sun goes down.
Photograph courtesy of Apalachicola Bay Chamber