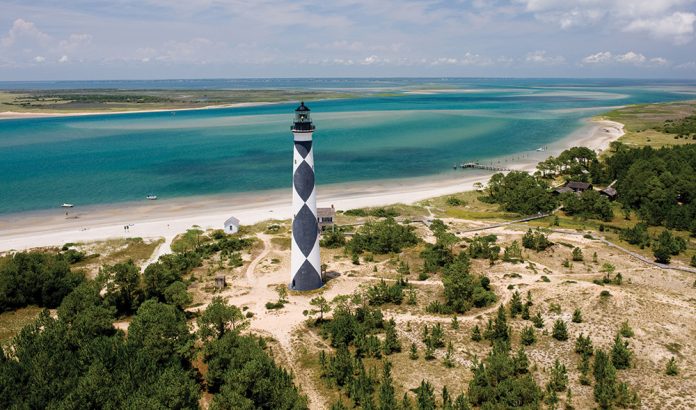 Photograph courtesy of the Crystal Coast Tourism Authority
First, let's get the Beaufort/Beaufort confusion out of the way. Beaufort (pronounced "Bew-furt"), South Carolina, is a perfectly fine town—but not our destination this time. I prefer to head up the coast to Beaufort (pronounced "Bo-furt"), North Carolina, for an experience entirely different from the barrier islands south of Charleston: no palm trees, golf courses, or Lowcountry cuisine here. The Outer Banks have a more rugged terrain that appeals to this North Carolina girl. Plus, there are a lot of civilized perks to go along with the natural beauty.
Historic homes and businesses line Beaufort's intracoastal waterway. I hop on a bike and cruise tree-lined streets a block or so off Front Street, where many of the small cottages and grander mansions have plaques displaying their pedigrees. The town was a leading port in the 1700s, and its houses and buildings have weathered centuries. Gray clapboard siding gives the town a quaint Nantucket vibe.
Nearby, small islands offer what most people crave from an Outer Banks experience—wild horses, undeveloped natural areas, and lighthouses. My teenage son gets into a kayak and paddles among the marshes of Carrot Island (directly across from Beaufort), where he sees clusters of horses that are believed to be descendants of shipwrecked mustangs from Spanish ships. Downtown makes it easy for visitors to explore these quiet areas; private boat tours and regular ferries head to Shackleford Banks, another undeveloped island with feral horses, or Cape Lookout, site of an iconic diamond-painted lighthouse.
Thriving eighteenth-century commerce also brought waves of pirates. Like any savvy area with a nefarious past, Beaufort has developed themed activities such as a boat adventure to hunt treasure on "pirate island." After dark, a ghost walk will take you past Hammock House, where Blackbeard himself once stayed. But with its double front porches, the white West Indies–style house built in 1700 doesn't look particularly spooky to me.
My family loves the calm pace of Beaufort as we watch the ever-changing parade of boats sail by on the waterway, yet we enjoy dipping our toes in the ocean, too. Pine Knoll Shores is an easy ten-mile drive away, with multiple public-access beach spots (the Iron Steamer entry includes free parking and restrooms). Don't miss the nearby North Carolina Aquarium at Pine Knoll Shores, a relaxing and rarely crowded stop that includes nature trails above a tidal marsh. For lunch, we stop at the Shark Shack in nearby Atlantic Beach, enjoying shrimp burgers and blackened grouper sandwiches picnic-style.
Where to stay: The charming inns and B&Bs downtown, most with historic pedigrees, have helped Beaufort gain such accolades as a number two ranking on Travel & Leisure's "America's Most Romantic Towns" list earlier this year. Rooms in the Cedars Inn reflect its 1768 architecture—plus, they accept pets. With its quiet location and porches, Ann Street Inn is a perennial favorite for couples. However, be aware that furnishings at these older establishments can be a little dated.
Where to eat: Beaufort Grocery Company is where the locals go. Occupying a former grocery store, it serves unpretentious food from a husband-and-wife team with impressive credentials (she's a Chaîne des Rôtisseurs member; he trained at Hyde Park's Culinary Institute of America). Dinner menus offer a short list of main courses to keep standards high; diners can go hearty with duck served two ways or opt for shrimp and scallops with spinach, sun-dried tomatoes, and a cream of country ham and Champagne. Views of the intracoastal waterway are part of the attraction at Front Street Grill. Grilled pimento cheese sandwiches on sourdough bread or fried okra are popular lunchtime choices.
How to get there: Beaufort is about an eight-hour drive from Atlanta, though it's easy to fly into Raleigh or even New Bern and rent a car. One advantage to making the three-hour drive from Raleigh: roadside opportunities to enjoy vinegary Eastern North Carolina barbecue and hushpuppies, which the locals often call "corn doughnuts."