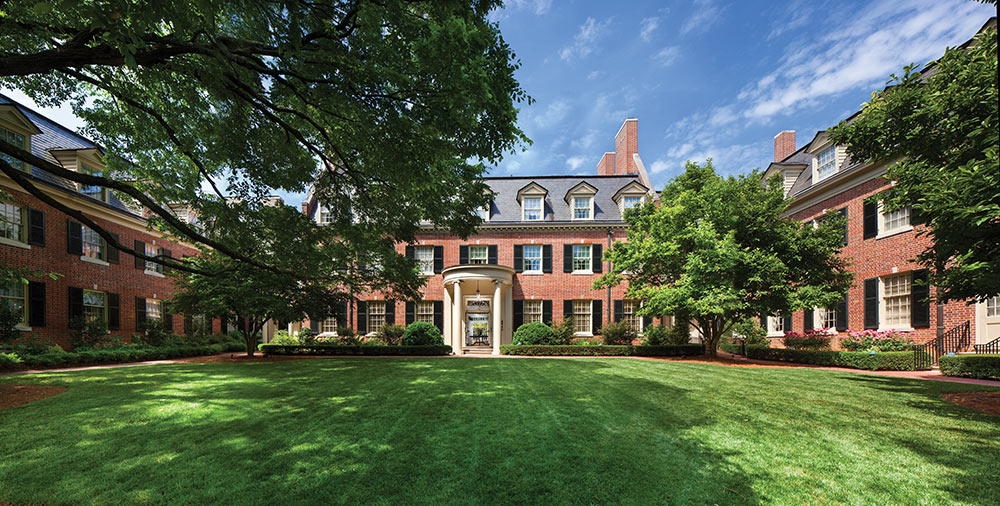 James Taylor is going here in his mind, and it's callin' country singer Eric Church home. There's something about Carolina that lingers in the hearts of its native songwriting sons. It's a sentiment shared by students and alumni of the oldest public university in the country, UNC-Chapel Hill, as well as those who pay a visit to this small college town in the Piedmont of North Carolina.
Chapel Hill's iconic AAA Four Diamond Hotel, The Carolina Inn, is known as "The University's Living Room" and has welcomed guests since 1924. Kick-start the weekend here at "Fridays on the Front Porch," complete with live music, great food, beer, and wine. If you prefer hip to historic, head down the road to Aloft Hotel with its bold, trendy decor and slick bar, w xyz.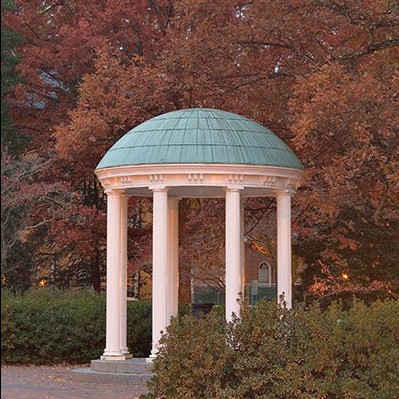 Hungry? Walk into Spanky's, where you'll see dozens of drawings of the restaurant's famous visitors like Carolina alum Michael Jordan. The Chapel Hill institution is renowned for both its food (fresh-ground burgers, brown-sugar baby back ribs, and North Carolina barbecue) and its servers, who happily help visitors navigate the town. Ye Olde Waffle Shoppe, perfect for lunch or breakfast, has been a local favorite for forty-two years. For handcrafted beer and panoramic views of the town, stop in at Top of the Hill, a popular restaurant, brewery, and organic distillery.
One of the top places to visit on campus is the illustrious Old Well. For many years, the well provided water to the university's dorms; today, the monument (patterned on the Temple of Love at Versailles) and its surrounding walkways and gardens offer respite from the swirl of activity. Around the corner, Coker Arboretum is also a must. The garden brims with native plants, as well as East Asian trees and shrubs.
Not far from campus, the small but bustling town of Carrboro is home to shops, restaurants, and cultural opportunities. Stop by Weaver Street Market for live music on the lawn: Thursday nights, you'll hear local acts, and on Sundays, groove to the popular Jazz and More Brunch series.
HOME FIELD ADVANTAGE
"Go to the Coker Arboretum. Get your photo taken at the Old Well—but don't drink the water!"
—Lois Boynton, professor of journalism
"I like Yogurt Pump. It's like this secret little nook that you have to know about to find. The flavors rotate regularly, so I always sample several before committing!"
—Brooke Baldwin, CNN Newsroom host, class of 2001
"My favorite place to take my family is Spanky's. I like the drawings of former players, coaches, and announcers." —Marquise Williams, quarterback of the UNC football team