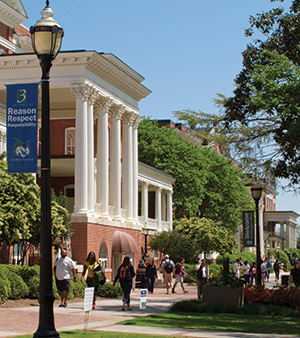 Truth is, most of downtown Milledgeville is on a few blocks off the main drag, West Hancock Street. There are the antebellum houses straight out of a Flannery O'Connor story, the grass carpet rolled out as Georgia College's front lawn, the bars and restaurants lining the street, and the Gothic Revival spires of Georgia Military College in the distance. That's about it, though. The town winks out a few miles off West Hancock in any direction.
The city's charm isn't really found in what's there, but in what people do with it. Students use Georgia College's front campus like their front yard, throwing Frisbees, studying in hammocks, lounging in the sun between classes with picnics, books, or laptops. The downtown bars and restaurants host pairings of students and professors at lunchtime, crowds of thirsty late-night patrons, and the swarms of visitors who pour onto the street when open-container laws are suspended during the annual music festival, Deep Roots (conveniently scheduled on Georgia College's Family Day). And, as many seniors who came with plans to transfer after a semester or two could tell you, those stately houses with their wide front porches looking out over West Hancock become homes for far longer.
Where to find the best …
Coffee shop for studying
Starbucks at U.S. 441 and Roberson Mill Road
It may not be unique, but the store is far enough away from campus that you won't be distracted by classmates wandering in. 2400 North Columbia Street, 478-454-4040
Coffee shop for coffee
Blackbird Coffee
With beans roasted in-house, this is where you go for coffee as craft rather than access to Wi-Fi. 114 West Hancock Street, 478-454-2473
Brunch
The Local Yolkal Cafe
It's hard to compete with a place that serves multiple eggs Benedict variations and a bacon cheeseburger omelet. 117 West Hancock Street, 478-295-0098
Burger
Buffington's Burger Lounge
The burger runs $6.99 for a half-pounder with fries, fried pickles, or chips. Quality, quantity, and cheap price? Can't beat it. 120 West Hancock Street, 478-414-1975
Campus dive bar
Amici Italian Cafe
Live music, regular Thursday night crowd, and the home of the Dead Turtle shot (secret ingredient: pickle juice). 101 West Hancock Street, 478-452-5003
Essential place to show friends
The remains of Central State Hospital
Take the country's largest mental health institution, close it down, let the buildings decay, add a carful of students on a night tour, and you've got a spooky experience no one is likely to forget. 620 Broad Street
This article originally appeared in our March 2014 issue.