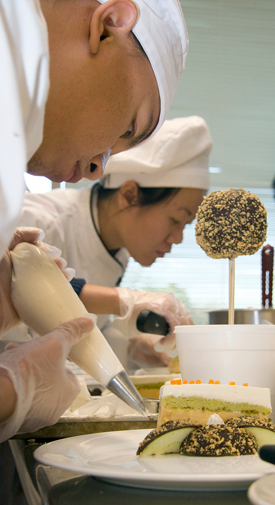 Originally founded in 1949 as Massey Business College, the Art Institute of Atlanta—housed in a five-story office building—still looks businesslike from the outside. But since changing its focus to the applied arts and joining the national network of Art Institutes in 1975, it has been all creativity inside.
The school, whose Atlanta alums include Ty Pennington of Extreme Makeover: Home Edition and Kevin Gillespie of Bravo's Top Chef: Las Vegas, is one of more than forty-five Art Institutes in the U.S. Thirty degrees in design, media arts, fashion, and culinary arts include concentrations such as audio production, interior design, baking and pastry, and digital filmmaking. Students can earn a Bachelor of Arts, Science, or Fine Arts or an associate's degree, and the school offers diploma programs in eight areas of study, including web design, commercial photography, and culinary arts.
On its main campus near Sandy Springs (a three-year-old satellite campus is in Decatur), AI Atlanta emphasizes hands-on instruction. The 115,000-square-foot main building houses professional photography studios, darkroom facilities, and digital audio labs with recording booths and editing suites. The top floor holds five teaching kitchens and the Creations dining room, where culinary students prepare meals for the public. A second building nearby features an interior design resource room, art foundations studios, and a student lounge.
Nearly 86 percent of all graduates from 2009 were employed in their fields within six months of graduation—no easy feat in today's economy. Part of this success is due to quarterly portfolio shows for potential employers. Atlanta students also have access to the career resources of all Art Institutes across the country for up to six months after they graduate.
About half of the students are under age twenty-two, and many of the rest are adults returning to school. Though AI Atlanta doesn't offer dorms, there are off-campus housing complexes with resident advisers and student activities for those seeking a more traditional college experience.
Photograph courtesy of Art Institute of Atlanta