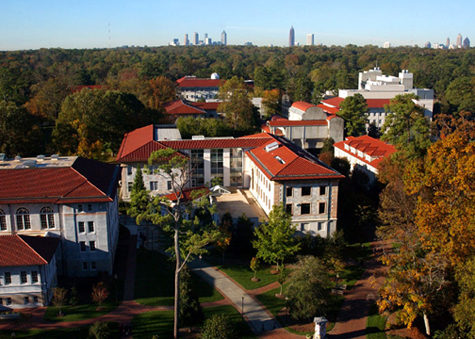 Spanning more than 600 acres in Druid Hills, the Italian Renaissance–style architecture of Emory's campus reflects the international character of its student body. Most of its undergraduates are from out of state, and 120 other countries are represented by more than 3,000 international students.
Major draws include Emory's rock-solid academic and research credentials. The school has landed in the top twenty rankings in U.S. News & World Report for nearly two straight decades—and has been characterized as a "New Ivy" by Newsweek. Thirteen academic programs rank among the top twenty-five in various national lists.
Classes are kept at an average of nineteen students, and the school offers eighty majors, fifty-seven minors, nine combined bachelor's/master's degrees, and nine preprofessional programs. An all-star league of distinguished faculty includes CNN chief medical correspondent Dr. Sanjay Gupta, Pulitzer Prize winners Natasha Trethewey and Hank Klibanoff, the Dalai Lama, and former President Jimmy Carter.
Two in five students participate in international experiences, with opportunities ranging from Tibetan studies in India and business internships in Austria to nursing research in Ethiopia. Through undergraduate research grants, students can also cash in on some of the $535.1 million in research funding awarded to Emory in 2010.
With one of the largest inventories of LEED-certified campus buildings in the country, Emory is recognized as a leader in sustainable development. The Dining Green Team emphasizes organic nutrition, with a goal that 75 percent of the university's cafeteria food be locally or sustainably grown by 2015. In the classroom, students can minor in sustainability. Freshmen can't bring cars, but students can use bikes free of charge through the Bike Emory program; they can even borrow cars through an annual ZipCar membership of $25.
Known for swimming and diving (the women's varsity team just won the 2010 national championship), the Emory Eagles compete in eighteen Division III varsity sports. Nearly a third of students take part in one of twenty-nine Greek organizations, but alternatives for getting involved include more than 220 student groups, twenty-three club sports, and an award-winning student paper, the Emory Wheel.
Though ranked by Kiplinger's Personal Finance as a top fifteen best value among private universities, tuition is the highest in the state at $38,600 a year. Luckily, Emory Advantage caps need-based loans at $15,000 for families earning between $50,000 and $100,000 and completely eliminates debt for those earning less than $50,000.
Photograph courtesy of Emory University