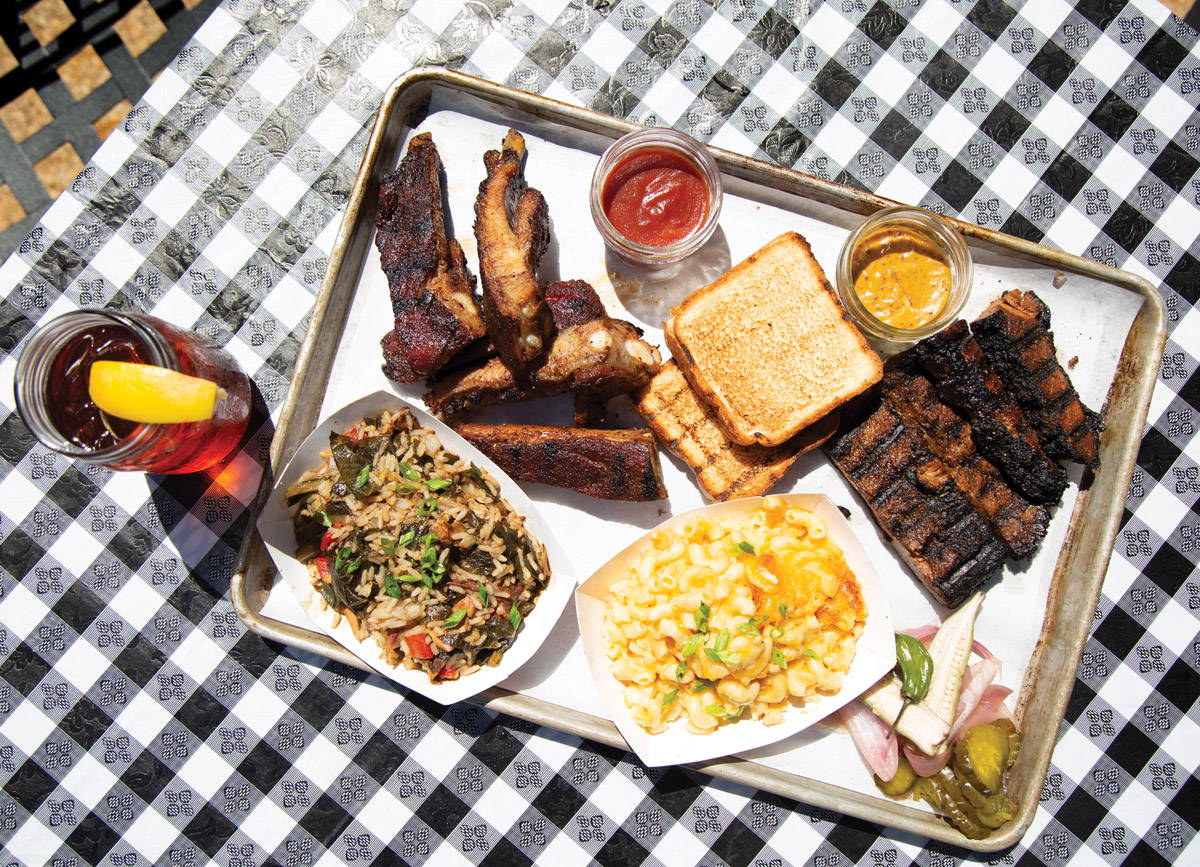 In the recent history of unfortunately timed business decisions, there are those who bought real estate in early 2007, those who saved up to become a taxi driver in 2012, and those who opened a restaurant in the spring and summer of 2020.
All but one of the eight spots on this list of restaurants that launched between March and July were conceived well before COVID-19 began its spread across the U.S. (The lone exception is a preexisting restaurant that switched concepts in an attempt to survive the pandemic). The poor timing of their openings was therefore inevitable. Two of the restaurants are second locations of already-adored spots, which might help buffer their owners against the current economic squalls and definitely helps bring a particular joy to new parts of town. Several of the others are from chefs with sizable followings—which themselves offer an insurance of sorts that could spare these creative souls from the fate of the taxi driver.
The good news: The food you'll find at these places is affordable, varied, and fun—as good a mix (albeit a much abbreviated one) as you could hope for in normal times. At these new spots, you'll find the comfort of decadent barbecue and of equally decadent (and yet vegan!) burgers, both from Black-owned restaurateurs. You'll also find the innovation of Georgia-influenced Thai and of harvest-driven, multicultural mash-ups, both from chefs of color. The bad news: The season could soon be upon us when even fewer restaurants will open, the chilling effect of the difficult months the industry has endured. Support the places you've long loved and the new ones deserving of your affection. We need them as much as they need us.
Lake & Oak
Chef Todd Richards, who launched Richards Southern Fried at Krog Street Market and serves as culinary director at Jackmont Hospitality (One Flew South, Chicken + Beer), finally brings his mastery of barbecue to the masses. Lake & Oak, on a quiet East Lake corner formerly inhabited by Greater Good BBQ, arrived without much forewarning—but that didn't stop the crowds from lining up (if only to pick up their takeout orders). Lake & Oak's brisket has just the right of smoke and tug and the brisket is downright buttery, but I was no less impressed with the briny collard greens (no sign of mush in these leafy beauties) and the collard fried rice, punched up with slivers of ginger. 2358 Hosea L. Williams Drive, East Lake, 404-205-5913, lakeandoakbbq.com
Talat Market
The city's food lovers could hardly wait for chef Parnass Savang to turn his long-running pop-up into a brick-and-mortar—and though the Summerhill stunner opened in April, the wait (for a table) continues. But even operating as a takeout-only operation, Talat Market has been wildly successful, regularly selling out of the prix fixe meals it initially offered. It later switched to a la carte, and its ever-changing menu is brimming with such delights as short-rib red curry with chanterelles, pearl onion, lime leaf, and Thai basil, or a wild summer salad of peach, watermelon, cantaloupe, mint, lemongrass, cilantro, fish sauce, scallop floss, and toasted coconut. Had this been a year of abundant new restaurants, Talat Market still would be at the very top of our list of favorites. 112 Ormond Street, Summerhill, 404-257-6255, talatmarketatl.com
Hot Dog Pete's
This cheerful Summerhill hot dog shop sources its snappy wieners from Fritz's Smoked Meats and Superior Sausage in Kansas City and its pillowy brioche buns from Alon's. Choose from seven different dogs (including an all-beef, a jalapeño cheddarwurst, and a Beyond vegan sausage) and 10 builds (the Pete's Original is a smart choice, topped with kraut, diced onions, yellow mustard, and Pete's tangy and tomato-y hot sauce). The waffle fries are salty and fresh, the fried onion straws golden and fragrant, and the collard green slaw crisp and spicy. In case you're wondering, the Pete in question is co-owner Pete Graphos, founder of the 64-year-old hot dog joint Sneaky Pete's in Birmingham. 25 Georgia Avenue, Summerhill, 470-369-6777, hotdogpetes.com
Grana
The team behind the White Bull on the Decatur Square earned deserved praise for that restaurant's housemade pasta. And they deserve just as much praise for their char-kissed Neapolitan pizza at their new spot, Grana. A margherita pie is a good indicator of a pizza place's chops, and this one doesn't disappoint—but I'm more deeply moved by the New Yorker, simply topped with shredded cheese, tomato sauce, and oregano and infinitely noshable. If you're feeling more spendy, go for the burrata, stracchino, robiolina, and black truffle pie. The cannoli are barely sweet (and therefore perfect), which means you should eat two. 1835 Piedmont Avenue, Piedmont Heights, 404-231-9000, granaatl.com
The Companion
Andy Gonzales, the longtime chef of the beloved Steinbeck's Ale House in Decatur, has opened a companion watering hole on the other side of town, in a former hardware store near the intersection of Marietta and Bolton roads. The menu may look straightforward—burgers, smoked wings, a fish sandwich, smothered tater tots—but this food is lovingly prepared and worthy of your regular takeout roster. Mark your calendar for Wednesdays, when the nightly dinner special is buttermilk fried chicken, served with a wedge salad, mac and cheese, baked beans, and Texas toast. A full order feeds three to four for $32. 2316 Marietta Road, Bolton, 404-228-1632, facebook.com/thecompanionbar
Sidepiece
When 8Arm started doing takeout in the pandemic's early days, the dinner I brought home was among my top-three lockdown meals. I was distraught when the restaurant halted its takeout operation (though their decision to shift their focus to a Community Supported Agriculture program was admirable). 8Arm hasn't yet reopened, but it launched an excellent concept in its parking lot. Housed in a shipping container equipped with a wood-fired oven, Sidepiece slings exquisite flatbreads (think foraged mushrooms with eggplant muhammara, turnip paste, spigarello greens, and green garlic sauce), juicy skewers (pork belly with summer veggies and aji sauce), and seasonally perfect small plates (a salad of tomato, plum, pickled fennel, aji dulce, dill, and mint). My despair is over. 710 Ponce de Leon Avenue, Virginia-Highland, 470-875-5856, 8armatl.com
Aviva by Kameel (Midtown)
I am not alone in feeling a painful yearning for the lunchtime line that snaked out the door of Aviva by Kameel, tucked away in the heart of downtown in Peachtree Center's food court. More than the samples of pasta fagioli and baklava that sustained customers as they waited, I miss Kameel Srouji's beatific face and proclamations of love for his loyal followers. Alas, fewer of us are headed downtown these days—but lucky Midtown dwellers now have an Aviva of their own. Order me a falafel wrap, Kameel-style, extra hot sauce, would ya? 756 West Peachtree Street, Midtown, 404-698-3600, avivabykameel.com
Slutty Vegan (Jonesboro)
If you're unacquainted with Pinky Cole's Slutty Vegan burger, you must be really good at avoiding both Instagram and the intersection of Ralph David Abernathy Boulevard and East Ontario Avenue, home to the first brick-and-mortar location of the popular food truck. (The line around the block is impossible to miss.) The term "viral sensation" was coined for Cole and her sloppy, scandalously good, plant-based creations. Those on the far south side of town can now more easily get their fix with the arrival of Cole's second location. And intowners need not get huffy: Another Slutty Vegan will take up residence in Old Fourth Ward soon. 164 North McDonough Street, Jonesboro, 855-439-7588, sluttyveganatl.com
This article appears in our September 2020 issue.