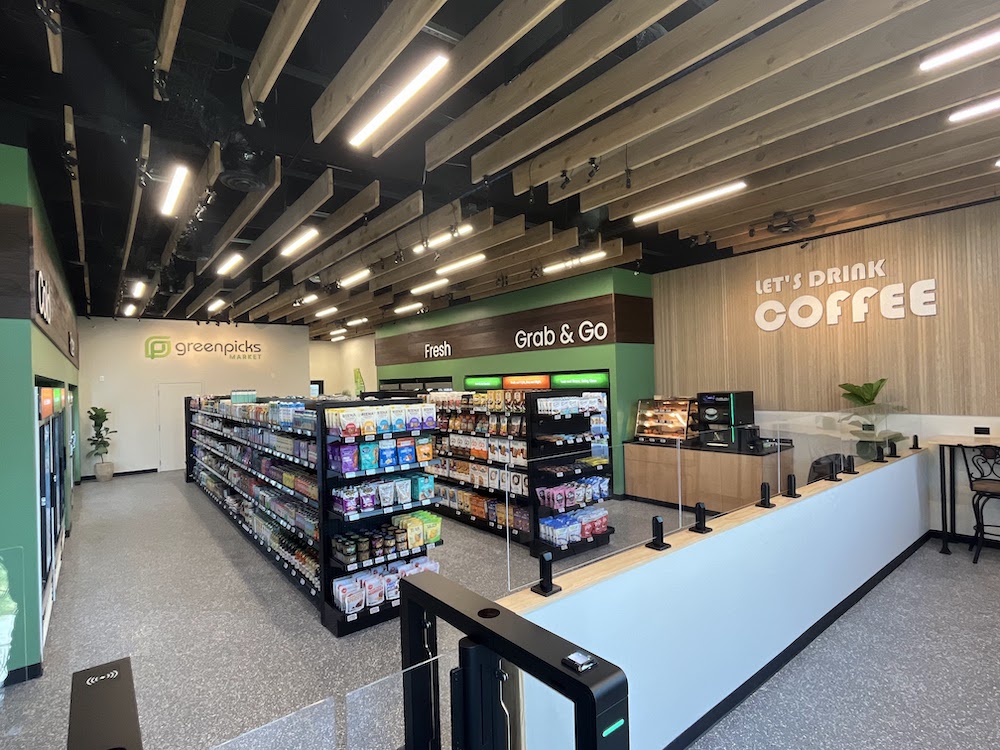 When Amazon Go launched in 2016 featuring "just walk out" technology (allowing customers to shop-and-go without checking out), people wondered "is this the next big thing?" But earlier this year, Amazon shuttered nearly a quarter of its Go stores, leaving limited locations in Chicago, New York, Seattle, and California. However, a new company called Green Picks Market recently launched in Atlanta featuring similar technology and benefits. Metro Atlanta's first artificial intelligence supermarket, Green Picks Market, sells health-focused fare in Chamblee with no waiting and no lines.
Founded by Georgia Tech aerospace engineer-turned-entrepreneur Ismael Fernandez, Green Picks Market features vegan, gluten-free, dairy-free, organic, non-GMO, Kosher certified, paleo friendly offerings in a fully automated environment. Everyone who enters the store is asked to download the Green Picks Market app and add their credit card information. Customers then walk through the gate by scanning a unique QR code provided by the app. This allows Green Picks cameras to track the customer's movements throughout the store. Each shelf, cooler, and freezer has built-in sensors and scales, making inventory replacement easy. Customers may shop as usual, adding items to their physical cart or personal bags. When they exit the store through the turnstiles, their credit card is charged for the items in their bag or cart. They receive an email with the charges shortly after.
What about customers who pick up an item and then change their mind, leaving it elsewhere in the store? Fernandez and Kurtis Van Horn, cofounder of AWM (the company that provides the technology and infrastructure for Green Picks), thought of that too. The cameras and sensors around the store are intelligent enough to realize and the customer won't be charged. Find an error on your receipt? You can easily dispute it in the app.
Like a mainstream grocery store, Green Picks Market features a deli, a bakery with Alon's pastries, a prepared food section, freezer aisle, produce area, and coffee bar. It will eventually sell beer and wine, too—with additional voice and facial verification required. Fernandez opted to focus on allergen-free and health-conscious options because based on personal preferences. "Everything we sell is something I eat," he explains.
He describes the store as having a "tropical ambiance" with warm woods, and a green-, brown-, and beige- color scheme. Plants are abundant, and Brazilian jazz plays in the background. "We want it to have a natural, relaxed ambiance where people feel good—like a cool coffee shop where people can sit and enjoy prepared foods," he says.
Fernandez came up with the idea for Green Picks Market during the COVID-19 pandemic. "In the pandemic, people were more afraid of waiting in line and going through the checkout process. Meanwhile, supermarkets were looking for efficiency, introducing self-checkout machines, which transfer the burden to customer," he says. "We remove that burden while still promoting efficiency."
Located at the base of Attiva Peachtree (5255 Peachtree Boulevard), Green Picks Market is open 9 a.m. to 9 p.m., with potential for 24/7 access, Fernandez says. He intends to open two or three additional locations in places such as Sandy Springs, Westside, Grant Park, Decatur, or Athens, before expanding to Florida and South Carolina.