On a June afternoon, I went for a short walk in the woods. At the end of the trail, on the bank of a creek, I found a five-course dinner, a bouquet of wildflowers, and a cold glass of Loire chenin blanc waiting for me on a thoughtfully set table, like one of those imagined desert oases in old cartoons.
It wasn't a hallucination, though after months of isolation, the experience of leaving my house and dining at a table set by someone else certainly felt like one. Like a lot of my fellow Atlantans, I've been mostly sealed inside my home for over a quarter of the year. Every now and then, I'll accompany my husband to the grocery store or to pick up takeout, always with a mask and usually with a lingering sense of unease. (Like a dog, however, I do enjoy getting to go for a ride in the car, as a special treat.)
When I took that walk in the woods, I was eight months pregnant during a pandemic that had claimed the lives of more than 2,000 Georgians, and I had zero intent to eat in a restaurant any time soon. I also ached for the dining experiences I once took for granted—drinking a beer on Halfway Crooks' rooftop patio while watching sheepdog trials on the projector or tucking into a mess of tacos at El Tesoro with friends. But there wasn't a lager or taco (or sheepdog show) in all of Atlanta that could lure me inside a restaurant to dine around other people.
Fortunately for me, Ett—the one-person, one-table, zero-contact "restaurant" that awaited me at the end of that brief but scenic trek—isn't inside, nor does it involve being around other diners or anyone at all. And so, for the first and only time in the months before and after, I ceremoniously added a dinner reservation to my Google calendar.
The idea for a one-seat restaurant came to Jessamine Starr, proprietor of the Good Food Truck (known for its weekly curry deliveries, savory waffle cones, and watermelon snow), during her own isolation. Starr, who caters weddings and, at one point early this year, had a fully booked schedule for spring and summer, found herself with a bounty of time on her hands after the pandemic paralyzed the U.S. in mid-March. She came across a news story about a couple in Sweden offering solo dining experiences in a meadow and decided to try something similar in her own backyard, a couple of lush wooded acres where Starr grew up and now raises her own children, 47 years after her parents first squatted on the land. (They bought it, eventually.) She calls the restaurant Ett, the Swedish word for "one."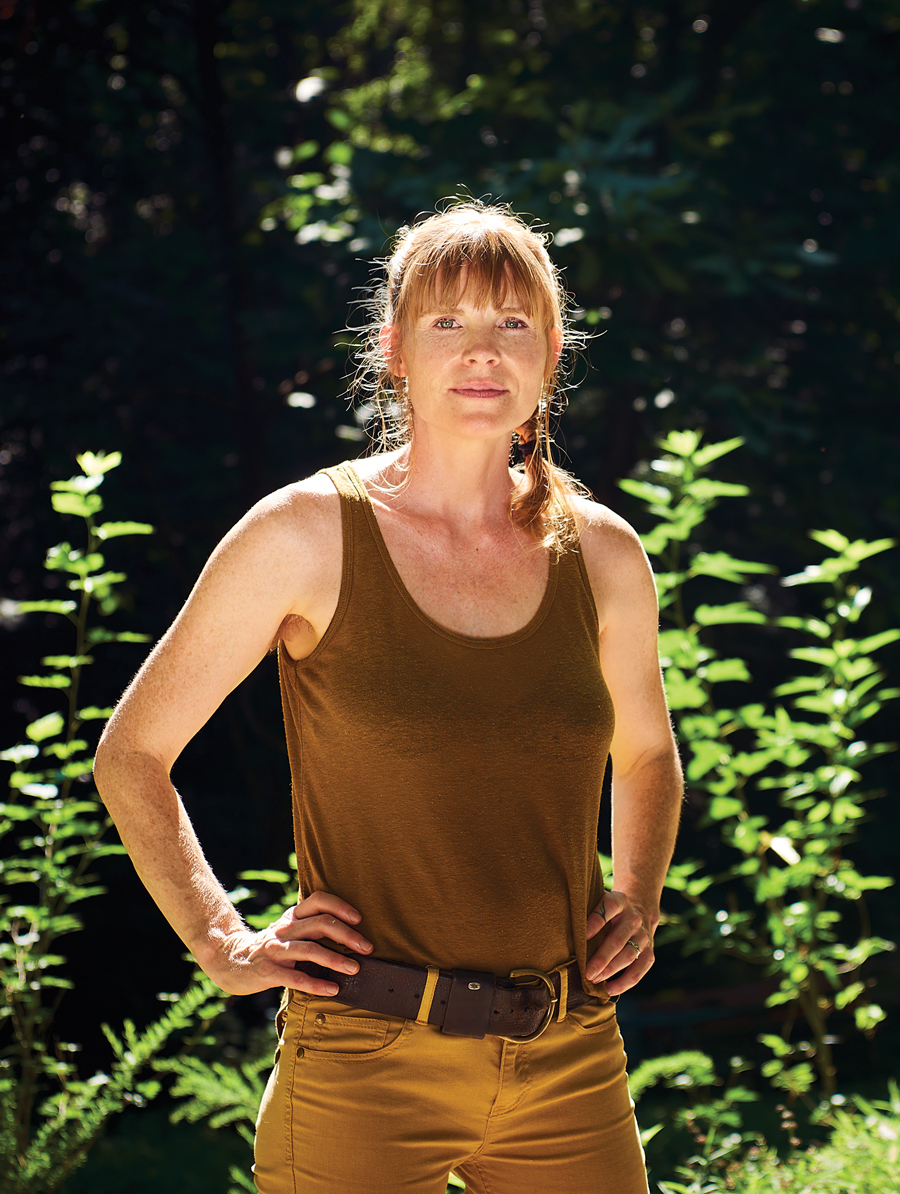 Ett, Starr says, is not just about a meal; it's more like an experiment that probes "that uncomfortable space of being by yourself, which maybe shouldn't be uncomfortable." She says she spends a lot of time on the food, but the food is "less than half of the importance of the whole thing." She encourages her diners to take advantage of their time in solitude however they like—splash in the creek, meditate, bring a book—but has observed that most only stay for about an hour. (She only requires that you leave by dark.) She also fielded a few pleas for tables for two, which she firmly declined. "I get that it would be a romantic thing to do," she says, "but . . . absolutely not."
Pricing for the meal is pay-what-you-can; in addition to a few cash payments of varying amounts, past diners have left calla lilies and cucumbers from their yards, thank-you notes and doodles, and, in one memorable instance, chickens—live ones. (Ironically, that particular guest's dinner included an egg tart.)
Starr plates the food and prepares the table when her guest first arrives on the property; by the time the guest concludes the third-of-a-mile traipse through the forest, the full meal awaits beneath glass cloches, and Starr is nowhere to be seen.
After scoring one of Ett's six slots for June (they go quick), I drove to Roswell the day of my reservation and parked in a driveway on a wooded piece of land surrounded by expensive-looking subdivisions. I followed signage along a short trail that led me through the woods, under the power lines, and down a short, steep ridge snaking down toward Willeo Creek beneath a canopy of bigleaf magnolias. Halfway through, I was rewarded with a "walking snack"—a Ball jar of homemade sparkling dandelion water and two little strawberries. The trail ends next to the creek, where a table with one chair overlooks the water.
I found myself trying to ration my time. I ate slowly and took long, leisurely pauses between bites to stare at the creek and look up at the thatchwork of leaves. I carefully meted out sips of that sweating glass of chenin blanc, hoping to make it last as long as the meal itself. Occasionally, I spotted a harmless, tiny spider lazily dropping below his web to check on me like a laid-back server.
Starr changes the menu with each meal, keeping dishes vegetarian (mostly vegan) and working with produce from 8Arm's CSA, Patchwork City Farms, and her own garden. My meal, with its menu penciled in cursive on a scrap sheet of looseleaf, was composed of simple, beautiful dishes heralding the arrival of summer: pattypan squash flecked with tangerine-hued squash blossoms and smoky pepitas, a hominy crepe blanketed in edible flowers, a creamy grit terrine spilling over with briny black-eyed peas. Starr has never been "a tweezer chef" but says she's been surprised at the level of precision she's adopted in placing each individual flower on various dishes. "It's really against my general cooking ways, but I just want it to be pretty," she says. Dessert was a half-dozen Pearson peach slices roasted and wrapped in a fig leaf, tucked inside an old tin lunchbox.
I've never been so completely by myself in a dining experience before (how could I be?), but it didn't feel lonely. Throughout the meal, I resisted the urge to look at my phone—and, somehow, I stayed in Starr's backyard for close to two hours. There wasn't another human in sight, and, in this setting, there didn't need to be. The snack on the trail, the wildflower bouquet, the handwritten menu—all of those little human touches helped me feel Starr's presence without seeing her. I was alone, but I had simple proof of something special a stranger wanted to share. Maybe that's all it takes to feel fed right now.
This article appears in our September 2020 issue.