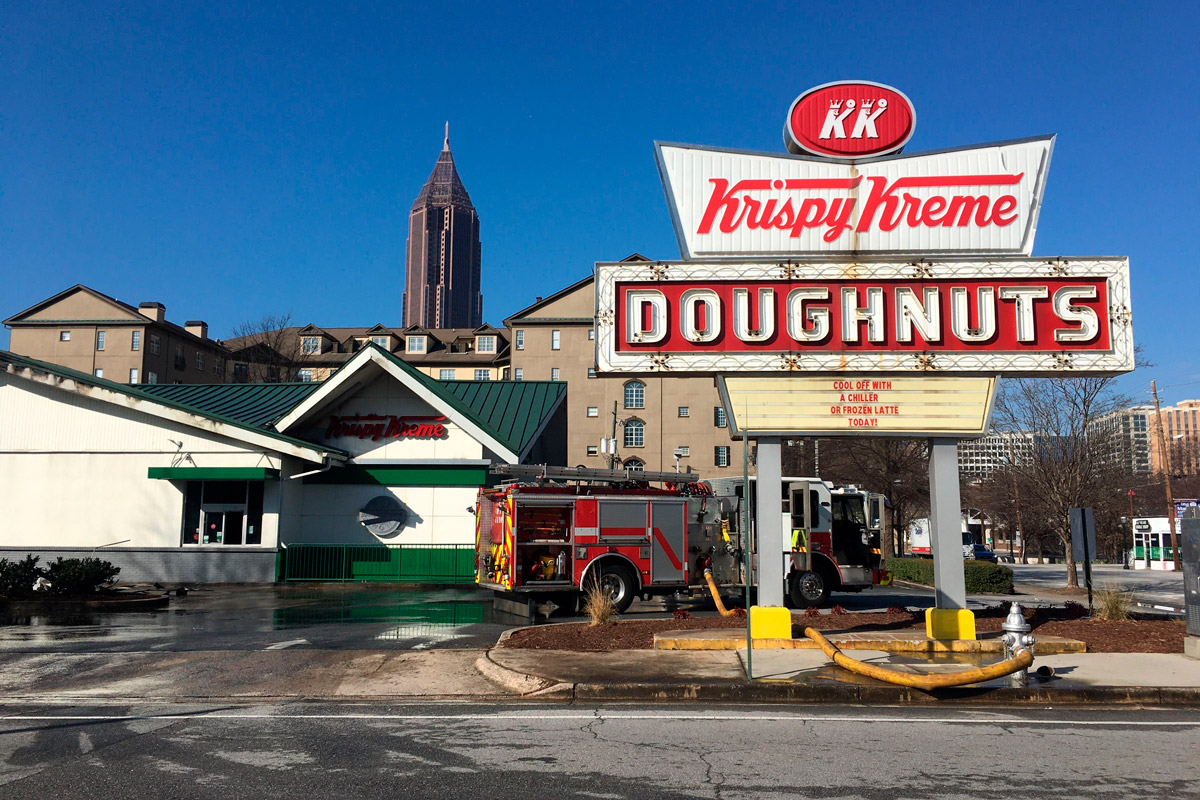 The Krispy Kreme on Ponce de Leon in Atlanta caught fire overnight, and Atlanta is mourning in unison. Atlanta Fire Rescue reported the fire started in the back of the building after midnight Wednesday and moved quickly through the building. Two employees inside were able to escape without injuries. Officials say the building is a total loss, but the cause of the fire has yet to be determined. NBA star Shaquille O'Neal purchased the Ponce de Leon shop in 2016 as part of a larger franchise deal.
More pictures of the damage caused by the fast moving fire this morning at Krispy Kreme on Ponce de Leon Ave. pic.twitter.com/ggVapNZTK5

— Atlanta Fire Rescue (@ATLFireRescue) February 10, 2021
Although many Atlantans might believe the nearly 60-year-old location was the first Krispy Kreme, the company was started in Winston-Salem, North Carolina, by Vernon Rudolph in 1937. When the business came to Atlanta, Rudolph only sold the doughnuts wholesale at another building nearby on Ponce but moved to the existing spot in 1965, which was opened to the public with table service. The "hot sign" was added in 1995, and the space was remodeled to resemble an old-fashioned diner in 2003. For many years, Krispy Kreme was a sweet treasure you only found in the Southeast, but the company is now world-famous with more than 1000 stores all over the globe.
The Ponce Krispy Kreme is an institution for Atlantans, whether they grew up here or not. The doughnut shop holds a special place in our hearts, even if it's just because the iconic building has been a prominent fixture on Ponce de Leon Avenue, the stretch of road that, as we wrote in 2018, "possesses the historic charm, the culinary creativity, and the total weirdness that makes Atlanta, well, Atlanta." Sure, there are better and fancier doughnuts to be found in the metro, but there is certainly a place for nostalgia in food.
Aftermath of the Krispy Kreme fire last night @wabenews pic.twitter.com/6zCtQWUOyF

— Lily Oppenheimer (@LilyOppenheimer) February 10, 2021
This morning, photos and videos flooded social media along with tributes. For many, myself included, the Krispy Kreme has been a constant fixture in our lives. As a kid, getting a hot and fresh doughnut straight off of the conveyor belt was nirvana. In my 20s, it was the place to stop after a long, late night of dancing at MJQ or Masquerade. As a parent, the doughnuts brought countless moments of joy for my family. Coincidentally enough, I'd just ordered a dozen Valentine's Day-themed Krispy Kremes Tuesday night (from a different location, fortunately) for delivery this morning.
Our longtime restaurant critic, Christiane Lauterbach, notes that the Krispy Kreme was among the first places she visited when she moved to Atlanta from Greenwich Village by way of Paris in the 1970s. "It forever shaped my idea of what a hot doughnut is and should remain," she says. "I used to take my babies to look at the line and watch the magic happen."
Shaq told 11Alive in a statement: "I hope no one was hurt and we will bounce back better than ever." I think it is safe to say that fans hope for a rebuild, but losing such a quintessential piece of the Atlanta skyline, even temporarily, will sting for a while.