Chef Malik Rhasaan and his wife Detric Fox-Quinlan, better known as Che Butter Jonez and Bae Butter Jonez respectively, never set out to be "restaurant people." When they met, Fox-Quinlan held a corporate job, and Rhasaan had cofounded an organization designed to bring the Black community into the Occupy Wall Street conversation. But Fox-Quinlan was a big fan of her husband's cooking, and when she left her job, the duo bought a food truck. Their business matched Rhasaan's Instagram persona, Che Butter Jonez—named so because he uses butter in everything.
That was 2018. A few years later, Che took his cheekily named, Queens-inspired cuisine to a brick-and-mortar on Cleveland Avenue in Southwest Atlanta. Incorporating his Afro-Caribbean and Bermudian heritage into his food proved wildly successful, attracting followers from around the city for lamb burgers, chicken pitas, and bodega breakfast sandwiches.
"It's his Queens life on a plate," Fox-Quinlan says. "Queens, New York is the most diverse county in the US. I grew up eating a little of everything," Rhasaan adds.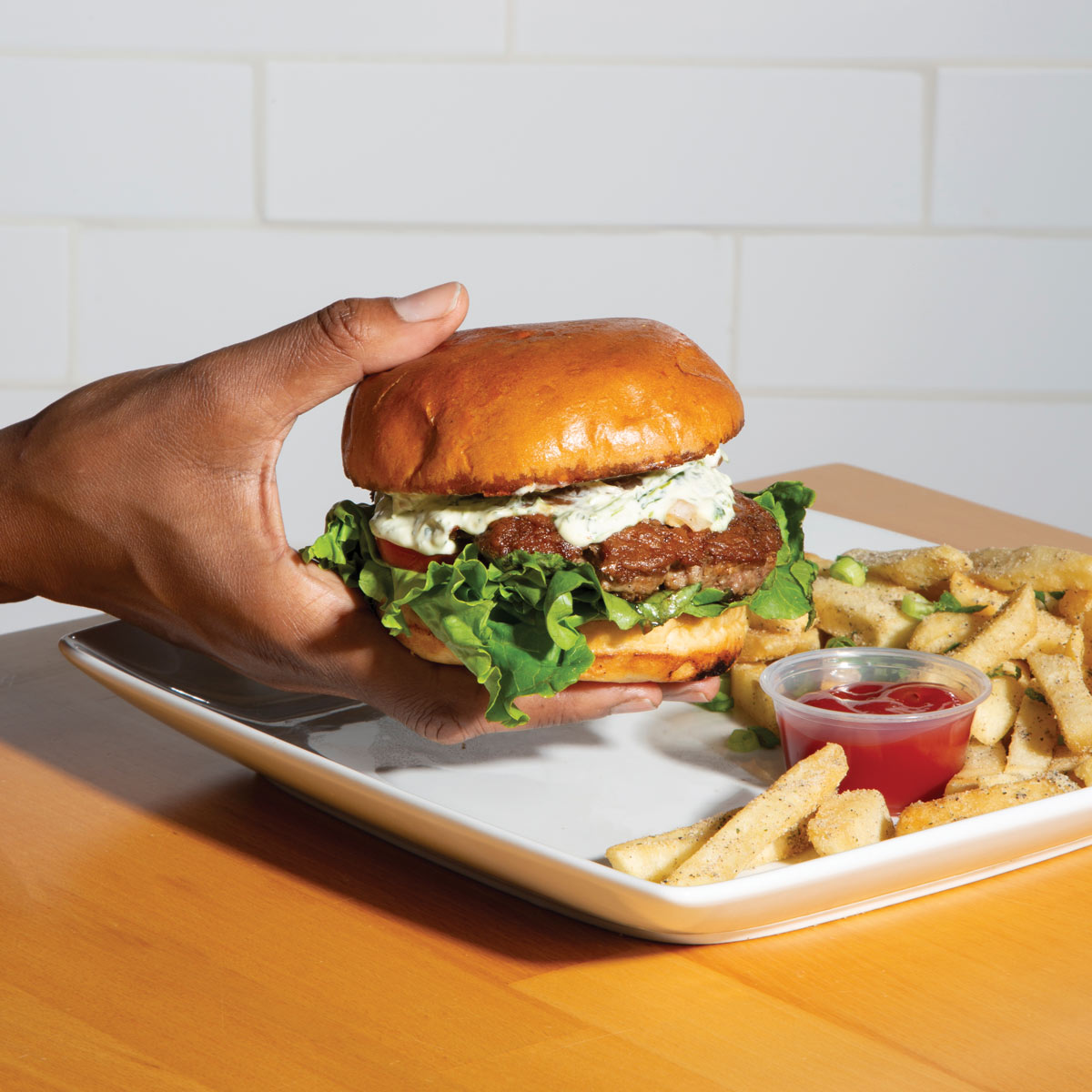 They purchased a small building in Osceola County, Arkansas, with intent to open a casual market or food stand and retire there, but the restaurant industry had other plans for them. They received an offer to open a full-service restaurant in the Origin Hotel Atlanta on Mitchell Street. It seemed too good to be true—so they assumed it was a hoax. It wasn't. Now Che and Bae have put their Arkansas dreams on hold while they prepare to open a 144-seat restaurant called Butter + Scotch in downtown Atlanta. It will offer the same style of food as Che Butter Jonez, but on a grander scale, Fox-Quinlan says.
Named for Rhasaan's favorite liquor, Butter + Scotch will have set menus for breakfast, lunch, and dinner. (Che Butter Jonez's menus change daily.) Che's signature dishes, like lamb ragu and shrimp fries, will be featured, in addition to more "elevated but comfortable" items like whole snapper and oxtail with pappardelle. On Sundays, Bermudian breakfast will be available, featuring codfish, white potato, bananas, avocado, boiled egg, and tomato chutney with a kick. "It hits every note—sweet, salty, savory," Fox-Quinlan says. Traditional hotel breakfast items such as omelets, pancakes, and French toast will also be served.
The Thrash Group—the company behind the hotel—is handling the design of Butter + Scotch. Expect golds, browns, and neutrals, as well as windows that fold out, inviting the outside in. A 24-seat bar will bring the energy with a scotch-and-whiskey-heavy beverage program that includes both standard and signature cocktails, as well as buttery wines and bottled and draft beers.
Will we see the profanely-named menu items, like "That Sh!t Slambing" lamb burger, that Che and Bae are known for? "Absolutely," Fox-Quinlan says. "That's who we are. We aren't going to move away from who we are—just get bigger and better." That includes a Singo night (that's singing bingo for the uninitiated), too. "It brings people together," Fox-Quinlan says.
Look for Butter + Scotch to open in November or December.