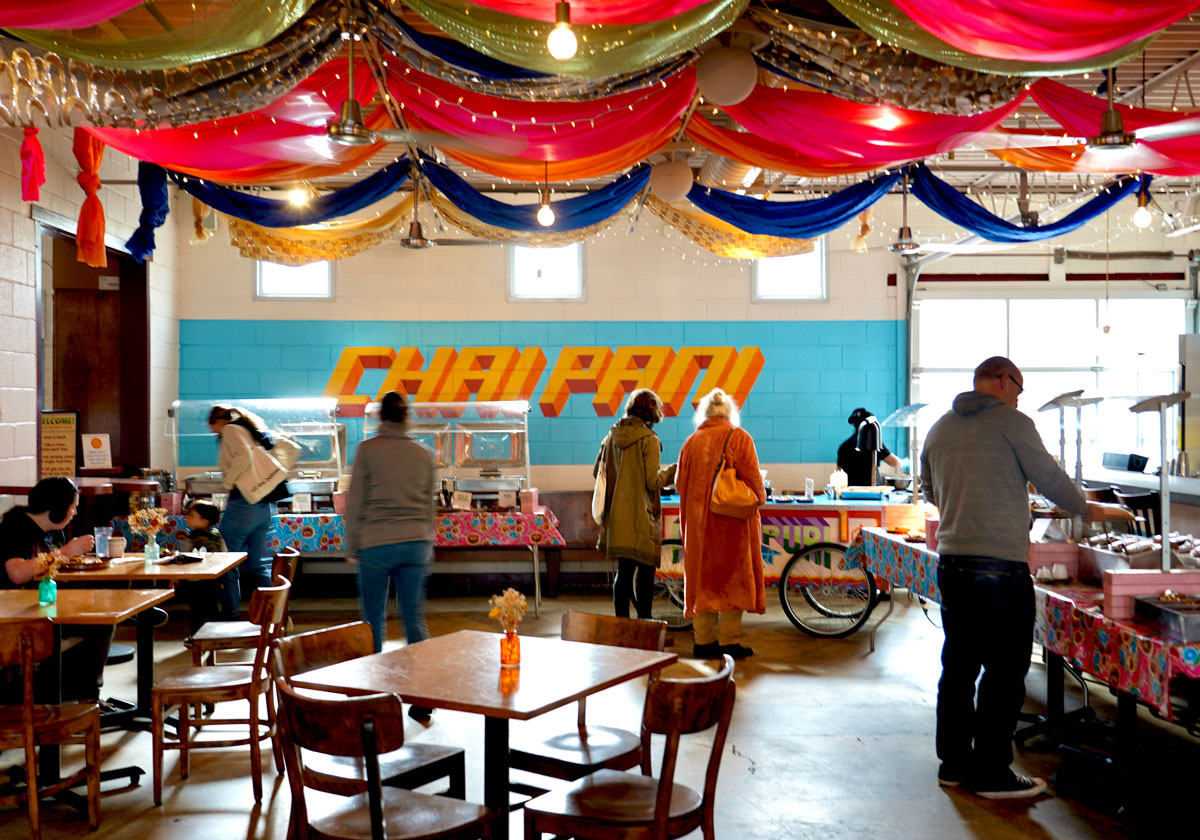 Chai Pani
406 West Ponce de Leon, Decatur
In 2022, the James Beard Award for Outstanding Restaurant—an honor that goes to a place whose enduring excellence in food, service, etc. ranks it first in the nation—went to the original location of Meherwan Irani's Chai Pani, in Asheville, North Carolina. Although nothing was said of the beloved Decatur outpost he opened in 2013, people immediately started debating whether our local spot was, by extension, also the best Indian restaurant in the country.
I don't think so, though I absolutely adore what Irani—one of the founders of Brown in the South, a dinner series highlighting Southern chefs of Indian descent—has done with casual-fun Indian food both at Botiwalla in Ponce City Market and at this Chai Pani location on Ponce. The latter recently refreshed its decor and launched a lunch buffet I go to whenever I can. My favorite part of the lineup is a chaat station where an attendant continuously assembles bhel puri (savory puffed rice snack spiced with tamarind), aloo tikki (mashed potato croquettes), and, on weekends, pani puri puffs showered with sweet yogurt, raw onion, and bright green cilantro sauce. There are endless papadams with various chutneys, and a number of entrees such as butter chicken, Parsi-style ground lamb keema, and silky saag paneer. Alas, the naan waiting in a covered chafing dish tends to get soggy, but from crisp kale pakoras to miniature uttapam, aged basmati rice, and slow-cooked lentil dal, I love what I have gotten.
When I talk to my Indian and Sri Lankan friends, they tend to complain about things being a bit bland or sweet. We all agree, though, that the gulab jamun, bathed in saffron and rose syrup, is one of the best in Atlanta, and we like the endless mugs of hot chai.
At dinner, the menu reverts to tasty sandwiches (Bengali fried fish or vada potato dumplings fried in chickpea batter on griddled pav buns, chicken wrapped in paratha), bowls containing Goan-style shrimp or simmered goat in Maharashtrian gravy, and snacks such as the restaurant's signature spicy matchstick okra fries, which go especially well with cocktails like a brilliant gin and tonic peppered with juniper berries. On the way out the door, you may want to buy one of the marvelous little tins of spices the Chai Pani empire sells under the name Spicewalla as a gift for a loved one—or for yourself.