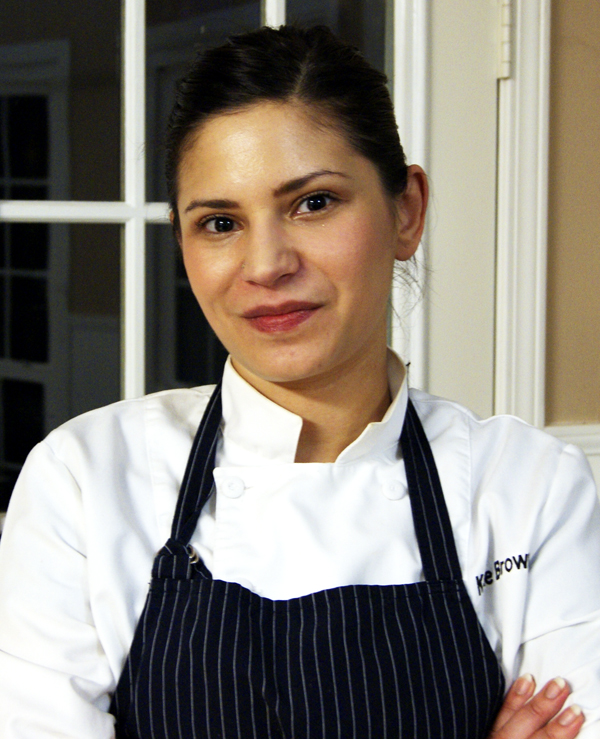 Photo by Michael Anderson
After suffering severe burns during a freak accident at Woodfire Grill last year, pastry chef Karie Brown is getting back in the kitchen and hoping to open her first brick-and-mortar bakery. Brown currently runs Beverly Jean Bakeshop—named after her grandmother who baked using sustainable ingredients found on her farm—out of her home.
While making desserts for weddings, baby showers, and other parties, Brown is on the hunt for a location from which she can expand her offerings and attract an audience with bi-monthly, wine- and beer-paired dessert club dinners. Brown shares her plans below.
What happened at Woodfire Grill, if you don't mind me asking?
I was severely burned last February [2013]. It was a tough time. I didn't want to leave Woodfire when I did, but it was best for me. It put the fire under my belly to get started on my own thing because I realized how precious time can be.
It was a fluke accident. The propane-powered Sterno was faulty. Basically gas had built up around it, and when I went to light it, a ball of flame came at my face. I used my left arm to protect [my face] and got second-degree burns on my arms and face with spots of third-degree burns on my arm.
That's terrible. After that, did you consider a career change?
I went through a little depression because it was something I loved, and it was scary to face the possibility of never doing it again. But the more the healing process continues, I'm getting stronger. I'm back. The support I received really restored my faith in humanity.
What made you decide to go out on your own?
I'm dealing with some minor PTSD issues in commercial kitchens. That's why I want my own brick-and-mortar. I think in smaller environments, the anxiety is not as bad. I always have someone helping me in the kitchen. The clicking of the gaslight can bother me.
What do you have planned for Beverly Jean Bakeshop?
I'd like to have a brick-and-mortar by winter 2014. I'm at the very, very beginning stages of getting it started, looking at different options and locations and such. I'm more partial to West Cobb because there isn't particularly much up here just yet. There are some farms, and farm to table, though a very popular phrase, is something really important to me.
Will this be a sit-down bakery or more of a to-go place?
I would love to have a small sit-down area—a few tables—but mainly it would be geared toward catering to weddings, baby showers, et cetera. I'd love to offer coffee and such, as well, and also have a space where I could do seasonal dessert club.
Tell me about your plans for the dessert club.
Being a pastry chef in a high-end restaurant environment for a number of years, we're relegated to the end of the meal. We don't get enough attention on the fact that our flavors and pairings don't have to be all sugar and sweet. I think it would be fun to expand people's minds when they think of desserts, not just in terms of presentation, but to focus on regional flavors and those that people haven't had.
In upscale restaurants, it is so important to pair the courses with wine and beer, but with desserts, it's somewhat forgotten. I'm planning to do a dessert club dinner in April. It will probably be a bi-monthly thing. The first one will probably be at my house for close friends and family. After that, maybe I'll offer private parties. I'll post about it on the Beverly Jean Bakeshop Facebook page.
Right now I'm joining with a chef who does beer dinners, Michael Anderson, of the Stout Brothers in Smyrna. He's studying to be a level two Cicerone beer expert. I'm pairing desserts with the beers.
What will you make?
Things like molasses cake with pickled blackberries and port icing paired with a ginger beer. I've always loved Japanese cuisine, so I'm interested in green tea cake with sake sherbet. I want to use uncultivated fruits and vegetables like pawpaw (a wild fruit growing in the Southeast Appalachian) rum raisin ice cream.
How did your grandmother, Beverly Jean, influence your baking?
She was the mother of seven children in the mountains of West Virginia. My grandfather was a coal miner. They lived on a farm. She was a very salt-of-the-earth type woman. She was a huge inspiration. She was always baking and cooking. Everyone in the county looked forward to having her cinnamon rolls. That is something I will incorporate into my bakery as well with a lot of family recipes. [My grandmother] could take very simple ingredients and make something amazing.