Quianah Upton knows her vision for Nourish Botanica is a little ambitious. To start, the place will do the things restaurants do—in this case, serve vegan food with Caribbean and Southern influences. Upton also envisions Nourish Botanica as a nursery that will sell plants while providing gardening education; the herbs and flowers grown on site, meanwhile, will be used at Botanica Bar, where they'll go into juices, teas, and zero-proof cocktails.
The "greenhouse eatery," as Upton describes it, will further have a mission: It will be a place that "brings Black joy to life," putting food justice at the center of its work—space will be donated to nonprofit organizations and community members hosting events. Part of the mission will also be expressed in its location. Upton always knew she wanted to locate her business in a predominantly Black neighborhood, where generations of structural racism have limited food and agricultural options; she's spent the last year looking in South Atlanta, while simultaneously raising funds because—also—the whole thing depends largely on donations, at least so far.
A staple of Atlanta's arts communities, Upton has long been a convener—somebody who brought people together, often over food, for conversations about issues facing the city. But she's never run a restaurant. Aside from a stint as a server, she's never worked in the food industry in any traditional sense. When we spoke in August, Upton seemed both hopeful and overwhelmed as she watched her target opening date—spring 2022—approaching. "I've always wanted to have a physical space," she told me. "What I didn't know was that the spirit was going to call for that physical space to be a restaurant." She laughed. "I was like, Are you sure?"
An army brat born in the Virgin Islands, Upton was raised partly in the projects in South Florida, in neighborhoods she describes as food insecure: lacking access to fresh or nutritious food. She moved to Atlanta as an adult because she'd heard about the city's thriving Black arts scene—of which Upton would become an influential part, finding her place at the nexus of various communities: food, justice, agriculture, art.
In 2014, she launched Arbitrary Living, a pop-up on Auburn Avenue selling vintage and handmade housewares; two years later, through an offshoot of that project called #ChopItUpATL, she began hosting dinners for a curated list of diners from the city's creative and organizing worlds—bringing together different voices to discuss topics like gentrification and food sovereignty. At first, Upton did the cooking; she recalls preparing tuna steaks on a griddle plugged in behind the retail rack at Arbitrary Living. After a few meals, she started outsourcing the meal prep to local chefs, including frequent collaborator Jerome Kendrick, and the concept eventually became known as Nourish in Black.
Over the years, through its dinner parties, Nourish in Black raised thousands of dollars to donate to local food-justice organizations, and Upton has been behind various food pop-ups and other ephemeral events: In 2017, for instance, she organized a series she called Collective Impact Dinners, where each of five meals represented one step in the food-production system—processing, distribution, and so forth—with proceeds distributed to local groups. In 2018, she was featured in Politico as part of the series "What Works Next," highlighting Millennials' solutions to social problems. Last year, as the country was consumed by protests against racial inequality and police brutality, Upton worked in partnership with FreeFoodATL to create Nourish the People, an initiative that provided free hot meals to activists during the protests.
Even as she worked to serve protesters amid the tumult, Upton was thinking ahead. In 2020, she launched the fundraising campaign for the space that will become Nourish Botanica—motivated by the conviction to create a central, permanent place where Black people, and especially women, could be centered, uplifted, and healed. In the first 84 days, she raised $60,000 but quickly realized she'd need to raise much more, particularly as Atlanta real-estate costs skyrocket. (Throughout this process, she's always wanted to buy the land that Nourish would sit on, to ensure the longevity of the space.) Her initial budget had been, she says, "loose": "It was so loose that it's almost laughable now." She relaunched her campaign this year on Juneteenth with a goal of $180,000, though she knows even that won't cover all the venue's expenses.
The biggest concern was taken care of this fall—serendipitously. Upton started getting her mail mixed up with another South Atlanta resident, Kristin Jordan, who lives at the same house number on a different street. Jordan was already a donor to Upton's GoFundMe, which she'd read about on Nextdoor, and happened to have space for rent: a 2,000-square-foot building constructed on an empty lot she'd purchased in 2018 for her store Zumbido Atlanta, which sells fair-trade art and home goods. (Jordan is still figuring out how Zumbido will look moving forward, largely due to the pandemic; as an immunocompromised person, she's hesitant about in-person sales.) The building sits on a third of an acre on Pryor Road—not far from where, in 2018, the Atlanta BeltLine acquired land for the Southside Trail. If she hadn't gotten the lot before then, Jordan said, "I probably would not have been able to afford to buy."
In September, Upton announced an agreement with Jordan to rent space in the building for three years, for what she describes as a "very, very, very, very, very reasonable amount of money." After one year is up, the pair will reflect on the rent price based on the profitability of Nourish Botanica, though there's still a rental cap in place. Even when Jordan approached her with the proposal—initially she just pitched a "soft launch" in the space—Upton was cautious. "It's been a very long process," she said—not just the fundraiser, but the whole years-long experience of Nourish in Black.
Jordan understood the hesitation. "I had an unfair advantage in that I had read all about her campaign and was just so enamored of her project," she said. "She didn't know me from Adam, and she didn't have any reason to trust that I was sincere in what I was saying, frankly." Still, Jordan said she wanted to rent to Upton "because of systemic racism in this country and how it has excluded so many Black people specifically, and other people of color [and] indigenous people, from creating generational wealth through land ownership."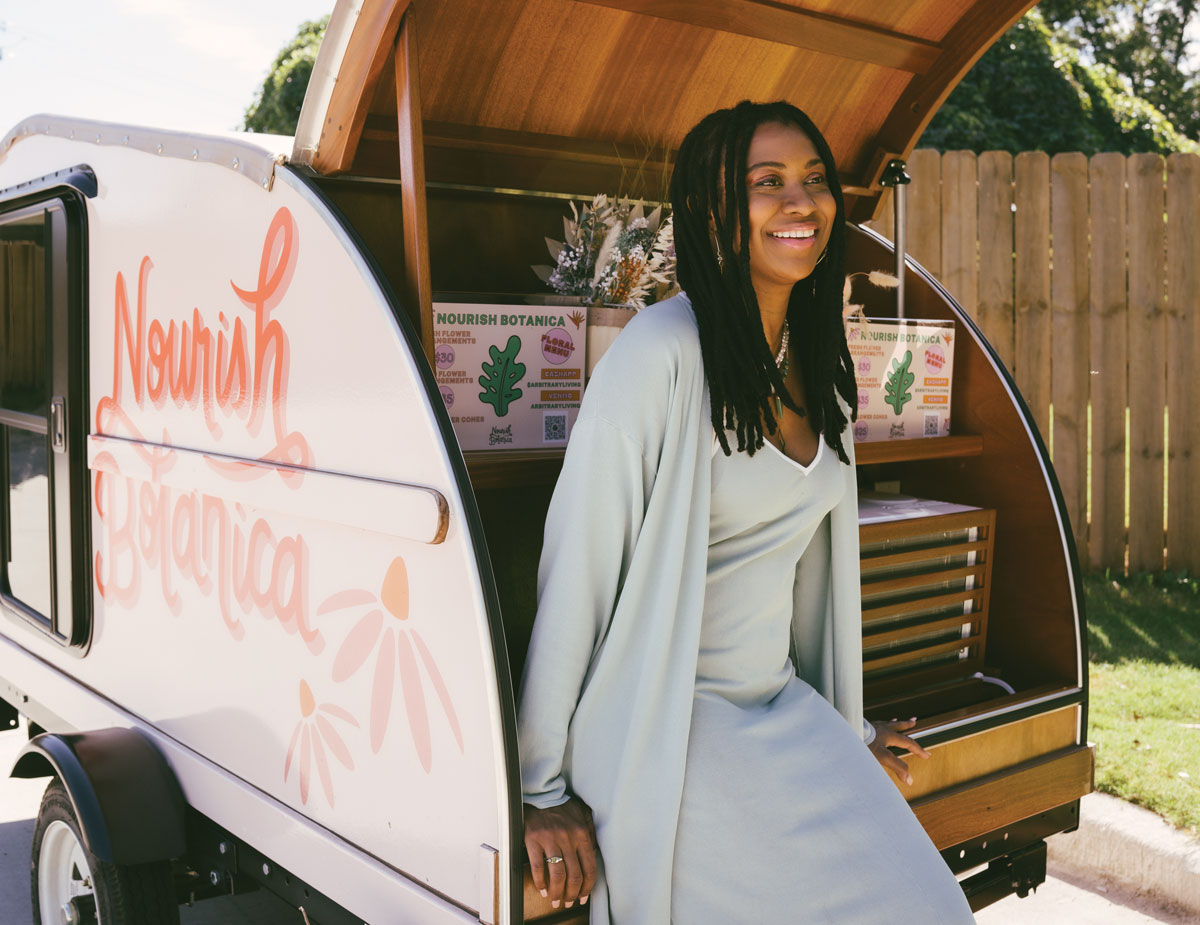 Both parties agree that Upton could end up purchasing the land—so that part of the big dream is still alive. When we caught up on Zoom in September, Upton was cheerier than during our chat the previous month. She said she'll spend much of winter preparing for the spring launch by revamping the space to accommodate food trucks (as she works to fundraise and eventually build out a commercial kitchen) and a garden. Even with the "perfect" space, though, she knows she'll need much more than the property itself to bring Nourish Botanica to life. As of late October, the GoFundMe has raised nearly $90,000, or just half of its new goal.
Still, the fact that Nourish Botanica finally has a home has been a much-needed confidence boost, she said: "This miracle coming out of nowhere makes me feel like we can get some more miracles."
This article appears in our December 2021 issue.