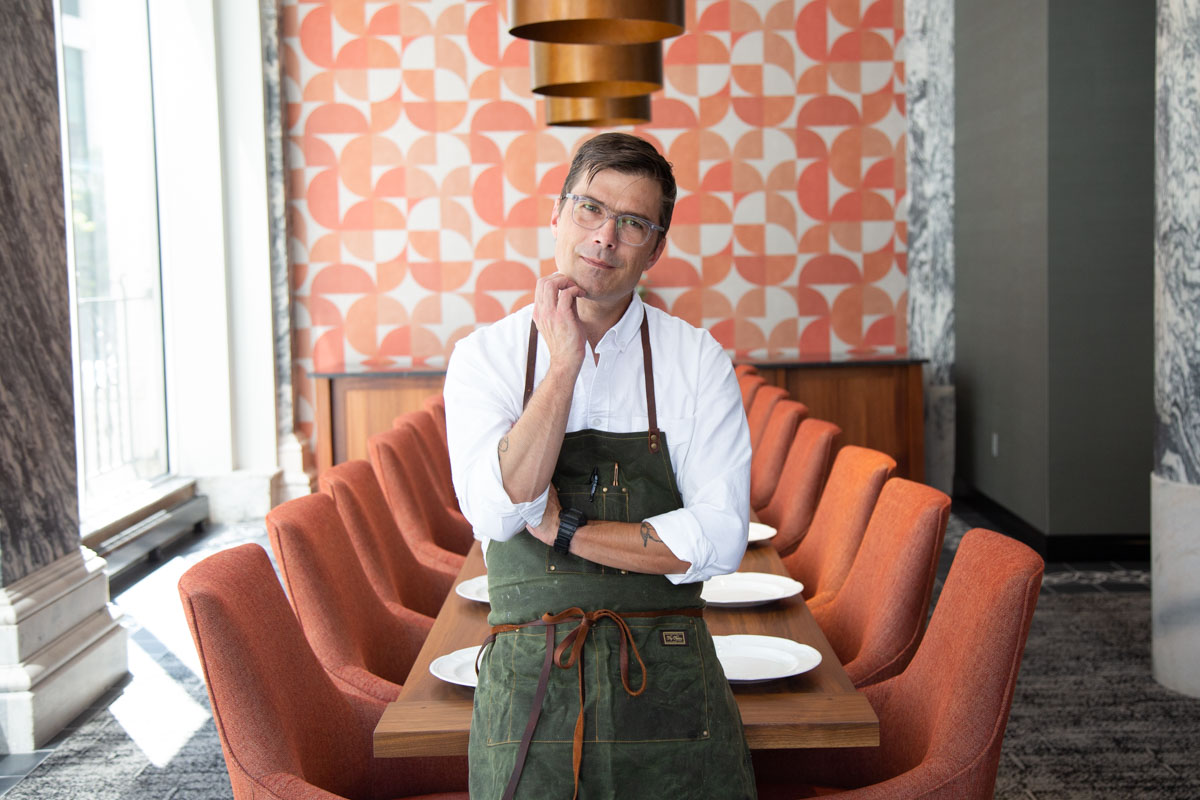 Two-time James Beard Award-winning chef Hugh Acheson (of Empire State South and the National and 5 & 10 in Athens) is opening a restaurant in the newly renovated Candler Hotel downtown. Serving French-inspired classic cuisine, By George will open in late October with cocktails by beverage director Kellie Thorn and an extensive French wine list compiled by sommelier Steven Grubbs.
The 3,000-square-foot restaurant is named after the original architects of the circa 1906 building, George E. Murphy and George Stewart. Acheson says he was inspired by the history and architecture of the building, which was influenced by former Atlanta mayor Asa Griggs Candler.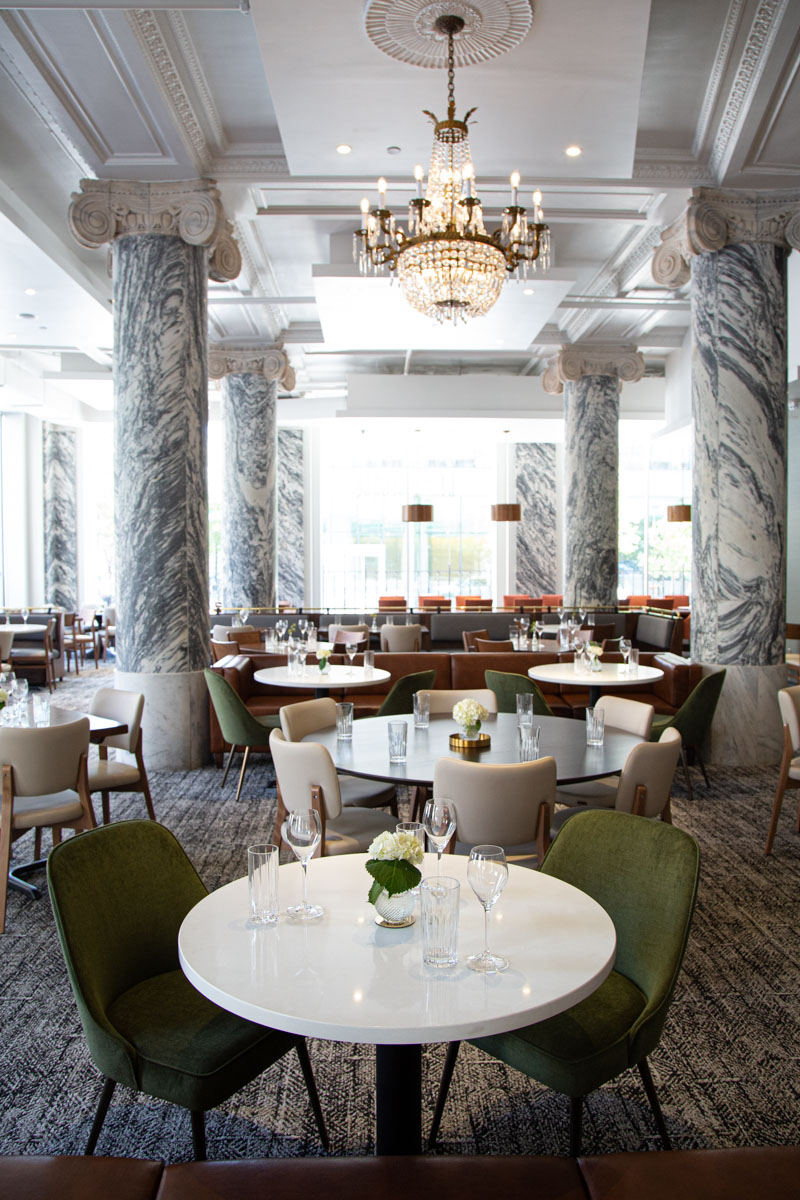 "You can't overlook the beauty of architecture in the Candler building: the amount of imported marble, the monolithic beauty with the sculptures, the interior brass bank of elevators," he says. "If it is a flatiron building, we are at the apex."
Acheson reveals why he chose this location, as well as what to expect on the menu, below.
There are not a lot of local fine dining restaurants downtown. Do you think we'll see more chefs opening in the area?
I think there are more than we think. There's a vibrancy to downtown that's blooming right now. Before, [downtown was seen as just] a lot of business, but Georgia State is a hugely successful college. We're appealing to their law schools. With the success of Mercedes-Benz [Stadium], it's intriguing to see what they've done with downtown.
People said the same thing when we opened Empire State South, but it's in the middle of the city. We took over [what were once] meeting rooms and made it a very successful location. I think downtown is about to have a big boom.
Your previous hotel restaurant at the Battery, Achie's, closed last year after just 10 months. What changes will you make for By George?
Not everything we do is a success. We roll the dice. We put our hearts into it. Sometimes it doesn't attract the number of people we need to stay in business. I should have [focused on] areas where the history is real. The style of food [at Achie's,] was not good for people who wanted a burger and fries.
The idea of a hotel restaurant has changed exorbitantly in the last 20 years. A lot of them are operated independently now. I look at Empire State South the same way as I would a hotel restaurant. Its open for breakfast, lunch, and dinner, and located under a 27-story office building.
What's on the menu?
It's decidedly French. It's not revisionist—not mussels and frites. We have parslied ham set in gelatin as a starter. There's Lyonnaise tortes, escargot on toast, veal sweetbreads, roasted chicken, and French-inspired Steak Diane. The options will be 'lunchified' for [the midday meal].
Will you serve brunch?
Not brunch, but breakfast. Croissants, a soft-boiled egg with toast points and caviar and parsley salad, lox tartine with hard-boiled egg and capers, a daily quiche, and a French-style omelet with local lettuce salad. We're also doing an Intelligentsia coffee program.
Tell me about beverage program.
Kellie Thorn is designing a whole new program focused on cognacs and armagnacs. Steven Grubbs created a program focused on French wine. We'll have about 20 wines by the glass and over 100 by the bottle.
What will the space look and feel like?
It's meant to be a place of respite. It's the natural look. We put down some beautiful carpeting because marble can make [dining] on the loud side. There's a 30-foot wooden communal table and three styles of stunning plush banquettes, wooden at the base. Think of an Art Deco-meets-Gilded Age-type look. There's cool orange and white wallpaper. The bar faces the windows. Credenzas will feature the wine. There's high ceilings. I believe it seats 102 people.
How much time will you spend in the restaurant?
I'll be there a lot. We have an amazing executive chef, Ian Quinn (previously of C. Ellet's). We'll be there to make sure it's happening like we want it to.
Changing gears a bit, how are your cookbooks coming along?
Sous Vide: Better Home, Better Kitchen is set for an October 15th release. I'm also working on one called 24 Blocks. It's a book you'd send a kid to college with. It shows 24 techniques to cook your way to a good meal every day. The second section is recipes. It should come out in 2021.
What's next for you?
My oldest is applying for colleges. She wants to be a doctor. My youngest is dancing a lot of ballet. I'm watching kids grow.
And professionally?
I'm working on a project at Sandestin [resort in Florida] in a new boutique hotel in the resort complex. No name yet. It'll be a fun, coastal fish place.
View the dinner menu below (subject to change)

Fruits de Mar
selection of Southern oysters MKT
blue crab, celeriac remoulade $12
Sapelo Island clams, apple, celery, almond $12
langoustine, lemon, olive oil, chiles   $42
Smaller
vichyssoise with chives and rye croutons $10
chicory lettuce, crisped sesame bread, shallot-thyme vinaigrette $12
frisee, poached egg, bacon, croutons   $14
steak tartare, crispy leek, cornichon, dijon $12
jambon persillé, gribiche $14
terrine of foie gras and chicken liver, muscadine $19
tourte au canard lyonnaisse, bitter greens $16
escargot on toast, garlic butter $16
veal sweetbreads, caraflex cabbage, buerre noisette $18
catfish quenelle, sauce nantua $28
Bigger
celeriac a cheval, black truffle, frites $28
Georgia trout, sunchoke, sauce meunière  $32
calf's liver, pomme puree, sweet onion, mustard jus $32
pot-au-feu, horseradish, curly parsley $38
poulet roti, turnip, jus $32
steak Diane, frites $30
Gratin
spaghetti squash, thyme, comte $6
Belgian endive $6
salsify, smoked oyster $8
Sides
pomme dauphine with gribiche $8
stewed lentil $5
leeks aux grenobloise $6
Desserts
tete de moine, persimmon, pecan $12
chocolate Torte, white chocolate, vanilla flour de sel $10
pot de crème, salted caramel, shortbread cookie $10
apple Tarte Tatin, Vanilla Ice Cream $10
hazelnut Paris Brest $10
selection of ice cream and sorbet $4 per scoop