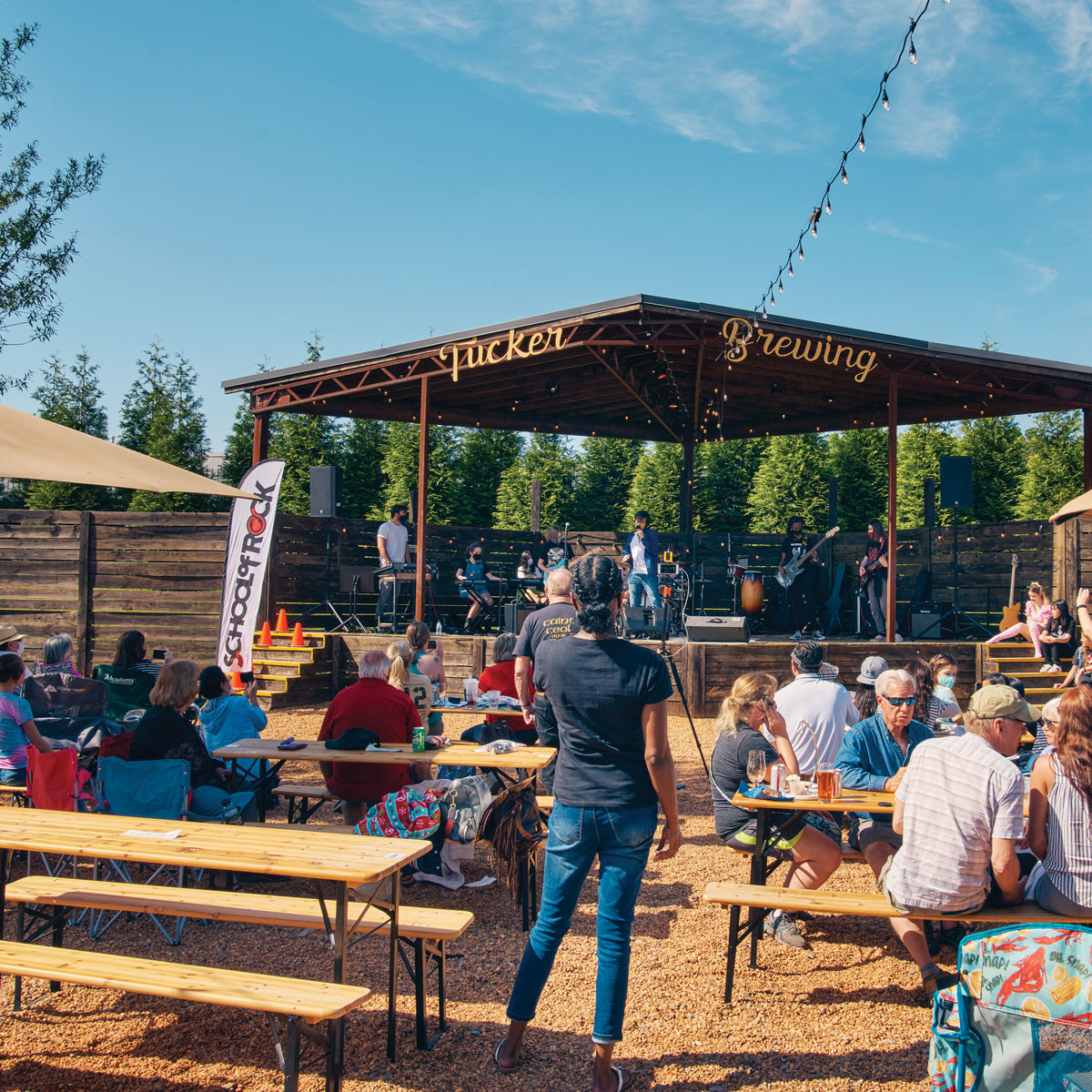 As a young woman, I moved from Paris to Munich, where I had no choice but to learn to drink beer the Bavarian way: outdoors and by the liter. A dainty Parisian wine sipper whose main exposure to beer had been the demipanaché (half beer/half sparkling lemonade or Fanta Lemon) in cafes, I watched with horror as buxom wenches carried giant trays of glass mugs filled with frothy liquid gold. They adroitly negotiated a treacherous landscape of community tables where patrons swayed and sang, occasionally pounding the tables with their mugs.
My apartment, right behind one of the numerous Paulaner breweries, was often invaded by the fetid odor of the mash-boiling process. My German husband dragged me to various beer gardens, including a magnificent one in the Englischer Garten—the rolling public park in the heart of Munich—and another on top of steep Nockherberg Hill. I whined through a river of beers. Eventually, I learned to enjoy the conviviality; then, I grew passionate about the freshness of Bavarian lagers drunk under the open sky.
Atlanta feels like it should be a great town for this kind of thing. We've got the trees. We've got the climate. We even have the beer, now. Elsewhere in the U.S., the Pharmacy (Nashville) and Prost! (Portland, Oregon) are exemplars of the genre, but in Atlanta, there aren't many true beer gardens—the Bavarian kind, reflecting a particular culture and geography. For several years, in the 1980s, the Arts Festival of Atlanta had an ideal one, with proper trees and proper fresh air. People drank beer and ate sausages. That was all, and that was great.
One of the few around here today, and one of my favorites—appropriately named Der Biergarten—is in a touristy stretch of Marietta Street downtown, serving straight-out Bavarian food and great German beer in its jovial outdoor setting. In Avondale Estates, I love the heavy outdoor tables, German hops, and casual food at the Lost Druid, and, when in Little Five Points, I've been known to hang out in the enclosed beer garden behind the Wrecking Bar.
But the best hope for fans of this form is a giant campus—8,500 square feet—built from scratch in a remote corner of Tucker. Snaking through a banal landscape of warehouses and light industry, one is pretty much stunned to find the family-owned Tucker Brewing Company and its terrific beer garden, a vast expanse of pebbles and newly planted trees overlooked by a bandstand. One also finds games, a sandbox for kids—even a few dogs hanging out by their masters. I am impressed by the place's easy-drinking lagers and the hefeweizen, but my true love is the TKR Pilsner slow pour, capped with a beautiful foam dome. Food is rarely the main draw at a beer garden, but I'm happy to eat the giant pretzel with beer cheese, the tangy sauerkraut balls, and the shapely burger. I draw the line at chickpea schnitzel and abjure the gnarly bratwurst.
Another place that closely resembles a proper beer garden is the outdoor area of Wood's Chapel BBQ in Summerhill. Especially with the new lights hanging overhead, it captures the romance of being outside on a warm day getting a slight buzz, a sessionable beer in one hand and a magically delicious plate of pork in front of you. There's also the wonderfully located backyard of the Companion, which opened in the midst of the pandemic, abutting a low-key brick masonic lodge in Bolton. Hopefully, in the years ahead—and now that we've gained plenty of experience, whether we wanted it or not, eating and drinking outdoors—more places will offer the conviviality and the beer culture we deserve.
This article appears in our June 2021 issue.