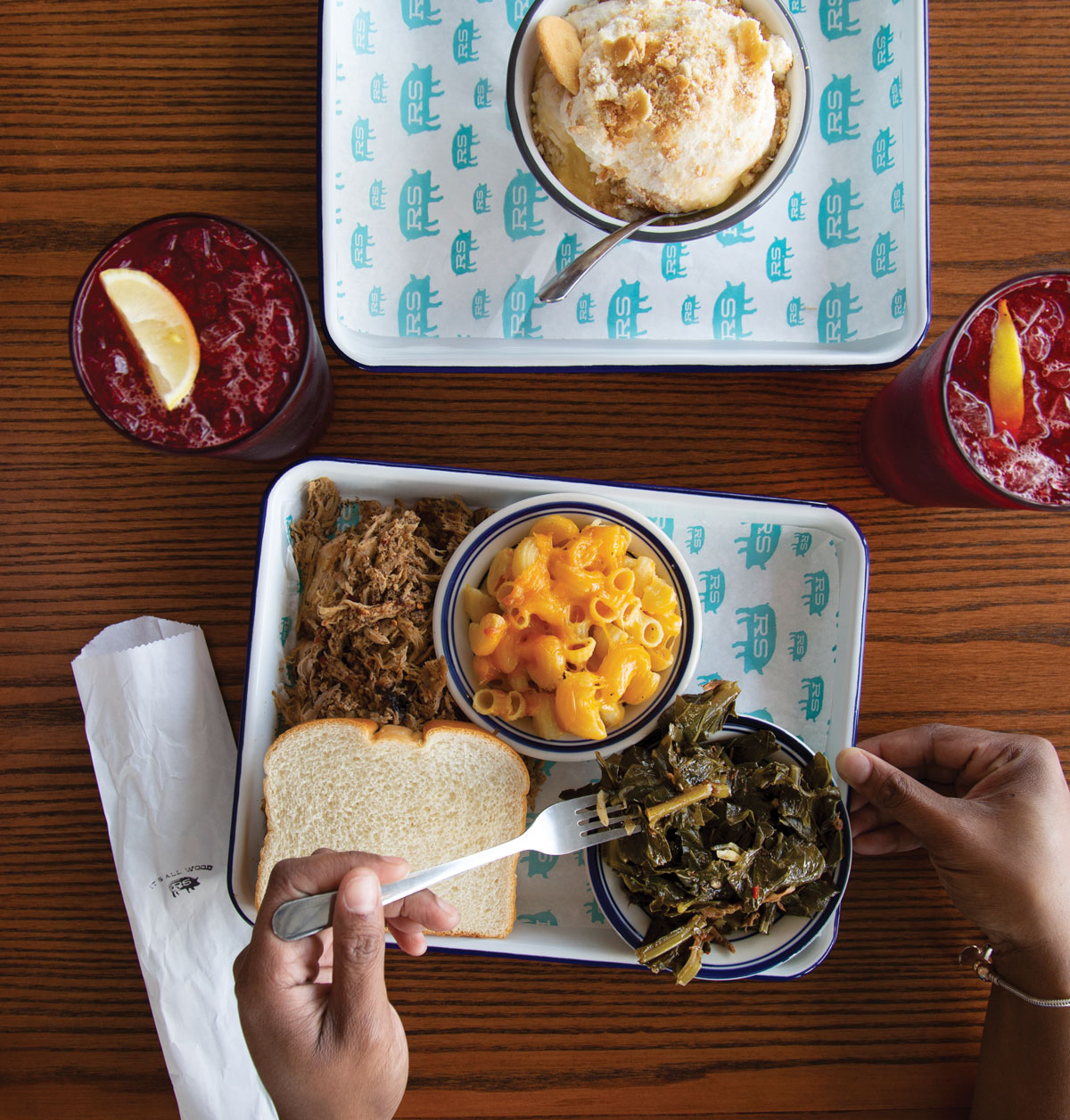 Rodney Scott's Whole Hog BBQ
One of the most celebrated modern practitioners of the Southern art of barbecue is Rodney Scott, who opened his first eponymous restaurant in Charleston in 2017. He's added outposts in Birmingham and now Atlanta, across the street from the Met complex in a very pretty glass-walled space. If you're a first-timer, it's clear what you should order: the pork plate, identified on the menu as "the heart and soul of my BBQ" and indeed a testimonial to why Scott is such a big deal. The complex flavors on that plate feel as if they've been not imposed on the meat but coaxed from it, probably via some strange and wonderful magic— which I guess is what great barbecue is. Not greasy or overwhelmingly smoky, the pork carries just a whisper of the wood it was cooked slowly over. The house sauce is a peppery, straightforwardly astringent vinegar-based number that complements the meat perfectly, though a few variations are available. The traditional sides are also ideal versions of themselves: Stewed collards are a bit sweet, a bit tart, and not at all overdone, and mac and cheese is everything you want it to be (except, on a recent visit, hot—the kitchen could stand to turn the temp up a few degrees on what it's sending out). There's also pulled chicken, turkey breast, sandwiches, fried catfish, and ribs, and if you're thinking about leaving without ordering the banana pudding: No offense, but what are you doing with your life? 668 Metropolitan Parkway, Adair Park, 678-855-7377
Antiguo Lobo
As it turns out, the restaurant that downtown Chamblee was hungering for was a solid Mexican joint with a full bar and plenty of tequila—at least, that's the way it looked on a recent weeknight, when Antiguo Lobo was packing 'em in. The name means "old wolf" and refers to owner Jesús Oñate Jr.'s late father, a prolific Atlanta-area restaurateur; in tribute, the son has assembled an eclectic menu of reliable regional specialties from across Mexico, from aguachile de camaron—raw shrimp "cooked" in citrus juices—to esquites: mayo-and lime-spiked corn kernels cut off the cob and sprinkled with cotija cheese. The slow-cooked brisket enfolded in the birria tacos was startlingly tender and deeply flavored, and sauteed mushrooms provided a nice vegetal counterpoint in a starter of queso asado—griddled cheese; who can object?—with tangy green sauce and rich, blood-red salsa macha. Every so often, a server walked by carrying a dramatic-looking (and highly fragrant) Molcajete el Monstruo: a massive Mexican mortar overflowing with various sizzling meats and veggies that looked like it would feed a happy party. Margaritas are de rigueur for offsetting such hearty, salty fare, and Antiguo Lobo makes a mean one. 5370 Peachtree Road, Chamblee, 470-385-6502

Lamb Shack
A sign on the door of the venerable Buckhead seafood destination Kyma makes note of a dress code (business casual), but those unwilling to ditch the sweats have a new option: Lamb Shack, a takeout- and delivery-only operation fulfilling lunchtime orders five days a week out of the same kitchen. The dish that inspired the new business was already a Kyma staple—chef Pano I. Karatassos's lamb pie, which garnered some attention in 2019 in a competition on the Food Network. Here, it joins a menu of other accessible, Greek-accented lunchtime options, mostly salads and pita wraps. In the prevailing fast-casual manner, you can build your own—pick your protein (slow-cooked lamb, poached chicken, etc.), spread (kalamata puree, hummus), garnish—or simply choose from a list of "Chef Pano Favorites," like a pita containing Kyma's fantastically smoky wood-grilled octopus with tzatziki, arugula, onions, and feta. It's a little greasy, but no one's complaining. Sides include a refreshingly spinach-forward spanakopita—the cheese in the filling complements, rather than overpowers, the greens—and Greek fries and stuffed grape leaves. How's the inciting pastry, a filo-wrapped coil sold here as "The Lamb Pie That Beat Bobby Flay"? Tender, salty, and wonderful, if a little puny for the price ($12); I guess those are the wages of celebrity. Wherever you're eating this meal—car, office, sofa—you could do worse than to end it with buttery, clove-scented baklava. 3085 Piedmont Road, Buckhead, 404-262-0702

Pop-up: Sugar Loaf
Lindsay and Nebi Berhane met on a cruise ship—not sightseeing, but dancing. Both are professional dancers who have performed in New York, Chicago, and elsewhere, but when they moved to Atlanta from Manhattan last year, it was in pursuit of a different art: pastry. The pair's burgeoning business, Sugar Loaf, has two weekly farmers market gigs—Avondale Estates and Piedmont Park— selling biscuits, cookies, pies, and assorted other sweet and savory treats.
"I guess, as a dancer, I started learning how to cook and bake out of necessity," says Nebi—not much disposable income. Lindsay previously worked a series of pastry jobs while keeping up her obligations on the stage. Both Nebi and Lindsay were influenced by their mothers (Ethiopian and Albanian, respectively), which helps account for the global flavors on their menu: for instance, in their "sticky buna," topped with caramel infused with Ethiopian coffee ("buna" = "coffee" in Amharic); in liege-style waffles flavored like churros and served with dulce de leche ganache; and in seasonal specialties like a Provençal-style tomato pie. The Berhanes are also hoping to ship cookies for the holiday, with some of the proceeds going toward a local nonprofit doing good work. It'll be a continuation of a project they started back in New York: Cookies for Change.
This article appears in our October 2021 issue.