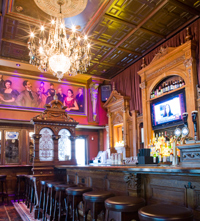 Photo by Heidi Geldhauser
Saltyard preview at Huff Harrington
Saltyard is offering Atlantans the chance to try its food before the restaurant officially opens in a few weeks. The dinner will be held at Huff Harrington Fine Art tomorrow at 7 p.m. The menu will include ahi tuna carpaccio, raw Thai vegetable salad, lemon and ale-braised chicken thighs, and more, served with wine. Reservations are required. $75 per person. Call 404.382.8088.
Bazaar Bizarro fundraiser for Slow Food Atlanta
A country fair with food from Farm Burger, Community Q BBQ, King of Pops, and more, Bazaar Bizarro is Saturday at 10 a.m. at Love is Love Farm at Gaia Garden in Decatur. Local crafters and circus performers will be showcasing their talents, and attendees can participate in a "veggie Tug-of-War," radish races, Maypole dancing, and cupcake walks, among other activities. Tickets cost $20 for adults and $12.50 for children (plus service fees), and proceeds benefit Slow Food Atlanta.
El Burro Pollo is back
Hector Santiago (formerly of Pura Vida) is bringing back his burrito stand, El Burro Pollo, this weekend for a pop-up in East Atlanta Village. According to Santiago's Facebook page, the stand will be open Saturday from 6:30 p.m. "'til the food is gone" at banh mi shop We Suki Suki.
Cinco de Ri Ra
Though Cinco de Mayo celebrations are usually kept to Mexican restaurants, Ri Ra Irish Pub is offering its own take on the holiday Sunday with a "Cinco de Ri Ra" celebration. The party, which starts at 9 p.m. and goes until midnight, features a DJ, Dos Equis, margaritas, and Mexi-Irish creations such as corned beef and cabbage burritos and shepherd's pie enchiladas.