A note from Sean McGinnis, President & Publisher:
As we continue our sheltering in place, we have all experienced the desire to find activities to keep ourselves busy, inspired, healthy, motivated, and smart. It is in that spirit that we are providing you a complimentary digital edition of Atlanta magazine to help occupy your time and hopefully find engaging stories that keep you connected to the spirit of Atlanta.
While Atlanta magazine has always relied on paid individual subscriptions and newsstand sales, we felt compelled to share our entire digital edition with the community for free during these challenging times. Fill out the form below and prepare to enjoy.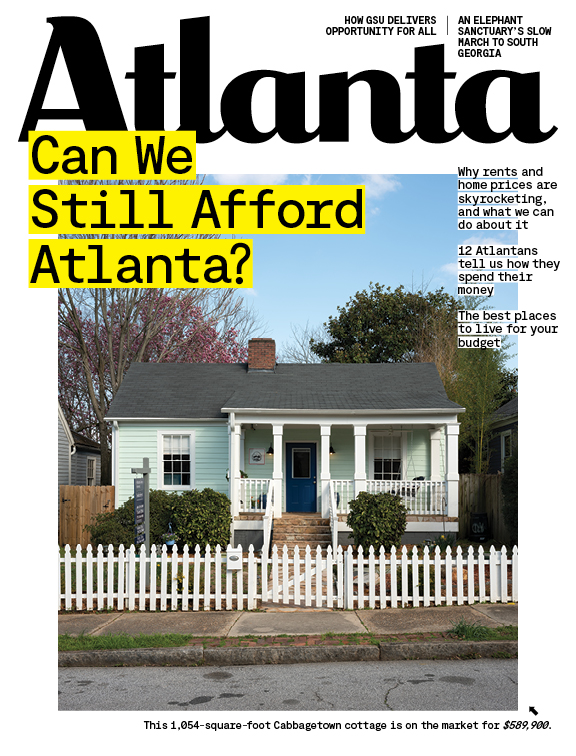 In this April issue you will find several compelling stories including an in-depth look at the Atlanta real estate market and the issue of "affordable housing." As Atlanta's population has swelled over the past years, and more people embrace living closer intown, this has led to soaring property values.
Also in this issue are two additional "great reads" – a story of how Georgia State University is helping to fix a broken higher education system and a touching tribute to Carol Buckley, a woman in south Georgia who is fighting for the right for elephants to live free.
Don't miss the magazine's profiles on DeKalb County's CEO, Michael Thurmond, and Brother Philip, one of 26 monks who resides at the Monastery of the Holy Spirit in Conyers, as well as an update on Georgia's water wars – plus much more.
You'll want to pay particular attention to the finalists in the coveted Townsend Awards, a collection of great works of fiction from Georgia authors.
And did you know? These awards are named for James L. Townsend, the founding editor of Atlanta magazine in 1961. Townsend was named the "father of city magazines in America" by Time magazine and many of the greatest Southern authors such as Terry Kay, Pat Conroy, and Anne Rivers Siddons (all former contributors to Atlanta magazine) launched the Townsend Awards to honor his legacy. So, if you're in need of your next suggested book, we provide you a list for consideration on page 30.
I'll take this opportunity to thank our long-time subscribers, our valued advertising partners, and those who consume our content online and follow us on our social platforms (hundreds of thousands and growing). We are a community that cares and appreciates quality journalism. I encourage all of you to support our local businesses, now more than ever before, and let them know you appreciate them.
We will get through this together.
In the meantime, enjoy this April issue!
Access the April 2020 digital edition of Atlanta magazine