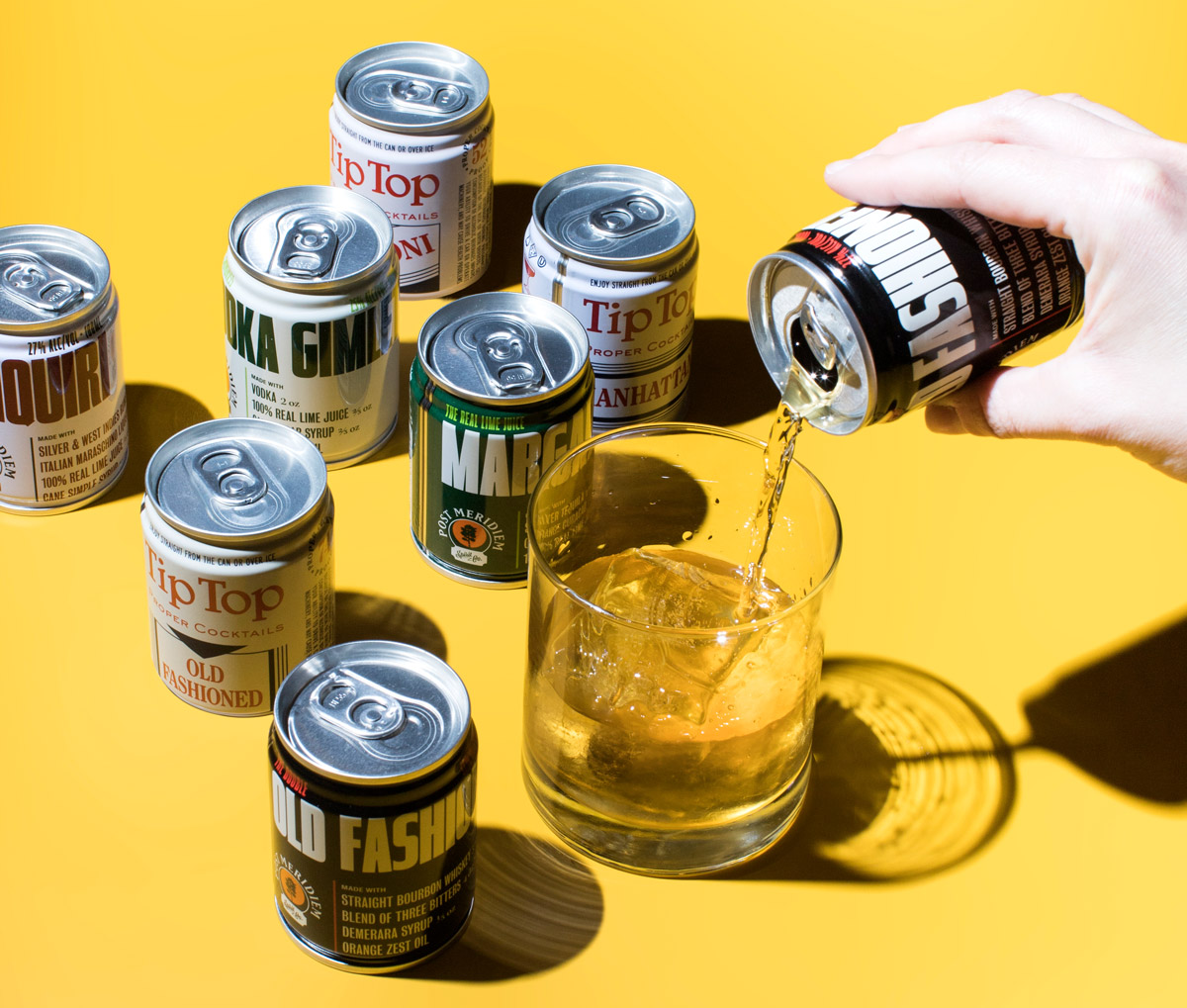 The words "convenience" and "cocktails" don't typically appear in close proximity. In an effort to change that, Atlanta-based brands Post Meridiem Spirit Company and Tip Top Proper Cocktails have taken on the daunting task of capturing the magic of a craft cocktail in a can. Post Meridiem's canned cocktails currently are stocked in stores across the city, and Tip Top's are set to drop at the end of 2019.
We enlisted Kendall Dreyer, lead bartender at Poor Hendrix, to taste-test a few of each brand's cocktails and speculate on their place in cocktail culture. She's resolute on one thing in particular: "I can never imagine them in a bar."
Old Fashioned
Post Meridiem
"I could totally drink this. They are using demerara [sugar] here, which typically [produces] a richer simple syrup. It's dark, heavy, and rich and adds body. It has kind of a sunscreen thing with a rummy note to it—tropical coconut, Banana Boat."
Old Fashioned
Tip Top
"This has it all. You get the bitter, you get the citrus, you get the body from the sugar, you get the caramel-ness. I definitely prefer this one."
Negroni
Tip Top
"I'm not getting much Campari, really. I mean, on the back end a little bit. But there's not that sweet-but-bitter orange thing that I'm looking for. It's kinda flat and candied. It's really sweet."
Margarita
Post Meridiem
"It's not awful. The lime's coming through for me. It's the tequila that doesn't come through as much as I wish it would. I really appreciate agave spirits and want that vegetal, green, peppery thing."
Manhattan
Tip Top
"I like this one the best. You can definitely have a Manhattan on the rocks, but ideally, this would be refrigerated, and you would just pour it into a coupe."
The Verdict
"If I were hosting some sort of big party, I like the idea of having the ice bin stocked with beer and these guys—if you can't afford to have a bartender or you don't have the time to stock a bar or you're worried people are going to make a mess."
This article appears in our September 2019 issue.