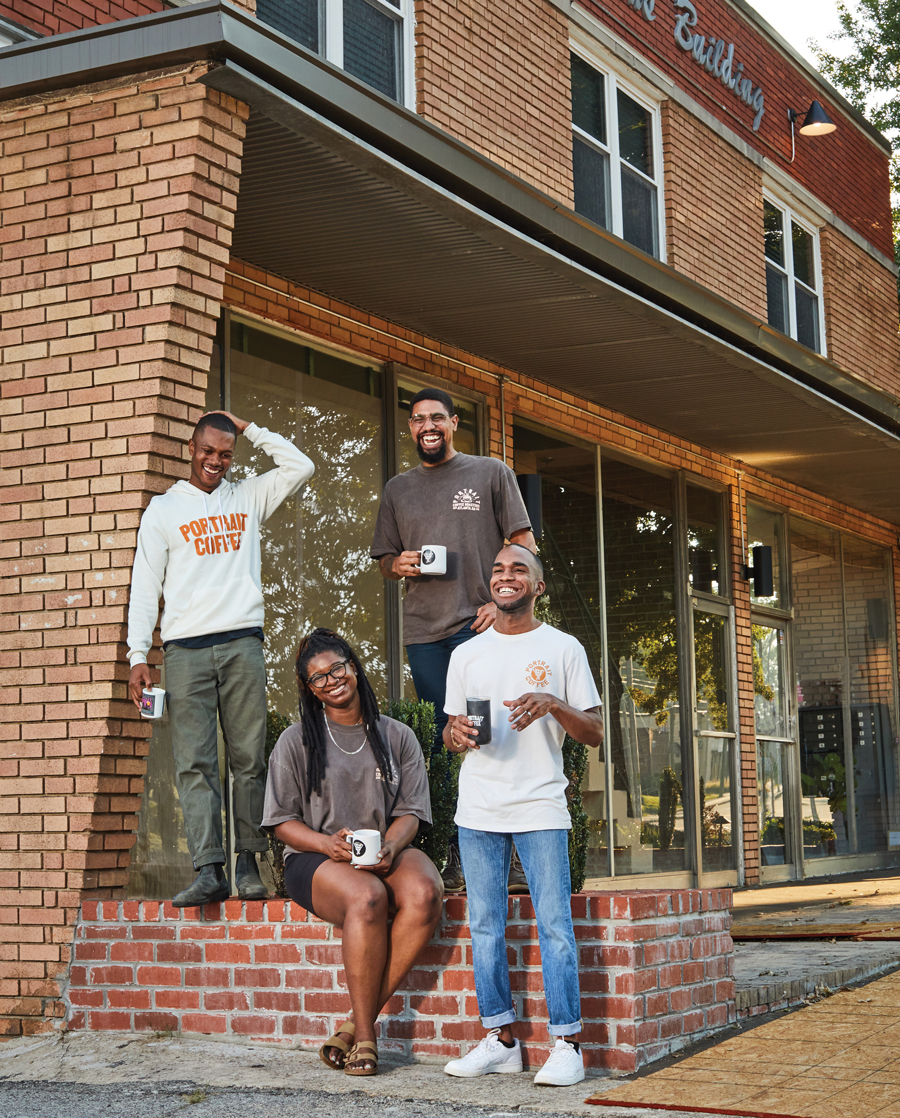 Kayla Scott stands in the basement of West End's Lottie Watkins Building describing the taste, texture, and smell of some off-brand pizza rolls she ate last night. At the center of the room, two steel tables hold eight cups each, arranged like a wine tasting. Following Scott, the dozen or so people gathered around them take turns talking about memorable dishes they've eaten recently themselves. But what they're learning to talk about is coffee.
Today is one in a series of free "cuppings" hosted by the West End roaster Portrait Coffee to teach people how to identify a coffee's sweetness, acidity, body, flavor, and balance.
"Specialty coffee can be pretentious, and people are afraid to speak up because they feel like they might sound dumb," says Scott, an operations associate at Portrait. She doesn't want anyone to be too shy to call out tasting notes like "blue Jolly Ranchers" or "my grandma's blueberry pie." But she also doesn't refrain from "getting nerdy" when it's called for: After the pizza roll analogy, the conversation turns to how farming at different locations and elevations affects a bean's flavor.
While enrolled at Kennesaw State University, Portrait cofounder and CEO Aaron Fender worked as a barista at a local coffee company riding what he called a "do-good-capitalism wave," purporting to partner with and equitably compensate farmers and producers. "There would be a farmer's picture on the bag of coffee," he says. "But when I met the farmers in East Africa, I didn't see as much good being done as what was promised."
Coffee was discovered in Ethiopia and is grown in places like Brazil, Vietnam, and Colombia. But as it's become a specialty item in the U.S., Fender and cofounders Marcus Hollinger and John Onwuchekwa worry that Black and brown people are being cropped out of the picture. So, they set out to "pour a new narrative," launching their business in 2019 to push for equity and representation in the industry—and in gentrifying Southwest Atlanta, where they're set to open a cafe.
As they were looking for a space, the family of the late Lottie Watkins was searching for a tenant to build on her legacy. Atlanta's first Black woman to be a licensed real estate broker, Watkins operated out of 1065 Ralph David Abernathy Boulevard for five decades. Owning the circa-1954 building, which still has its original terrazzo floors and a rent collection box built into the wall, meant she was able to make space for other minority business owners, too.
Fender met with the Watkins family in 2019 and signed a lease for the basement, where the roastery opened in 2021, and half of the main level, where the cafe opens early next year. (Watkins, who died in 2017, was also active in the civil rights movement and served in the Georgia House of Representatives; the City of Atlanta plans to recognize her work with a historical marker on Portrait's patio.) In the meantime, Portrait will continue to sell beans by the bag or subscription and to partner with local shops like Refuge Coffee, Spiller Park Coffee, and Finca to Filter. It plans to offer classes on roasting and mixology.
After the cupping, Lottie Watkins's granddaughter stops by. "This is what I love about Portrait. They're Black entrepreneurs, out in the community, helping one another," says Kelli Ross. "That was her. She is right here. Her spirit lives on."
---
More from our guide to Atlanta's coffee scene
This article appears in our November 2022 issue.