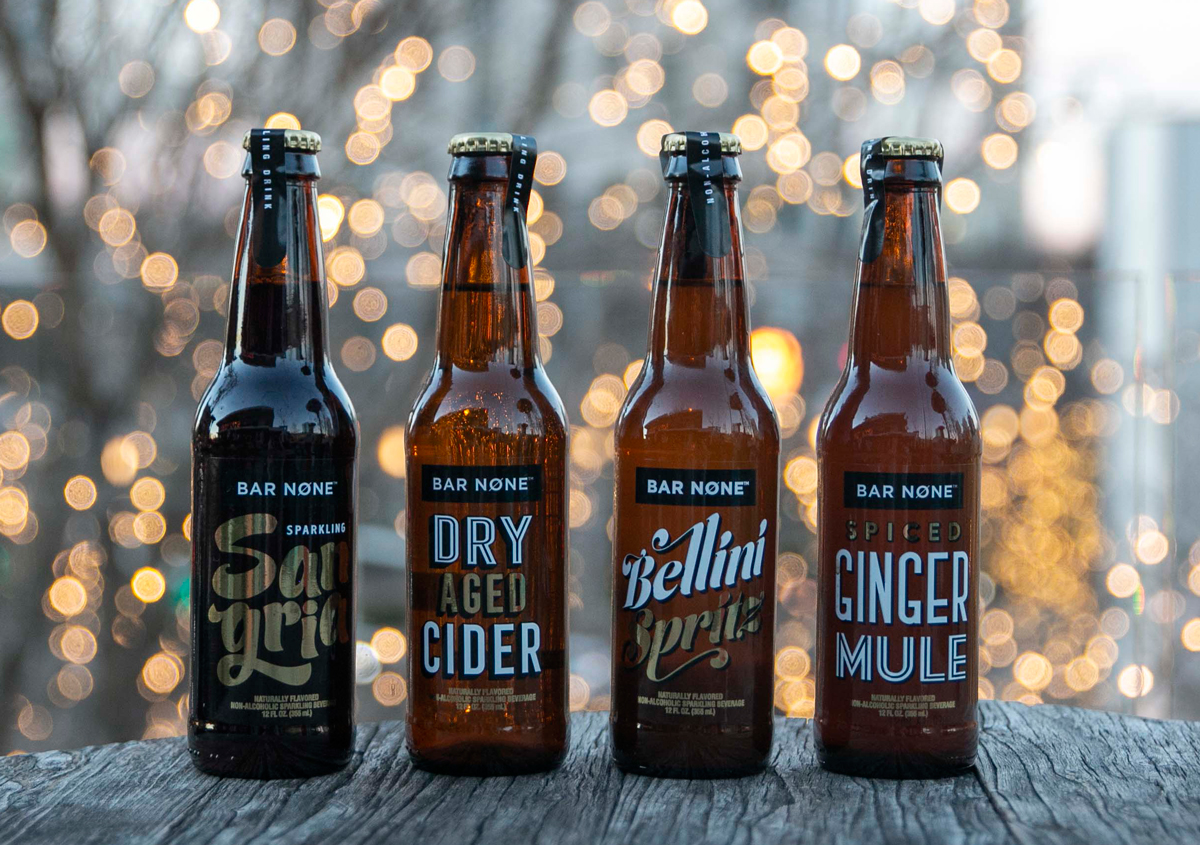 Atlanta bars have shown plenty of interest in crafting unique nonalcoholic drinks, but on grocery store shelves, there aren't many grab-and-go options beyond juice, tea, and soda.
Enter Bar Nøne, a new line of cocktail-inspired, nonalcoholic bottled drinks from Coca-Cola that come in varieties such as ginger mule and Bellini spritz. The drinks are the brainchild of Sabrina Tandon, a 17-year Coca-Cola veteran and Emory University grad who works as the director of portfolio strategy and innovation for the soda company's Venturing and Emerging Brands wing.
"I just found that [both while pregnant] and just in general when I didn't want to drink, or if I had one cocktail at an event and wanted to switch to something nonalcoholic, the options weren't anything I was really excited about," Tandon says. She chatted with a few friends and found that she wasn't alone in this.
After some trial and error, Bar Nøne developed four flavor options—packaged in brown, long-necked glass bottles—for palates longing for interesting, booze-free concoctions. "Through doing a little bit of consumer research, [one] insight was that with alcoholic beverages, everybody has their preference. One person's a beer person but they're not a cocktail person. Someone else is wine," says Tandon. So the flavors aim to cater to these preferences.
Non-imbibers seeking something refreshing and effervescent will like the ginger mule, made with kombucha, ginger juice, lime, and ginseng. Looking to fill that mimosa-sized hole in your heart at brunch? Try the peach Bellini, a sweet and tart combination of sparkling water, peach puree, and white vinegar. The dry-aged cider mimics the hard varieties that have recently surged in popularity. And the fruity, sparkling red sangria tastes the most like its alcoholic namesake. So close, in fact, that while pouring drinks during a Thursday evening Bar Nøne media preview, one bartender recalled a prior event where he had to explain to a consumer who thought she was getting tipsy that there was actually no wine in the mix.
The launch of Bar Nøne couldn't be more timely. Dry January, a movement that launched in the United Kingdom in 2014 that encourages people to give up booze for the month, has gained traction in the United States, leaving otherwise would-be drinkers looking for something interesting to sip on. But even after January, non-alcoholic drinks have been trending and Tandon doesn't see it slowing down.
"Based on the research and data I've seen, I do think it will stay, and I think [demand] is going to increase," she says. "We're definitely seeing millennials drinking [alcohol] less than Gen-Xers, and centennials [also known as generation Z] drinking less than millennials."
Currently, Bar Nøne drinks are only sold in Atlanta, and retailers and restaurants selling them include Savi Provisions, Smyrna World of Beverages, and Gypsy Kitchen. The product can also be purchased online.