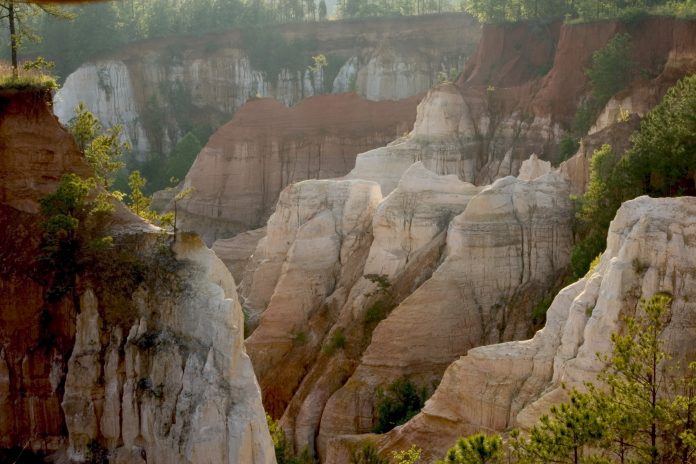 photo courtesy of Georgia State Parks
One man's mistake is another generation's treasure. Georgia's "Little Grand Canyon," located two-and-a-half hours southwest of Atlanta, is heralded as one of the state's most intriguing "Seven Natural Wonders." Hardly natural in origin though, this hidden treasure was accidentally created by the poor farming tactics of early 1800's settlers.
Improper soil management led to erosion, which spurred the formation of sixteen remarkable canyons in southwest Georgia. Today, these canyons–some as deep as 150 feet–are part of Providence Canyon State Park, a 1,003-acre oasis of wildflowers, plateaus, and colorful canyon walls. Here's what to check out on your visit:
 You'll find three miles of hiking trails and seven miles of backcountry trails, all filled with wildflowers in the springtime. Break at a picnic shelter to enjoy a meal while overlooking the stunning views of the canyon.
Providence Canyon's most quirky attractions
Since removing old vehicles would have caused too much environmental damage, park officials left many abandoned 1950's-era cars and trucks on display for tourists around the park.
Visitor Center
Open Monday through Friday 8am to 5pm, Providence Canyon's visitor center includes exhibits, audio-visual presentations, and more information and history on the area.
There are no cabins offered at Providence Canyon State Park, but those looking to take on the full experience of Providence Canyon can sleep in nature at Providence's pioneer or backcountry campsites. More modern facilities can be found at Florence Marina State Park, located just a few miles northwest.