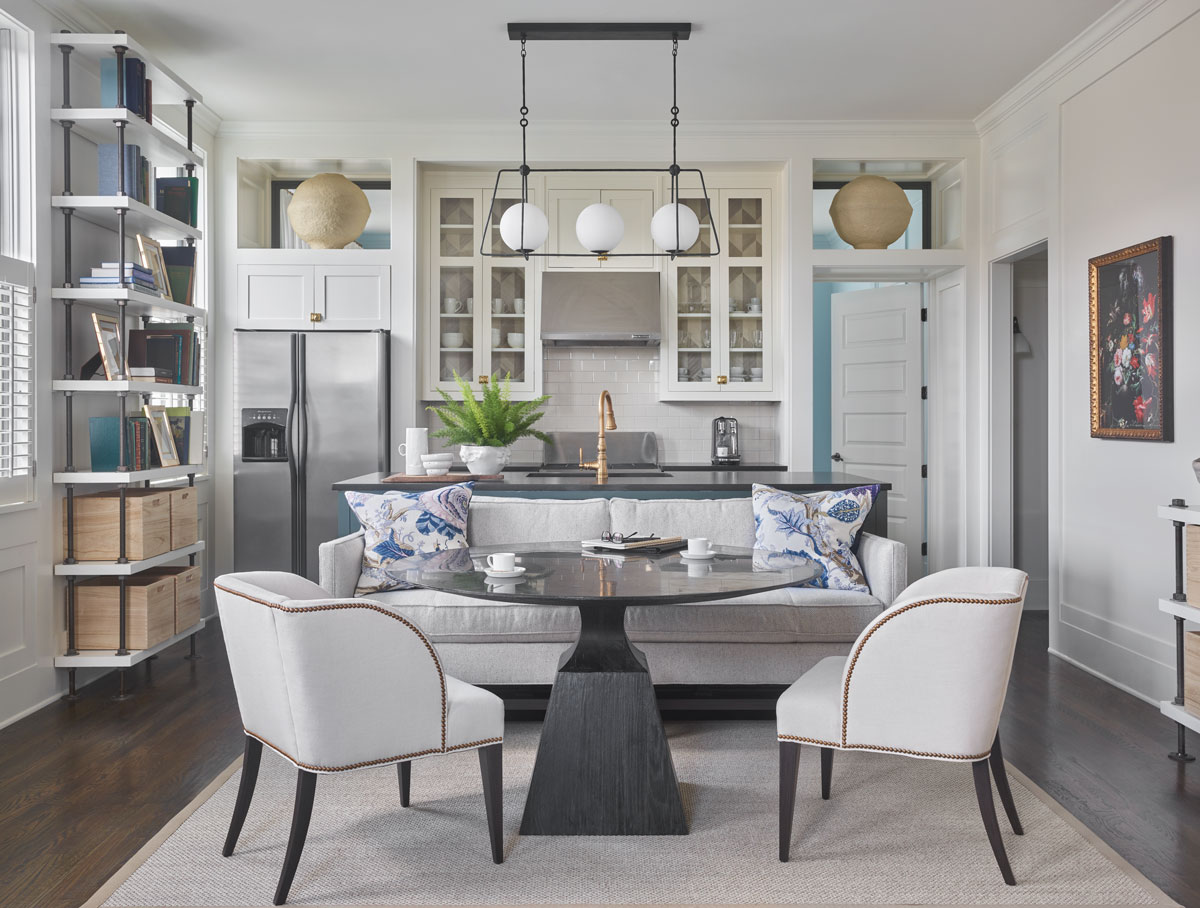 Since our homes often serve as offices these days, it makes sense that on the flip side, workplaces could benefit from looking homey. At this Glenwood Park office space for wealth management firm Elwood & Goetz, the leadership team (mostly women) hired Lathem Gordon and Cate Dunning of GordonDunning interior design to bring their signature layers of beauty—the kind usually found in a house. "You have to find that right balance between residential and commercial for each company, but we hope there's a movement towards more residential-looking offices," says Lathem.
"People crave the comforts of home when they're working," says Cate. "It feels more comforting to be curled up on a sofa with a laptop or perched with a cup of coffee in a banquette throughout the day than to spend an entire day at a desk." Their process:
ATLANTA MAGAZINE'S HOME: This space looks residential, but it's also for a business. How was this project different from what you might do for your typical homeowners?
Lathem: The space needed to perform multiple functions: client-oriented conference rooms, a bedroom suite used by the owners as well as visiting clients, a kitchen and lounge area for employees, an open-office area and coffee bar for employees, and a rooftop entertaining space. As such, every space required a good bit of refining along the way.
AMH: Tell us about that office area with the mural.
Lathem: Glenwood Park was planned so beautifully, so there are loads of trees all around. The main open office space (where employees spend their days) has three walls of windows that overlook the neighborhood. We wanted to mirror that and make that whole space feel enveloped by greenery, so we specified the mural wallpaper for the fourth wall, which is one of our favorite decorative elements of the whole project.
AMH: What was your plan for the blue conference room, and how does it straddle the line between work-oriented and pretty?
Cate: We talked a lot about this room being comfortable. The firm is in there talking about one of the most uncomfortable subjects there is: money. We've got to make clients feel warm and fuzzy in a pretty room. We are actually neighbors with our own office, by the way, and love being in this same neighborhood.
Lathem: We wanted it to feel like a dining room when you first walk in but also to function as a conference room. A very small thing we did was incorporate a tray that houses professional items that can easily be tucked away or brought out depending on the purpose of the meeting.
AMH: The bedroom is so calming. How did you pull that together?
Cate: We really had to channel our hotel minds to create a space that was special but also could be comfortable for whomever may be sleeping there. Sometimes, it's an out-of-town client, and sometimes it's one of the principals and his/her family that come from the Athens office.
AMH: Any ways you veered from a traditional office space?
Lathem: As an example, we surrounded conference room tables with local abstract art and paired antique chests with funky, vintage artwork. We wanted to create an environment that felt rooted in some of the traditional aspects of such a firm but also embraced a freshness.
This article appears in our Spring 2023 issue of Atlanta Magazine's HOME.