If you are an Instagram user in the Atlanta-area, chances are you have heard of ATL Bucket List. This account, created and run by Atlanta-transplant Alyssa Fagien, documents the best things to do, places to explore, and food to eat in the city. Though she's a resident in the Old Fourth Ward neighborhood, Alyssa recently enjoyed a staycation at The Atlantic Midtown Condos. She shares not just the best parts of life inside Atlantic Midtown Condos, but also highlights what makes the neighborhood of West Midtown such a great place to live.
Each neighborhood in Atlanta has its own special charm. I am an Old Fourth Ward resident and can't get enough of its walkability, proximity to Ponce City Market, and vast selection of restaurants. But during my recent stay at The Atlantic I completely fell in love with West Midtown.
The Atlantic is a beautiful condominium located in the heart of West Midtown. This high-rise is the thirteenth tallest building in Atlanta, providing residents with sweeping skyline views. Every inch of the building is equipped with state-of-the-art appliances and beautiful furniture. The building has 24/7 concierge, valet for guests, and a doorman for extra security—which is always a nice perk in a city. Even after just a few days on the property, I got to know much of the staff, and each person was friendlier than the last.
When I first walked into the unit I was greeted by a pristine, newly-renovated kitchen. With a huge island, deep sink, and cutting-edge appliances, I knew this kitchen deserved to be put to good use. Since I'm admittedly not the best chef in town, I decided to host a girl's night in and invite my friends at DAS BBQ (located just a few minutes away from The Atlantic) over to show us how real BBQ is made. And let me tell you—that large kitchen island definitely was handy with all of the food they cooked!
Afterward dinner, we took the elevators down to the fifth floor, which is home to many of the building's amenities. In addition to the impressive pool and gym, there is a clubroom with a ton of features you would be crazy not to take advantage of. We bee-lined to the personal screening room, complete with plush couches and a big TV, and ended the night with movies and snacks from Atlantic Station's Kilwins.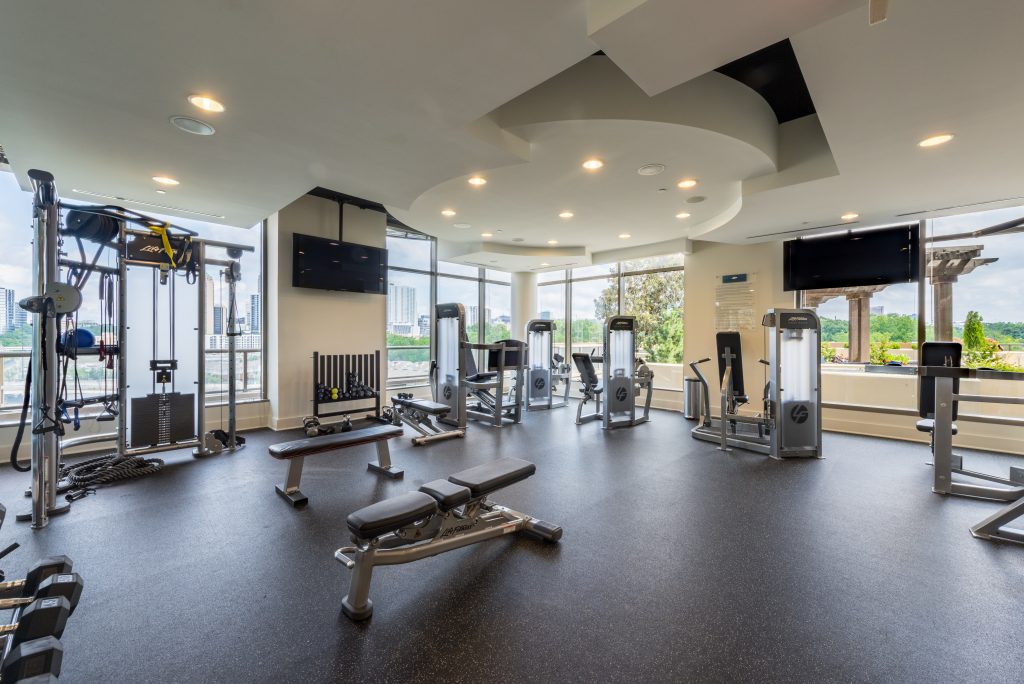 Our girl's night ended but that was not the last time I visited the fifth floor. The wine lover in me was in awe of the wine cellar, a space residents are able to use to store extra wine bottles. Just outside the wine cellar is a lounge with TVs and internet kiosks. As an entrepreneur who often works from home, this space is something I could really use in my life!
While each condo at The Atlantic is spacious and beautiful, if you're the type who hosts dinner parties you'll love the private dining room available for us, featuring plenty of seating and a catering kitchen attached! From birthday parties to baby showers to holiday celebrations, this space is such an incredible perk to have in the building.
While it may technically be fall, Atlanta's weather isn't giving up on summer just yet. I didn't mind it one bit, because that just meant more time by the pool! The Atlantic's pool is one of my favorite building features. Between the grills, stack-stone fireplace, wifi, and skyline views, I found myself utilizing the pool deck quite a few times during my stay.
The Atlantic's proximity to Atlantic Station provides residents with plenty of options for shopping, dining, and activities—there is always something fun going on at Atlantic Station! I discovered live music on Friday nights and yoga in Central Park on Wednesdays. It's pretty incredible having all of these activities at your fingertips, yet The Atlantic is far enough away to still feel private. What surprised me most was how easy it was to get pretty much anywhere in Atlanta from The Atlantic.
Atlanta's booming Westside neighborhood is less than five minutes away, making a healthy pit stop at Upbeet or delicious brunch at West Egg easier than ever! I picked up from Upbeet a few times during my stay, bringing it back to The Atlantic to enjoy with this gorgeous view of Atlanta in the background.
With Midtown less than ten minutes away, I made a dinner reservation at Ecco, indulging on fried goat cheese and wine. After a late night out, I can't tell you how nice it was to park my car in the controlled access garage, take the elevator right up to my floor, and slip into bed with a view of the city.
I had been dying to check out the incredible 'Imaginary Worlds' exhibit at the Atlanta Botanical Garden, and I figured this "staycation" was as good a time as any! This exhibit features living plant sculptures ranging up to 26 feet tall and 21 feet wide. There were so many beautiful sculptures, but the dragon was my favorite. Sometimes it's fun to be a tourist in your own city!
Even with all the amazing amenities and nearby things to do, what I'll miss most about The Atlantic is just spending time in the unit. It was beautiful and modern, but incredibly cozy. There was plenty of space for my in-room massage—which The Atlantic helped me set up (another amazing service they provide). I looked forward to ending each evening with a glass of wine on the balcony. It's hard not to have a big smile on your face when this is your view.
If you're new to Atlanta or just in the market to buy, I absolutely recommend checking out The Atlantic. My week there was a dream! From luxury appliances to incredible views and proximity to a ton of local hot spots, The Atlantic has a little something for every type of Atlantan.