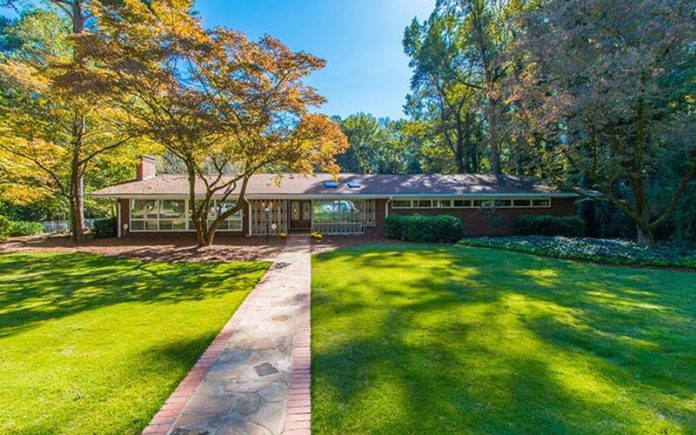 At first glance, the five-bedroom house at 714 Shorter Terrace appears to be an attractive but relatively unassuming midcentury modern home. Photos of the open layout, sunny living area, and double-sided fireplace don't provide any hints about the history-altering conversations that once took place behind its brick walls.
The spacious home was built and owned by entrepreneur and philanthropist Herman J. Russell (1930 – 2014), who helped shape Atlanta, both physically and culturally. The native Atlantan built his business, H.J. Russell & Co., into one of the most successful African American-owned construction and development companies in the nation during the 1960s and 1970s. In 2015, it was ranked as the 13th largest black-owned business of any kind in the United States. Hartsfield-Jackson Atlanta International Airport, Philips Arena, Turner Field, and the Georgia Dome are just a few of the influential entrepreneur's additions to our city's skyline.
Beyond breaking down racial boundaries with his construction company (which is currently working on the new Atlanta Falcons stadium), Russell was the first black member of the Atlanta Chamber of Commerce and its second black president. He worked to help Maynard Jackson secure a spot as Atlanta's first black mayor and made significant financial contributions to campaigns that furthered the fight for equal rights. As such, the circa 1963 home was a magnet for civil rights leaders such as Martin Luther King Jr., Maynard Jackson, Andrew Young, and others.
In a video tour of the house, Andrew Young says, "This was the place where the deals were done—the discussions about desegregating schools, the discussions about desegregating the economy, the efforts to build a new airport, or to pass MARTA legislation."
The sturdy 8,761-square-foot home, designed for entertaining, features a basketball court, tennis court, indoor pool, and expansive outdoor entertaining area. Young fondly recalls coming by to swim and have fish fries with Ralph Abernathy, Martin Luther King Jr., and other influential African American leaders. "This is one of the warm memories of my life, hanging out with these guys, knowing that something good, even great, might come from any time they get together," he says.
The Collier Heights house, which was also featured in this Atlanta magazine story about its historic neighborhood, was put on the market for $675,000 in August; but after two price drops, it is currently listed for $497,900. It sits on 1.5 acres of private, gated land. Contact Jenea Kennedy of Engel & Völkers Buckhead Atlanta at 404-304-8964 for more information.