Long before Palm Springs was on every sun-seeker's radar, Atlanta interior designer Bill Stewart of Stewart Mohr Designs fell in love with this hip California city in the desert. He bought his first vacation home there 15 years ago, then upgraded to this circa-1964 house three years ago. It has the midcentury-modern glamour that draws visitors to the town, and, in fact, Bill is used to a constant parade of people taking pictures in his front yard.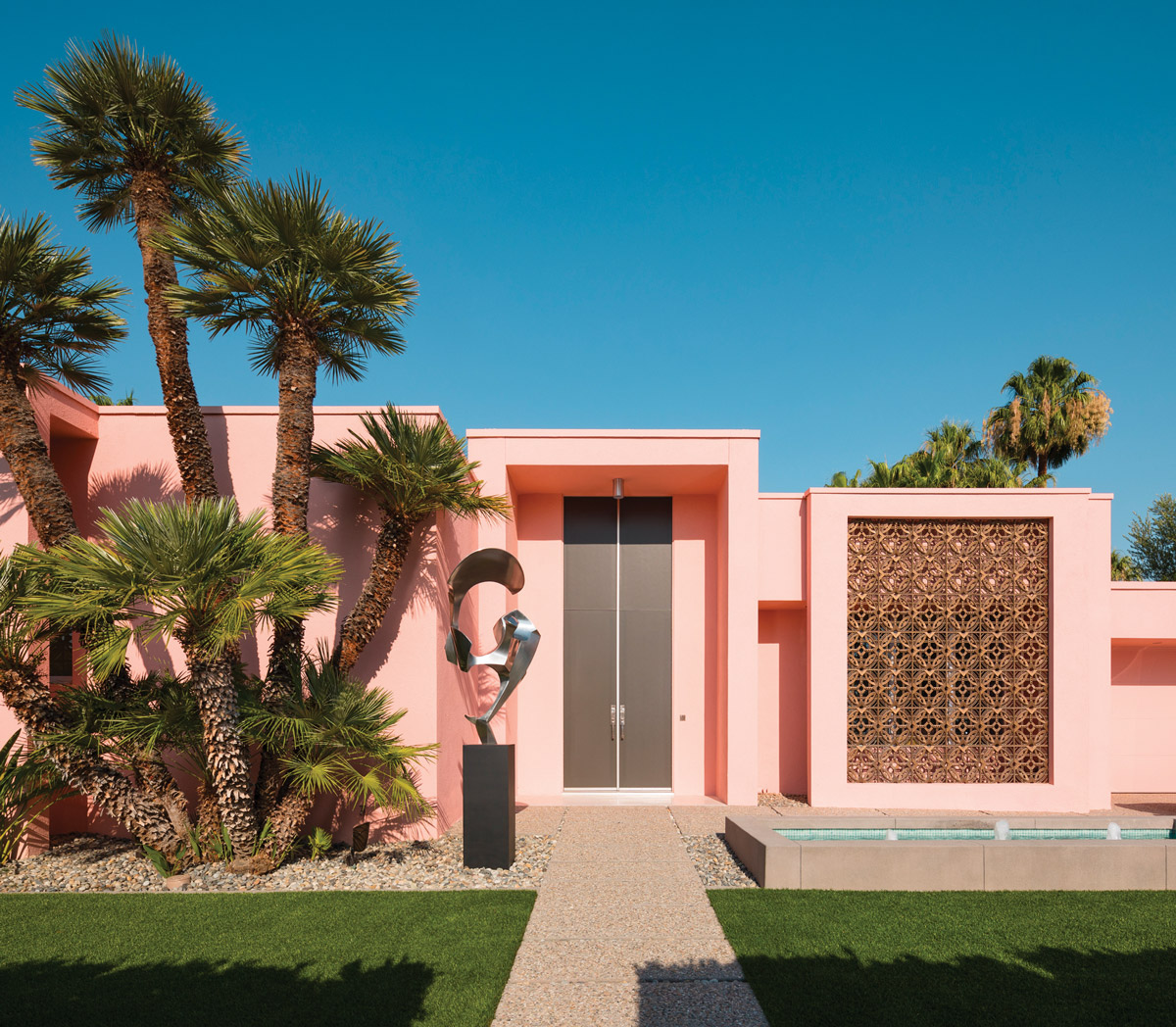 The house he shares with his husband, Joe Gyori, was designed by well-respected architectural firm Frey and Chambers and is now on the historic register, but it wasn't always so photo-ready. "The house was very unattractive when we bought it, with overgrown landscaping and sort of a dirty mustard color," says the designer. "I decided right away that it had to be pink." Pink was architect Albert Frey's favorite color. The verdant interior color scheme was inspired by another California icon, the Beverly Hills Hotel.
Bill and Joe revived the original charms of the house. The exterior is distinguished by decorative architectural sunscreens in bronze-painted aluminum, the sort of midcentury feature that causes cars to slow down when they drive by. The backyard oozes luxury with its angular pool and spacious lanai with original terrazzo flooring.
Inside, the designer painted walls in Dunn-Edward's "Olive Oil" for contrast to the pink on the exterior, then had fun positioning his collection of midcentury furniture and lighting picked up over the years, mixed in with some newer pieces. "The success of any designer is taking what you've been given and making something out of it, putting unrelated items together," he says.
Back in Atlanta, Bill and Joe live at Ponce City Market, but they try to spend almost half their time in Palm Springs, where they often take day trips to nearby mountains or Joshua Tree National Park, or—a favorite Palm Springs pastime—just sit by the pool.
Vacation Planner: Here's how to enjoy this sunny, retro destination
BUY | It's still possible to buy midcentury houses in the mid-500K range, says designer Bill Stewart, particularly by looking in neighborhoods outside the well-known streets. He recommends local realty firm TTK Represents and, as an insider tip, says to ask for agent Chris Menrad.
VISIT | Palm Springs has one of the world's largest collections of midcentury residential architecture, a thriving downtown area, swanky restaurants and bars, and 360 days of sunshine. In winter and spring months, Delta has direct flights from Atlanta. Bill recommends (for big budgets) L'Horizon Resort and Spa to tap into luxurious 1950s glam and the more moderately priced but still groovy Orbit In hotel. A day trip to Joshua Tree National Park is a must.
This article appears in our Spring 2020 issue of Atlanta Magazine's HOME.