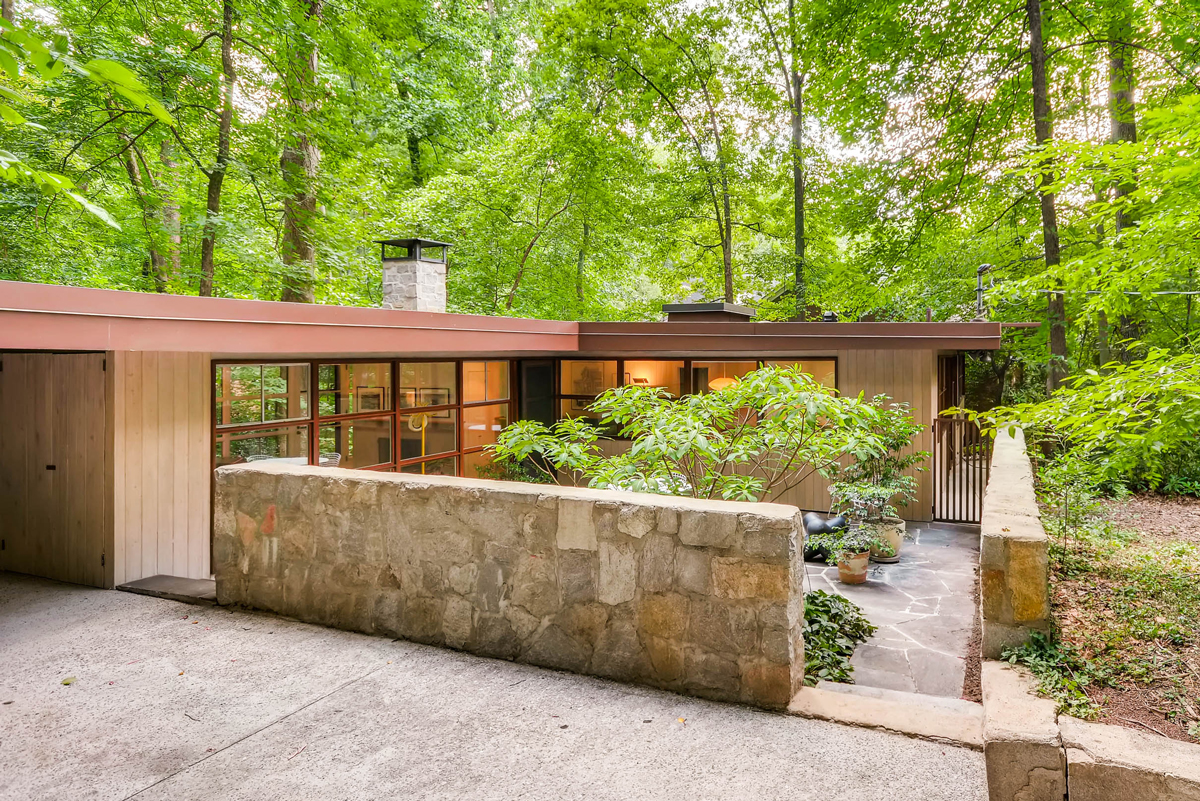 It's no secret that midcentury-modern furniture is back in vogue. But now, the era's ranch-style and split-level homes are selling better than ever, according to Vanessa Reilly of Atlanta boutique real estate firm DOMO Realty, and a specialist in modern style. "These houses are bringing a higher premium these days, in large part due to the influx of West Coast buyers, many of whom are in the movie business."
The hallmarks of midcentury style, which is rooted in the 20th century Modernist movement, include simple lines, low-pitched roofs, clerestory windows, and the incorporation of the outdoors. "The look is clean and streamlined, where form follows function," Reilly says. And although midcentury modern homes can be found throughout Atlanta, she notes that the majority are close to I-285, areas of the city that were developed in the late 1950s through the early 1970s, with the highest concentrations in the neighborhoods of Amberwood, Collier Heights, Northcrest, and Northwoods.
Here, three MCM houses recently on the market and for how much.
In Chamblee's Huntley Hills neighborhood, 3813 Greenhill Drive was listed for $399,000. Built in 1959, the renovated 1,427-square-foot home includes three bedrooms, two baths, and a chef's kitchen with custom cabinets and quartz countertops. The master suite includes a bath with marble tile, a custom shower, and designer fixtures. According to listing agent Inna Eidelman of Beacham & Company, Sirzyk + Eidelman Group, natural light fills the home. "During the day, you don't need to turn on a single lamp or overhead light," she says.
The house at 1749 Hummingbird Lane in Druid Hills recently sold for $776,000. Designed by noted Atlanta architect Isaac Saporta and built in 1953, "the home is a flawless representation of 1950s midcentury modern architecture," says listing agent Reilly. The 3,335-square-foot abode has four bedrooms, three-and-a-half baths, a commercial roof, and expansive windows in every room. There's also a renovated kitchen, refinished hardwood floors, a double-sided fireplace, a full basement, and a courtyard with a koi pond.
In Ansley Park's Sherwood Forest neighborhood, 1711 Barnesdale Way is for sale for $1,499,000. The 3,267-square foot house, built in 1951, has three bedrooms, three full baths and two half-baths. A heated indoor pool—said to be Atlanta's first—opens onto a large patio. Betsy Robbins, who purchased the home in 2004 from the estate of its original owners, restored it down to the vintage-style pulls for the cabinets. "This property is the most unique midcentury I've seen in the Atlanta area," says listing agent Dawn Landau of Keller Williams Atlanta Midtown, Team Environs. "The indoor pool, flat roof, and cypress paneling are all features that honor this architectural style." The house has been featured in commercials, television shows, and movies—including The Last of Robin Hood, starring Kevin Kline, Susan Sarandon, and Dakota Fanning.
This article appears in our Spring 2018 issue of Atlanta Magazine's HOME.