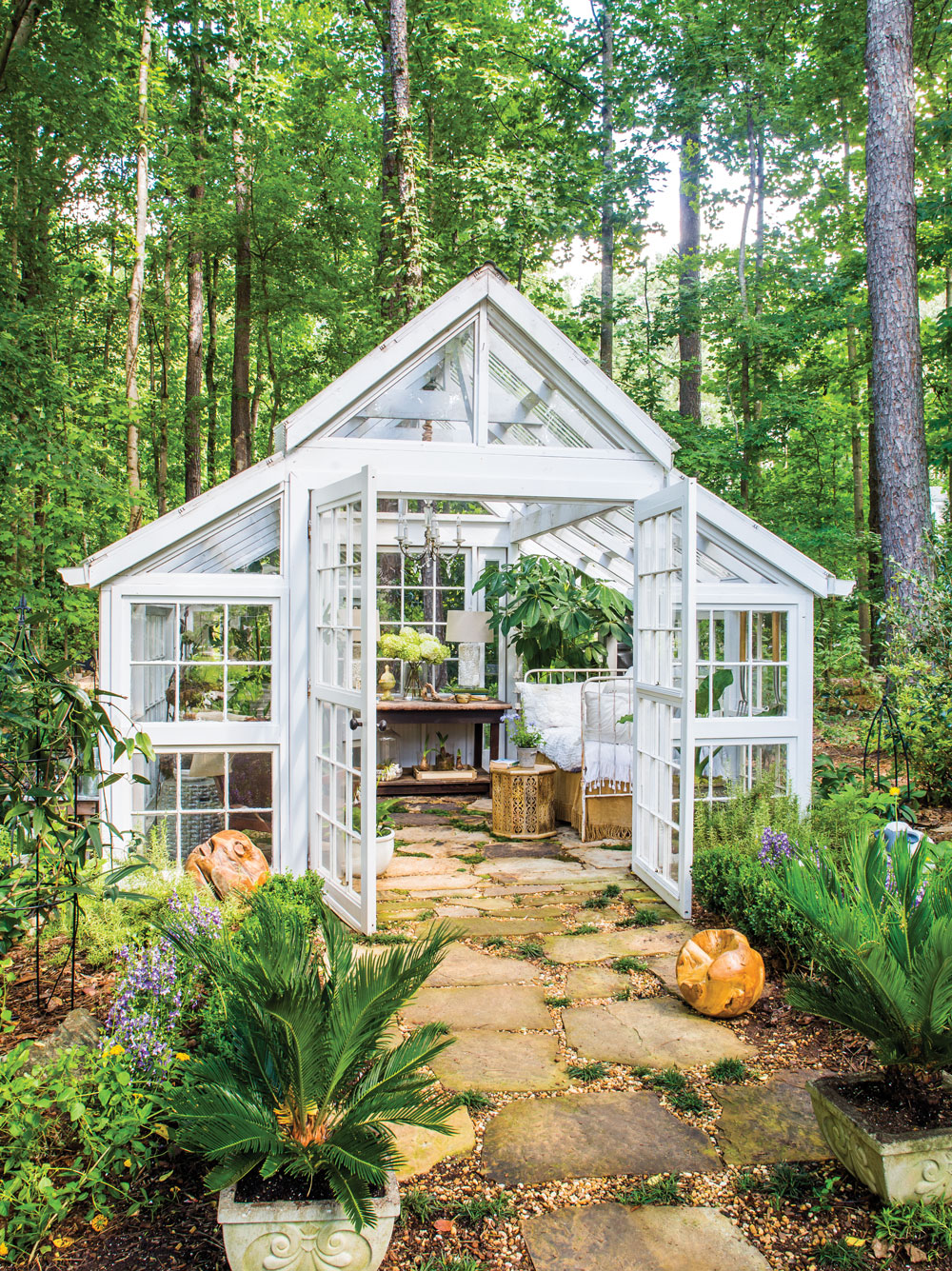 When Laura Gaby wants to take a mental health day (or hour), she need only step into her wooded backyard. There, her glass garden house serves as a year-round retreat for reading, napping, and enjoying nature. "It's my own space to detox," she says. "It smells good and is just earthy and wonderful."
Pane patchwork
Gaby collected old windows from Craigslist and salvage yards to create the 12-foot-by-12-foot conservatory. She caulked the frames and added white primer, but otherwise left them as is.
Clear intentions
A carpenter friend, Herb Marquez, assembled the structure. For the roof, Gaby used transparent polycarbonate sheets. "It's strong, almost bulletproof," she says.
Bright idea
The space is wired for electricity, allowing Gaby to install a vintage chandelier, found at a flea market, along with homey tables, chairs, and another lamp.
Plan for all seasons
During colder months, Gaby puts delicate patio plants such as fruit trees and ferns in the conservatory, where a heater keeps the chill at bay. A kumquat tree blooms all winter.
Enveloped in nature
The Gabys' Marietta backyard has been cultivated for 20-odd years, so the garden house is nestled among mature magnolias, hydrangeas, and boxwoods.
Underfoot
Gaby installed the Ozark Mountain flagstone, pea gravel, and moss floors herself. "I bought a pair of knee pads and got it done," she says.
Tip: Rather than stiff outdoor fabrics, Gaby used cotton bedding for her antique iron bed. Every few months she throws everything in the wash, then hangs it to dry in the sun.
This article originally appeared in our October 2016 issue.