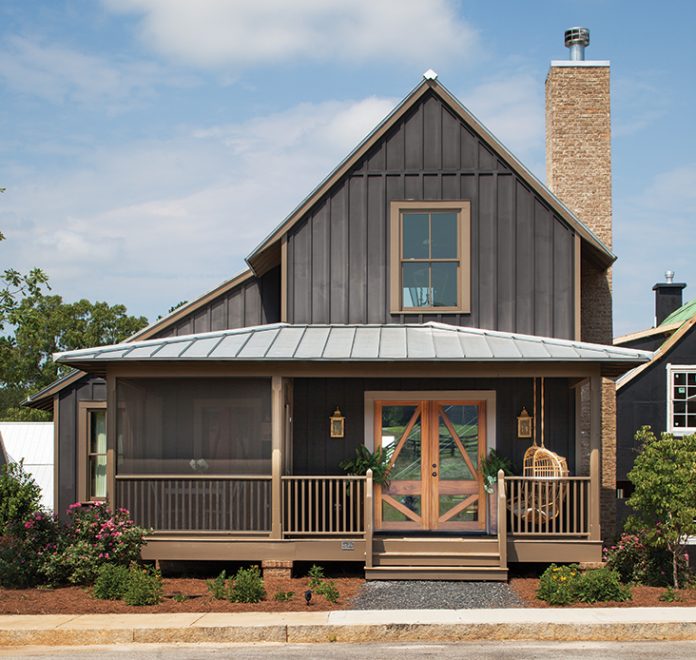 Photographs by Jeff Herr
For the last ten years, new homes have been getting larger in the South than in other regions of the country—up more than 15 percent to an average of 2,469 square feet. Our region lagged behind the rest of the nation in the first quarter of 2014, but it's too early to tell if we're reversing course. Perhaps house-proud Southerners are finally heeding prophets like North Carolina–based architect Sarah Susanka, whose bestselling Not So Big books have been touting the virtues of smaller spaces for more than fifteen years, or the influential Apartment Therapy blog, which has run a Small Cool contest for ten years. Certainly, environmental and financial concerns have made tiny houses—technically defined as homes under 400 square feet—into a bona fide national movement with blogs, conferences, and tours. And all the recent interest in SCAD's parking-spot-sized "pads" proves the idea has struck a chord even here in sprawling Atlanta. (Read about Atlanta magazine deputy editor Rebecca Burns's stay in one.) So we decided to explore what life is like for three Georgia couples who own small houses. Admittedly, the largest of these—at 1,400 square feet—is not exactly tiny, but have you seen its hulking Brookhaven neighbors?
Petite pied-à-terre
A modern take on farmhouse style
By Betsy Riley
919 square feet
Serenbe
Carrie and Paton Faletti are veterans of small spaces. Their first apartment in Erding, Germany, was only 775 square feet. Their place in Kansas City, designed by pioneering early-nineteenth-century female architect Nelle Peters, just 700. Paton jokes that he's assembled Ikea's space-saving furniture until his fingers bled from the Allen wrench.
So last year, when the couple attended a friend's fortieth birthday celebration at Serenbe—the bucolic new urbanist community thirty miles southwest of Atlanta—they were immediately charmed by a cluster of new small-footprint cottages called the Nest. The homes, designed by architect Lew Oliver, range from 900 to 1,700 square feet and feature geothermal heating and cooling, reclaimed wastewater irrigation, and the eco-imprimatur of programs like EarthCraft, Energy Star, and WaterSense. Serenbe founder Steve Nygren says the houses, which sold out quickly at prices between $285,000 and $499,000, are a response to society's changing values. "Consumers are trending towards social responsibility, the desire for healthy living, and 'less is more,'" says Nygren.
The Falettis, whose main residence is in Peachtree Park, say that Serenbe homeowners are mostly "transitioning" Atlantans who get addicted to the peaceful countryside. In fact, some 70 percent of residents live there full time. Says Paton, "You have to ask yourself, 'Do I like serenity and perfection? Yeah, I'm going to commit.'"
For now, the Falettis stay here mostly on weekends. Carrie, who owns a residential real estate firm, drops Paton off at the airport on her Monday drive back to Atlanta. Paton is president and CEO of a Kansas City–based automotive consultant firm.
Because the Falettis' 919-square-foot home was the Mitchell Gold + Bob Williams model house, they inherited some stylish features, such as the dramatic mahogany-and-glass doors (reminiscent of cross bracing on barns), an oversized brass lantern in the two-story living room, and blue-gray cabinets with sleek brass pulls.
Interior designer Cindy Dunaway stuck with the modern-rural theme, adding touches like a brass starburst fixture over the kitchen table, hoof-legged stools, contemporary art, and teal blue peacock feather curtains in the master bedroom.
Open shelving in front of the kitchen windows adds storage without blocking light, and clever cabinets—such as a corner cupboard next to the downstairs bathroom and a rustic armoire in the upstairs loft—take advantage of blank wall space. Most important for expanding the tight quarters are a front porch and two screened porches. "We've learned that we don't need much space," says Carrie. "But outdoor living is really important. We like being out on the street, enjoying the pedestrian traffic."
Outside the Box
Transforming a tiny cinder block dorm into a mountain escape
By Betsy Riley
628 square feet
Highlands, North Carolina
Craig Kettles and Michael McGaughey's vacation home in small-town Highlands, North Carolina, is their idea of city living. After thirteen years at Lake Rabun, they missed the pedestrian ease of their former residence in Virginia-Highland. Plus, as real estate agents specializing in lakefront property, Rabun County wasn't exactly their place to chill. The Old Edwards Inn and Spa, located in downtown Highlands, proved the perfect antidote, but stays at the posh hotel are an expensive habit.
Their mountain house sort of crept up on them. Technically, it wasn't even a house. Kettles found it among the commercial listings—a tiny cinder block building, constructed in the early 1960s as a nurses dormitory for Highlands' first hospital. With few windows and only 628 square feet, the trailer-like box took imagination. But it was nestled among towering hardwoods planted by Harvard botanist Thomas Harbison at the turn of the century, just a couple of blocks off Main Street.
At first, the plan was to keep the design simple and modern so they could post it online at Vacation Rentals by Owner. Having renovated houses together for more than twenty years, the couple weren't intimidated by stripping the building down to its cement blocks, raising the ceiling, adding a metal roof, cutting new windows, and wrapping the space in drywall trimmed to look like board-and-batten paneling. They installed an Ikea kitchen and a double-
sided gas fireplace with smooth stones instead of logs, which serves as a divider between the bedroom and living area.
"We were going to keep the costs way down, but gradually I fell in love with it and doubled my budget," confesses Kettles. "It was also supposed to be cleaner inside, but I don't think that's us." The partners had long collected foundry molds, gears, and industrial artifacts ("before they became overdone," notes Kettles), so the steel fireplace surround got an old high-voltage sign and Scrabble magnets. The open kitchen shelves got a collection of vintage chemistry flasks and beakers, and a rolling floor-to-ceiling chalkboard became the pantry "door." Forget VRBO.
The partners christened the house "Tonic" because of its healthcare heritage and healing ambience—"plus we like gin and tonics," adds Kettles. He loves popping over to the local pool or hardware store by foot. "I feel younger here because I'm not driving."
Baby Bungalow
Their family is doubling, but they're staying put
By Lisa Mowry
1,400 square feet
Brookhaven
Michelle and Brian Smith may be expecting twins this fall, but that's not going to move them out of their Brookhaven cottage. For this handy couple, 1,400 square feet is the perfect canvas for weekend projects. Next up: converting a guest room into a nursery.
"A small house means you're really going to get to know each other," says Michelle, "and you're forced to enjoy outdoors more." Another advantage is that less square footage means fewer places for stuff. "Having small rooms is good for the shopaholic in me," she says. "It makes you edit all the time and ask yourself, 'Do I really love it?'"
After marrying in 2009 in Charleston, the newlyweds bought this fifty-year-old house for a bargain as part of a short sale. Their first project was renovating a front porch with room for two rocking chairs. They also found tongue-and-groove boards hidden beneath 1970s popcorn ceilings, so they're slowly tearing down all the plaster. To add architectural character, Brian and Michelle paneled their master bedroom with fencing that Lowe's was almost giving away—$25 for a wall of damaged boards—and painted it a crisp white.
The creamy, monochromatic decor is one of Michelle's strategies for creating a consistent look throughout the small abode. A flea market hutch in the living room and an old dresser in the dining room were both given a coat of white paint so they almost recede into the walls.
Her love of DIY projects and decorating has led to a successful design blog called Iron and Twine. Brian works in public relations by day, but on weekends he tackles a hands-on project or an opportunity to hunt for vintage items. "He used not to like antiques," says Michelle, "but now Brian will say, 'Scott's is this weekend . . . when are we going?'"