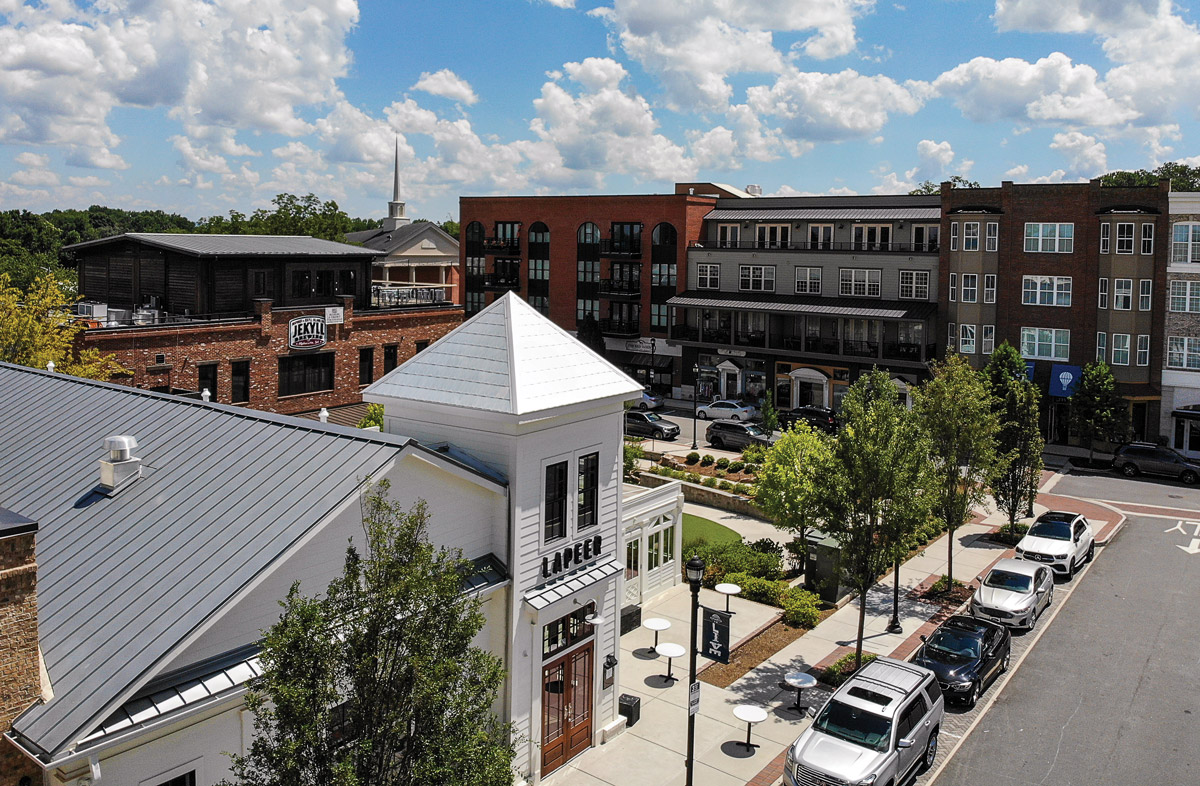 On a warm mid-March afternoon, Tom and Lisa Werner were lounging on a bench beside the fountain at Town Green, the new social nucleus of downtown Alpharetta. Residents of a nearby subdivision for the past decade, the Werners were marveling at recent changes: a stately brick City Hall, stacks of upscale apartments, early imbibers enjoying the new open-container policy, and the bright-white exteriors of Lapeer Seafood Market—like a landlocked echo of Florida's idyllic 30A. It's the kind of vibe the couple used to drive to Roswell to enjoy.
"We had a choice of like five restaurants to walk to, and now, there must be 40 or 50," said Tom. "I mean, this was really a dumpy area."
The metamorphosis of Alpharetta's formerly sleepy downtown was no accident, albeit a few years behind the rest of metro Atlanta's post–Great Recession construction boom. Founded in 1858 as the county seat for now extinct Milton County, the town had remained largely agrarian until the 1980s.
Around the turn of the millennium, city leaders began assembling 26 acres in the heart of town, where no projects had been built or redeveloped for nearly three decades. The real estate was deemed obsolete: 1960s-era shopping strips, a gas station, underused low-rise buildings, and numerous parking lots. After finishing City Hall and adjacent Brooks Street Park, city leaders in 2014 picked Atlanta-based Morris & Fellows—which is also spurring Woodstock's downtown revival—to lead a group of developers in designing and building a six-block center that felt like an organic extension of the city's vintage storefronts, along with 40 single-family houses. Indeed, it's difficult today, in places, to determine where the previous downtown ends and where the $130 million infusion of 25 retail shops and 12 restaurants (no corporate chains), 168 apartments, and an office building (now DataScan's headquarters) begins.
City Center was fully leased months before the last pieces debuted at the end of 2019. As of early June, Alpharetta's Community Development Director Kathi Cook said no businesses had closed due to the COVID-19 pandemic, and homes and townhomes keep selling (some for well over $1 million), as hotel construction and land deals continue. That's contributing to nearly $550 million in recent investment—some 50 projects since 2015, including a one-mile section of the BeltLine-style Alpha Loop linking downtown to Avalon.
Back in the park, Tom Werner said, "I ask people all the time, 'Have you been to Alpharetta lately? If not, you won't know where you are."
This article appears in our Fall 2020 issue of Atlanta Magazine's HOME.