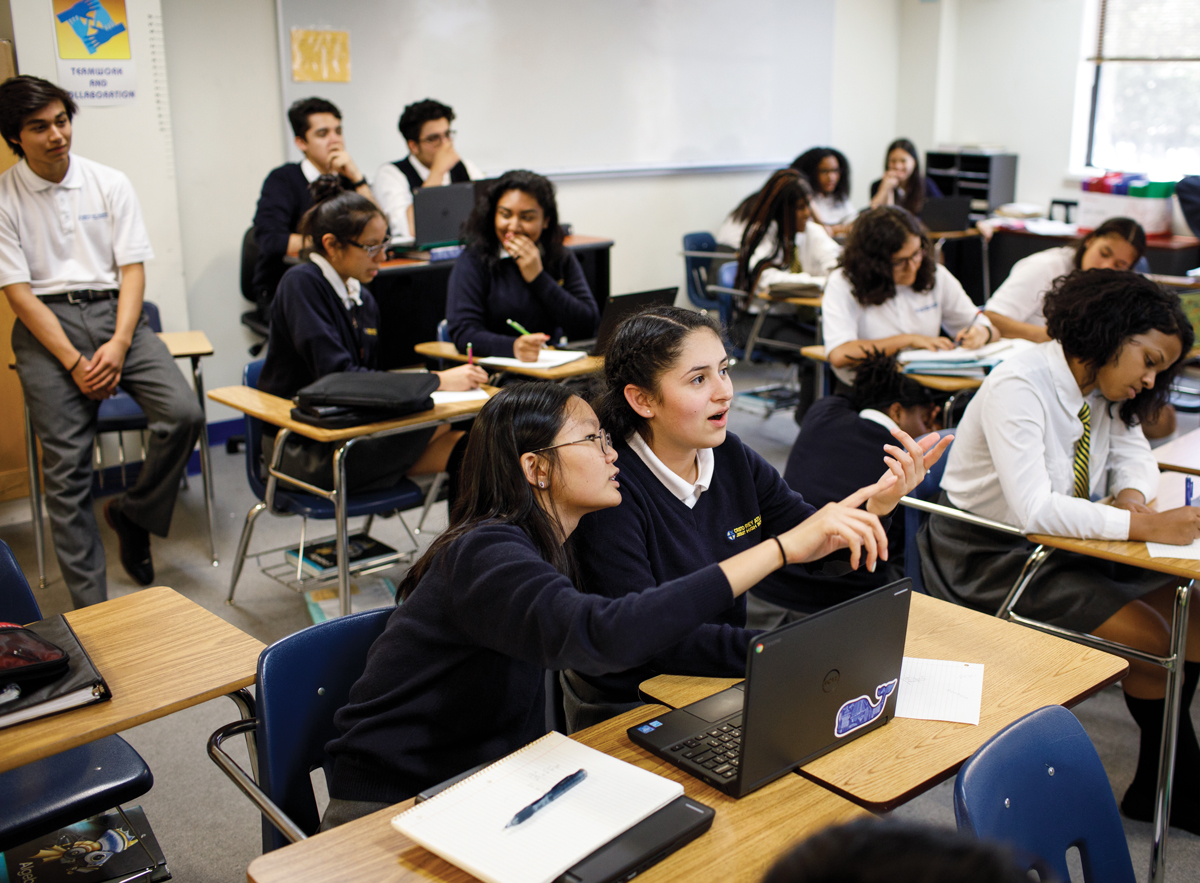 During the summer of 2015 Bill Garrett was losing sleep. Garrett, the president of Cristo Rey Atlanta Jesuit High School, a private school that serves only low-income students, knew the institution was quickly outgrowing its Midtown location.
Garrett threw a Hail Mary. He asked Jim Cumming, an Atlanta developer whom he recently met at a dinner party, to donate the seven-story former Oxford Industries building to the school. "'That's impossible,'" Cumming recalls saying about the prospect of giving away the building he purchased in 2013 for $2.5 million. Cumming, who owns the Flatiron, Tabernacle, and other properties, would consider leasing it—for $800,000 a year, cash Cristo Rey didn't have.
But Cumming, who attended Jesuit schools while growing up in Canada, had lately been reflecting on how "people come into life with nothing and leave with nothing" and the importance of making a difference during the time in between. His mind turned to the school's mission and his meeting with Garrett. "What really is impossible?" thought Cumming.
Later that day he told Garrett that Cristo Rey was the new owner of a prime piece of downtown property. After a year and half of fundraising and $20 million in renovations, the school's new location within clear view of the Connector is now open and well positioned for generations of students to come. "This was an answer to our prayers," Garrett says.
When classes resume this month, 525 students—more than triple the number enrolled when Cristo Rey opened in 2014—will walk into a new home that's double the size of its former location. The building, once filled with employees of clothing maker Oxford Industries, has been reconfigured to house classrooms, labs, and faculty areas.
A media center, cafeteria, and chapel will occupy the first two floors. An adjacent parking deck will become a "gymatorium" for practices, physical education, and pep rallies. "We've never had a home game," says Garrett. "So we don't have that rah-rah spirit of cheering for your own team." In its previous location the school used a roped-off portion of a parking lot to practice soccer, basketball, and other athletics. "Having a gym is going to be huge."
Having a home of its own also means lower costs and more cash to invest in the mission Cristo Rey shares with 31 sister schools across the country: providing students from low-income families—Garrett says the average Cristo Rey Atlanta family brings home around $30,000 a year—with a college preparatory education. With its own cafeteria, Cristo Rey will provide free and reduced breakfast and lunch to all students; school officials no longer have to spend $22,000 a month to buy food from a nearby restaurant, as they did in Midtown. Garrett says those newfound savings will help Cristo Rey train teachers, buy better equipment, and offer after-school programs.
What Garrett calls the "secret sauce" to Cristo Rey's success and rising enrollment is a corporate work-study program where students spend five days a month at one of 95 Atlanta-area companies, including the Arby's Restaurant Group, Deloitte, and Alston and Bird. Students are not just pouring coffee or making photocopies; Isanel, a junior, is learning how to help develop mobile apps at Ernst & Young. Corporate partners and philanthropies also pay for the bulk of students' tuition. Parents pay a portion of the remainder based on their income.
School officials admit the pressure of balancing rigorous courses; a corporate work-study program; and, for some, difficult living situations can be stressful. Roughly 60 percent of students who begin in ninth grade at Cristo Rey schools across the country make it to graduation, says Diane Bush, the Atlanta school's principal. "There are times when we've put too much pressure on our students," says Garrett, adding that the school provides counselors and tutors to help students who are struggling. "Trying to figure out that balance is something we haven't always gotten right, and we're trying to be more conscious of that."
For students who graduate, the college acceptance rate is 100 percent. While there hasn't been a senior class yet at Cristo Rey Atlanta—the first group starts in July—the school has retained 82 percent of its original ninth grade class, one of the highest rates for the network of schools, Bush says.
"We give these kids a solid college prep program, but we tell them: 'Hey, you've got to buy into this thing. You've got to work hard,'" Garrett says. "For me, this is a motherhood and apple pie and an American flag type of thing . . . we say, 'You work hard, and you're going to succeed.'"
This article originally appeared in our July 2017 issue.