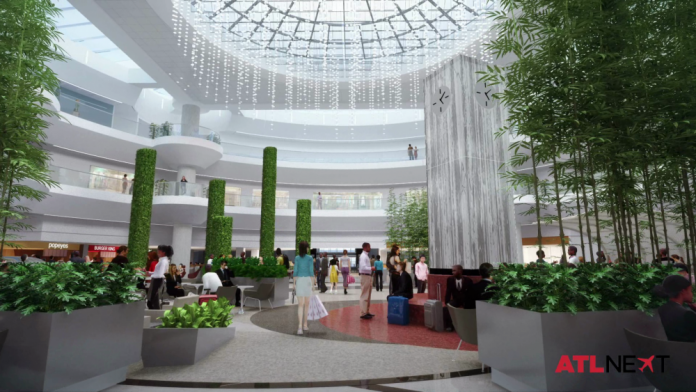 Courtesy Hartsfield-Jackson Atlanta International Airport
Hartsfield-Jackson Atlanta International Airport, the world's busiest, had its busiest year ever in 2015. It saw more than 100 million passengers travel through its 207 gates, supported nearly half a million jobs in metro Atlanta, and pumped $71 billion into Georgia's economy. That's a lot of SkyMiles. With nothing but clear skies ahead, ATL is about to begin a renovation and expansion that will cost more than the entire Atlanta Beltline (including transit!).
The details of "ATL Next," the $6 billion capital expansion plan set to continue for 20 years, were unveiled yesterday at the inaugural "State of the Airport" event. At the Georgia World Congress Center, Mayor Kasim Reed announced that the investment would ensure Atlanta has a "21st century airport for the 21st century city."
Ultimately, he added, it would keep passengers satisfied and businesses like Delta Air Lines from moving. Given that the airport is a cash cow, GM Miguel Southwell said the public would only feel the costs of travel rise by a penny during the next two decades.
"We run a tight ship," he said.
If ATL Next goes according to plan, travelers will see a major facelift—and deal with some short-term headaches—in just about every part of the airport experience, from parking the car to taking off from a new runway. Here are five of the biggest changes you'll see at Hartsfield-Jackson in the near future:
The terminal will get a fresh, new look: Expect Hartsfield-Jackson's aging domestic terminal to look far different in a few years' time. For the curbside drop-off zones, arched canopies that resemble chicken-wire fences would shelter travelers from the rain. Once you're inside, the check-in areas will be "flooded with natural light" and the main atrium will be lush with plants. At the gate, larger windows and nicer amenities will make your delays slightly less depressing. But where will the giant ants above the baggage claim go?
Timeline: 2016-2018
Cost: $393 million
There'll be more parking (and it won't be cheap): Over the next 11 years, the city will spend nearly $1 billion on tearing down its old parking decks and building bigger ones. Considering the parking currently generates $124 million a year for the airport, it'll likely pay for itself, according to Southwell. Yes, the jumbo jet capitol of the world actually makes the largest share of its revenue from parked cars.
Timeline: 2016-2027
Cost: $922 million
There ain't no city like an Airport City: Just outside the domestic terminal, officials want to build an 400-room InterContential hotel. According to renderings, Atlanta-based architect John Portman & Associates is hoping to design a sleek, cubist, 11-story four-star hotel with subterranean parking in partnership with a development team featuring Carter, Majestic Realty Co., and GPM Investments LLC. (The Federal Aviation Administration needs to sign off on the project to ensure it doesn't mess with the radar.) Next door, a mixed-use development and travel plaza would provide amenities not just for weary travelers in search of odd-shaped neck pillows, but Atlantans looking to hang out with itinerants.
Timeline: 2016-2018
Cost: $500 million
One expanded concourse, one new concourse: Starting next year, airport officials will add five new gates to Concourse T and ready for construction of the new 10-gate Concourse G on the airport's east side. In total, both projects will boost the overall number of gates at the airport by seven percent. (There's also a plan on the books for Concourse H, but not until 2030.)
Timeline: 2016-2023
Cost: $1.2 billion
Someday, there might be a sixth runway (but don't hold your breath): If you're building more gates, it's probably wise to build more runways. For the past two years, airport officials have eyed building a sixth landing strip, which would be the first since 2006. Unlike the longer fifth runway that needed to be constructed over I-285, this project isn't expected to be controversial.
Timeline: 2023-2034
Cost: $943 million