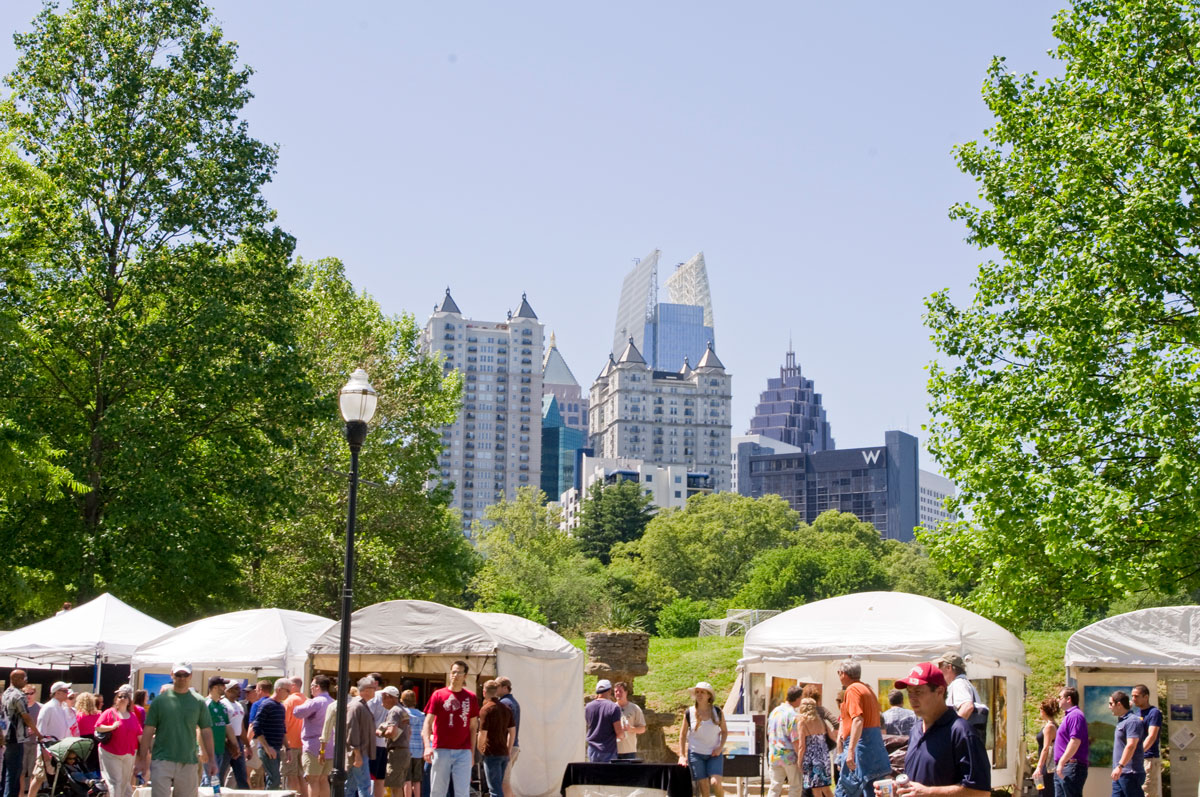 Sky-high pollen counts, nauseating scent of Bradford pear trees, and scraping ice off your windshield in the morning only to pass out from heat exhaustion by the afternoon? Must be spring in Atlanta.
Despite the drawbacks, spring is one of the best times to live in and visit the metro, thanks in part to the abundance of festivals: nearly every neighborhood in the city has its own outdoor celebration, whether to ring in the blooming dogwoods, catch some live music, or peek inside gorgeous homes.
To help you plan your April, we rounded up a list of some of metro Atlanta's not-to-miss festivals. Grab your Flonase and add these to your social calendar.
Sandy Springs Artsapalooza
Where: 6100 Lake Forrest Drive Northeast, Sandy Springs
When: April 8 and 9
What: Sandy Springs hosts an arts festival twice a year, highlighting local artists and giving families a chance to gather in the sunshine. This year's two-day Artsapalooza features dozens of arts and crafts vendors, live music from local musicians, a children's play area, and interactive art stations. With free admission and plenty of kid-centered activities, this is an ideal spring event for the whole family.
Cost: Free admission
Kid-friendly? Yes
Dogs? Yes
Food? Restaurants open nearby
BYOB? No
Atlanta Dogwood Festival
Where: Piedmont Park, Midtown
When: April 14-16
What: At more than 80 years old, the Dogwood festival is an Atlanta classic, celebrating the annual blooms on Piedmont Park's historic dogwood trees. With a robust artist market, live music, a kids' village area, and a 5k run, it's got something for everyone. VIP ticket-holders enjoy a dedicated space at the concert main stage, as well as craft beer and wine tasting and private restrooms. But regular admission—there's a $5 suggested donation—is well-worth the visit as well. After you've strolled the festival, there's the rest of Piedmont Park to enjoy.
Cost: $5 suggested donation; VIP from $35-$75
Kid-friendly? Yes
Dogs allowed? No
BYOB? No
Food? Vendors on site
SweetWater 420 Fest
Where: SweetWater Brewing Company, Peachtree Hills
When: April 22 and 23
What: SweetWater's been throwing down with this annual celebration for nearly two decades. The festival is named after SweetWater's iconic 420 brew, and is held near Earth Day, 4/20, a day whose other green significance is not lost on may festival patron. Previously held at Centennial Park, this year SweetWater announced they'll host a smaller event indoors at their brewery (a choice that might be related to Georgia's new law relaxing firearm restrictions in public places). But event producers say this year will bring things closer to the intimate roots of the festival: the lineup includes more regional artists, with the Austin-based Shakey Graves joined by Ghostland Observatory, Neal Francis, the Vegabonds, and more. There will be beer galore, of course, plus food vendors to keep you dancing long into the night.
Cost: General admission is $70 single day or $130 for a 2-day pass; VIP includes premium viewing area, complimentary beers, and dedicated bathrooms and bar, $130 for a single day or $240 for a 2-day.
Kid-friendly? No, event is 21+
Dogs? No
BYOB?: No
Food?: Vendors on site
Inman Park Festival and Tour of Homes
Where: Various locations in Inman Park
When: April 28-30
What: Atlanta's oldest suburb is famous for its elegant Victorians and sidewalks as charming as they are treacherous (don't try to navigate them in high heels). The Inman Park Festival offers a tour of neighborhood homes beginning Friday, a parade on Saturday, and a host of other events throughout the weekend. Catch live music on three different stages, or head to the Trolley Barn for classical and contemporary dance performances. For kids, the free "Little Gnome Zone" offers obstacle courses, crafts, a Reptile Wrangler, and more. Plus, a sizable street market features dozens of arts and crafts vendors—peruse to your heart's desire.
Cost: Tour of Homes is a self-guided tour event: tickets are $35 in advance and $40 day-of. All other events are free.
Kid-friendly?: Yes
Dogs allowed? No
BYOB? No
Food? Vendors on site
Amplify Decatur Music Festival
Where: Decatur Square
When: April 29, with some additional programming on April 28 and 30
What: This annual music fest is co-produced by Eddie's Attic and Decatur nonprofit Amplify My Community, which addresses local poverty. The festival takes place in downtown Decatur and routinely draws in mega-talent: 2023's lineup includes Patty Griffin, James McMurtry, and St. Paul & the Broken Bones. Friday and Sunday will feature several additional musical acts—most of which are free—at venues around Decatur. Proceeds go to several Decatur-based causes; the festival raised $50,000 last year. This is a ticketed music event, so unless your kid is a hard-core music fan, this probably isn't one for the littles.
Cost: $75 general admission; VIP includes premium seating and complimentary beverages, runs from $195-$250
Kid-friendly? Not exactly
Dogs allowed? No
BYOB? No
Food? Vendors on site
Georgia Renaissance Festival
Where: 6905 Virlyn B Smith Road, Fairburn
When: Opens April 15, runs through June 4 on Saturdays and Sundays
What: This fun-for-all-ages experience features everything you love about Renaissance festivals—jousting, falconry, and enough turkey legs to choke Da Vinci. You can catch authentic Renaissance singing and dancing, as well as somewhat less authentic Renaissance dog-and-pirate shows and a ye olde pub crawl. Several weekends are themed, including a dog-friendly weekend, a wizarding weekend, and a pirate invasion. Bring a costume—you know you have something—and enjoy some of the best people-watching in Georgia.
Cost: Adult tickets are $26.95 online or $29.55 at the gate; Kids 6-12 are $13.95 online or $16.56 at the gate; children under 5 are always free. Special group pricing and promotions are common. Some events require a separate ticket purchase.
Kid-friendly? Yes
Dogs? No, except during dog-friendly weekend
BYOB? No
Food? Lots of vendors on-site