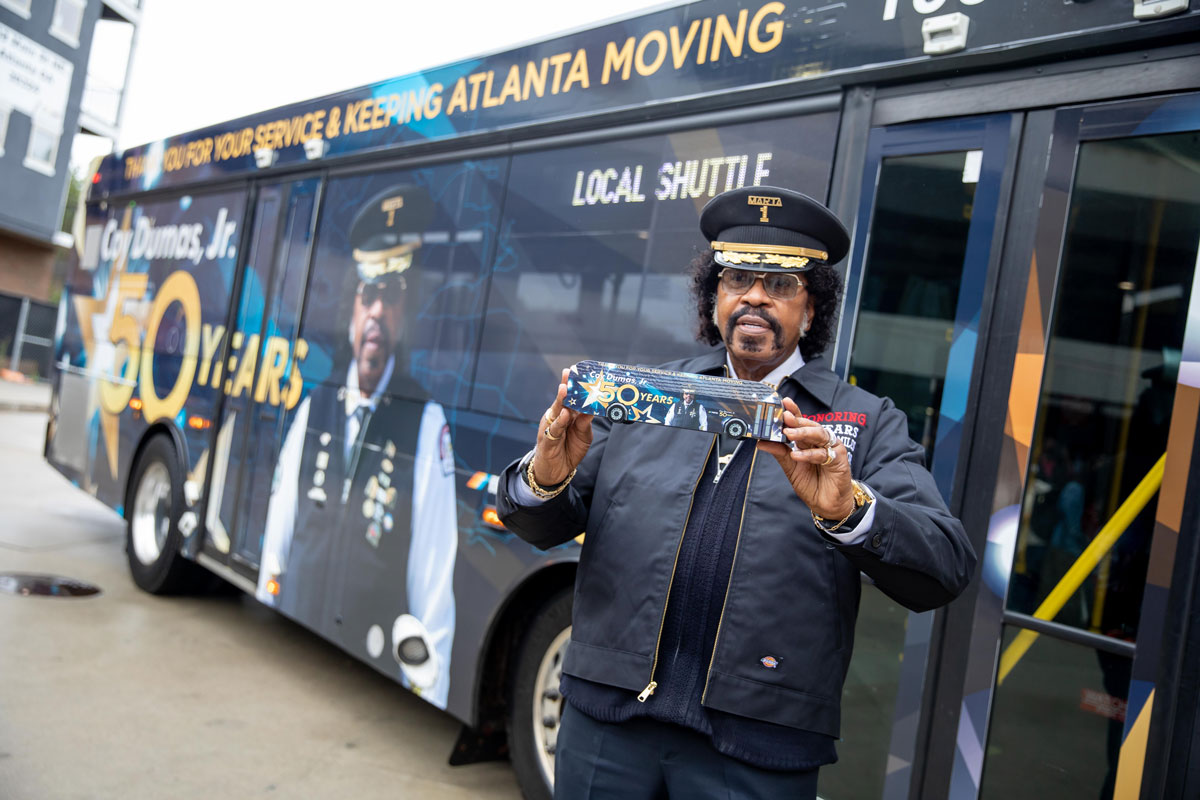 Each of MARTA's 1,500-odd bus drivers has a unique badge number. The lower the number, the higher a driver's seniority; a new recruit might be assigned, say, Badge #1480. That makes Coy Dumas Jr., Badge #1—who just celebrated 50 years behind the wheel—something of a transportation sensation.
"We think he might hold a Guinness world record," says MARTA spokesperson Stephany Fisher. He could even lead the world twice, in millions of bus miles traveled (two), and millions of passengers driven (nearly three)—MARTA's still looking into it. International accolades aside, his legend is secure at home: Dumas has ferried three generations of Atlantans around town, trained a not-insignificant portion of MARTA's driving corps, and done it all without a single traffic accident. "By God's grace," he added jovially at a banquet held in his honor in November.
Dumas began driving a bus in 1972, back when MARTA was Atlanta Transit. At 21, he was the youngest in his trainee class, and he looked it: "They used to call me Baby Boy," he recalled. Passengers were sometimes reluctant to board, unsure whether their driver was old enough—but he won them over soon enough, cultivating a beloved community of regulars. First impressions, he learned, are everything. "When they see that professional look about you, that's already raised their level of confidence."
The professional look has become something of a signature for Badge #1: Dumas arrives for every shift in a crisply pressed uniform, a flurry of pins affixed to his vest, and a sharp black driver's cap astride an abundant head of curls. Shiny aviators complete the Dumas uniform. His wife, Teresa, rises at 2 a.m. to help him out the door. "I don't see it as a job," she said. They met along Coy's bus route, naturally; they've been married 45 years.
At the ceremony, MARTA's board of directors unveiled a gift: a city bus, wrapped in the visage of Coy Dumas Jr. (aviators included), that will hit the road with the rest of the fleet. A miniature version—more portable—was produced next, along with a custom jacket from the Amalgamated Transit Union Local 732. "I had the pleasure of being trained by Coy," said ATU president Britt Dunams. "A true transit professional."
Afterward, a band played, and the Dumases greeted well-wishers. After 50 years, does Coy plan to retire? They both smiled. "I'm going to stay longer!" Coy said. "We're still negotiating how much longer," added Teresa.
This article appears in our January 2023 issue.