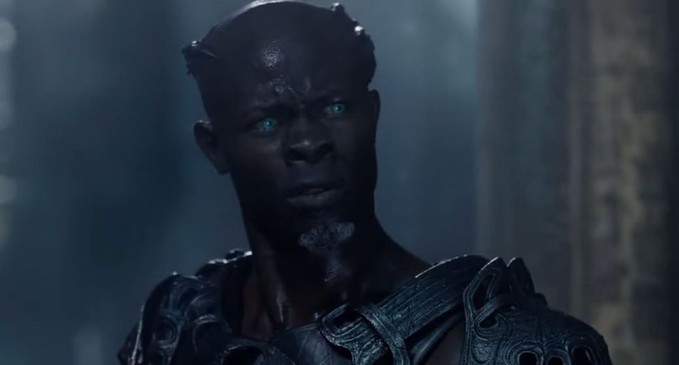 Arriving at Tuesday's advance screening of Guardians of the Galaxy, the latest superhero summer popcorn movie from Marvel Studios, two-time Oscar nominee Djimon Hounsou didn't duck out for dinner with studio reps once the lights went down. Instead, Hounsou donned his 3D glasses, and settled into a seat with a large bottle of water and a bag of popcorn to watch the two-hour intergalactic comic book come to life. Hounsou is part of an ensemble cast that includes Chris Pratt, Zoe Saldana, Dave Bautista, The Walking Dead's Michael Rooker, Lee Pace, John C. Reilly, and Glenn Close. Bradley Cooper and Vin Diesel lend their voices to the flick, portraying mutant, mouthy raccoon Rocket, and Groot, a walking, talking tree with a severely limited vocabulary.
At the Regal Hollywood 25 screening hosted by 100 Black Men, Hounsou's smile widened considerably as his intergalactic hunter humanoid character Korath first tangles with Pratt's wise-cracking, Walkman-addicted hero Peter Quill in the opening action sequence.
"I've been shooting a film in London with Samuel L. Jackson, so this was my first opportunity to see it!" Hounsou told me Wednesday at the Ritz-Carlton Buckhead. "No matter how many times you read the story, it was impossible to get your head around the actual look of the picture."
Hounsou says the film's smart funny script and its almost Star Wars-esque themes of friendship and family—accented with one-liners and action—attracted him to the project. At one point in the picture, Saldan's pea soup-hued assassin criticizes the Swiffer-challenged condition of Pratt's spaceship. The space-suited playboy then turns to the trash-talking raccoon and monosyllabic tree and replies, "Oh, she has no idea. If I had a black light, this place would look like a Jackson Pollock painting."
"It's so smart," Hounsou said. "We all have to take our hats off to [writer/director] James Gunn for such an amazing script. Being able to conceptualize those ideas and be able to bring them to life? Wow. I really loved the comedic aspects of it. On set, with hundreds of extras walking around in creature make-up, it felt like being on another planet. But you never know what something will look like when it's finished. This just transports you to another world."
While in Atlanta shooting Fast and Furious 7 with Diesel after wrapping Guardians, Hounsou (who lent his voice to this year's How to Train Your Dragon 2) bonded with the action star as they discussed the challenges of Diesel's three-word vocabulary: "I am Groot."
Filming wrapped on Fast 7 this month and is scheduled for release in April 2015. The franchise's future was threatened when co-star Paul Walker was killed in a car crash last November. On the subject of Walker's death, Hounsou said: "It's obviously had an effect on the entire cast, but it's not something I want to talk about. Because you can really never put it to rest. We were all just trying to finish what he started." Hounsou offered this preview of his character, however. "I play a missionary. He somehow figures into the Elite Team, the bad boys."
Of his time filming in Atlanta, Hounsou said: "I loved my time here: the scenery, the weather, and your architecture is very pleasing to the eye. And you have some amazing Jamaican food!"
Guardians of the Galaxy hits theaters Friday.