About two months ago, gospel rapper Lecrae walked into a building in southwest Atlanta to donate violins to kids through a local organization. The future home of the Atlanta Music Project—a nonprofit organization that will provide free music lessons to about 300 kids in underserved Atlanta communities this year—was under heavy renovation, but Lecrae was so impressed by the group's efforts that he promised to return to the Dill Avenue building for the grand opening. The walls inside the performance hall weren't even completed at the time, but Atlanta Music Project cofounder and executive director Dantes Rameau asked the musician if he'd be willing to perform at the future ceremony. Lecrae, without hesitation, said yes.
On May 22, the Grammy-award winning star made good on his promise, performing his single "Blessings" during a ribbon-cutting ceremony hosted by WSB-TV anchor Fred Blankenship, surrounded by several of the Atlanta Music Project's young singers and musicians. The performance was the latest example of several celebrity endorsements and corporate backing the nonprofit has received since beginning operations in southwest Atlanta nine years ago. Kids from the Atlanta Music Project have performed on NPR's Tiny Desk series alongside T.I., traveled to Mexico for a youth-orchestra music festival with the help of corporations such as Southwest Airlines, and received a van to transport them to and from practices courtesy of Common. The organization's the Next Movement Capital Campaign, which helped fund the headquarters, includes donations from Cricket Wireless, the Chestnut Family Foundation, Chick-fil-A, Georgia Power, Home Depot, and others.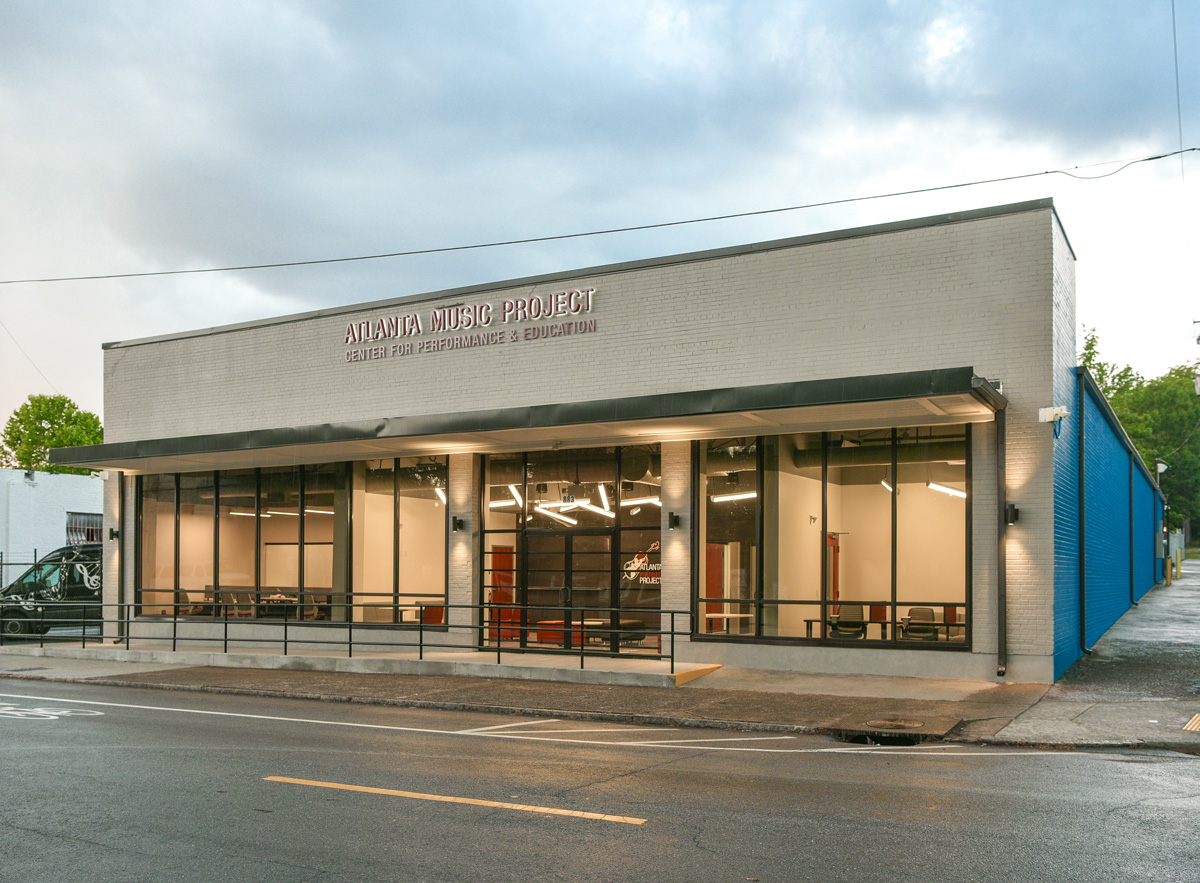 Prior to opening the new Dill Avenue headquarters, the program operated out of recreation centers through a partnership with the city. Now, the new building houses a 150-person capacity performance hall, a locker room that can store equipment for two youth orchestras, 10 portable rehearsal rooms, and more.
Shortly after the ribbon-cutting, we chatted with Rameau, a professional bassoonist, about the mission of the organization, securing celebrity support, and why representation is so important for young black musicians.
What's the goal of the Atlanta Music Project?
Basically, the premise is that we think if you are a proficient young musician in a band, orchestra, or choir, you're probably developing great personal characteristics that can lead to success in life. We've combined pursuing musical excellence with character and youth development. We do everything [during] after-school times, weekends, and during the summer. We don't require musical experience, and we don't require auditions for our base-level programs. We provide the instruments, the teaching artists, and the concert opportunities.
Being a dedicated musician isn't just a time commitment, it can also be a huge financial commitment. How do you work to eliminate some of the barriers of entry?
By any means necessary. Our program doesn't charge fees or tuition. Some folks are missing a car, so we are a five-minute walk from the Oakland City MARTA station. We have a van route that picks up kids who need a ride from school or their house [and we're working on securing funding] for a second van. Maybe your home is a little bit chaotic and you don't have a dedicated [practice] space. This facility is going to be accessible. We walked into this work knowing that there's going to be challenges that are nonmusic related, and we try to build strong relationships with the parents.
You've gotten some A-list celebrities and major corporations to help the Atlanta Music Project. How did you go about getting them on board?
What I have observed over the past 10 years is that when people see kids working really hard to benefit themselves, it's just really hard not to support them. They'll walk into the room and see these kids—they look good and they're cute, but they can [also] really play. I think that's what makes the difference.
How are you funded?
We are funded primarily by philanthropy. We get some funding from private foundations [and] from some of the big corporations in Atlanta, like Bank of America and Chick-fil-A. The Atlanta Department of Parks and Recreation is a great partner that provides program space and administration for the after-school programs. We have a great board of directors and individuals that give, and then a few government grants here and there. If you look at [arts] orgs like the Atlanta Opera or Atlanta Ballet, we're funded in the same way and usually from the same people.
How much did building renovations cost?
The Capital Campaign is $2.89 million. Roughly $800,000 of that is the building renovation. Another million was to launch an endowment so that we are sustainable. Another $333,000 is for operating reserves. And then the rest is for like program enhancements [such as] new instruments, uniforms, things like that.
Why was it so important to have the headquarters in this neighborhood?
If you look at the lay of the land in Atlanta, neighborhoods south of downtown tend to have less access to high quality music instruction. In order to reach the kids, we have to go to where they are. We started going to where these kids [were] nine years ago and they got so good—they earned the right to have their own space. They need practice rooms because now they're auditioning for college. [They've gone from] 10 concerts a year to 50. They needed their own performance hall. And we needed office space to support them. It had to be here.
What's next for these kids?
We want to tour. We'll start at something statewide, and then eventually national and international. We'd love to do more collaborations with artists. We have already started a conducting program. We want to see our kids conduct their peers, and [we also want to teach] composition. We think our kids love hip-hop and rap, but they also love classical music. I think if you give them a pen and a blank score, you might get some pretty awesome stuff out of that. We're going to encourage not just recreating [music], but ownership.
We'll also do events in this building. It could be a faculty concert [or] a children's concert. We're doing a summer series with guest artist Imani Winds. [Beyond] European classical music, they arrange spirituals and jazz and music that I think really speaks to black culture. I think that that's important.
The League of American Orchestras did a study in 2016 that found that African-Americans made up about 1.8 percent of orchestras throughout the country for the previous 12 years. Can you speak to creating opportunities where black kids see classical musicians who look like them and can learn to play themselves?
When you go into this field, even though your job is to play the instrument, there's a certain way you're supposed to act. There's a certain way to do things. And that culture is often foreign to young black people. To be a black classical musician surrounded by your peers who are also black, you can just be who you are, and that is something truly, truly special. My goal in life [as a bassoonist] was to be in a symphony orchestra, but I realized that, for me, it wasn't just about playing music at the highest level. It was about playing music with people who were friends and to do it in a community that looked like mine. The Atlanta Music Project is a vehicle for that.