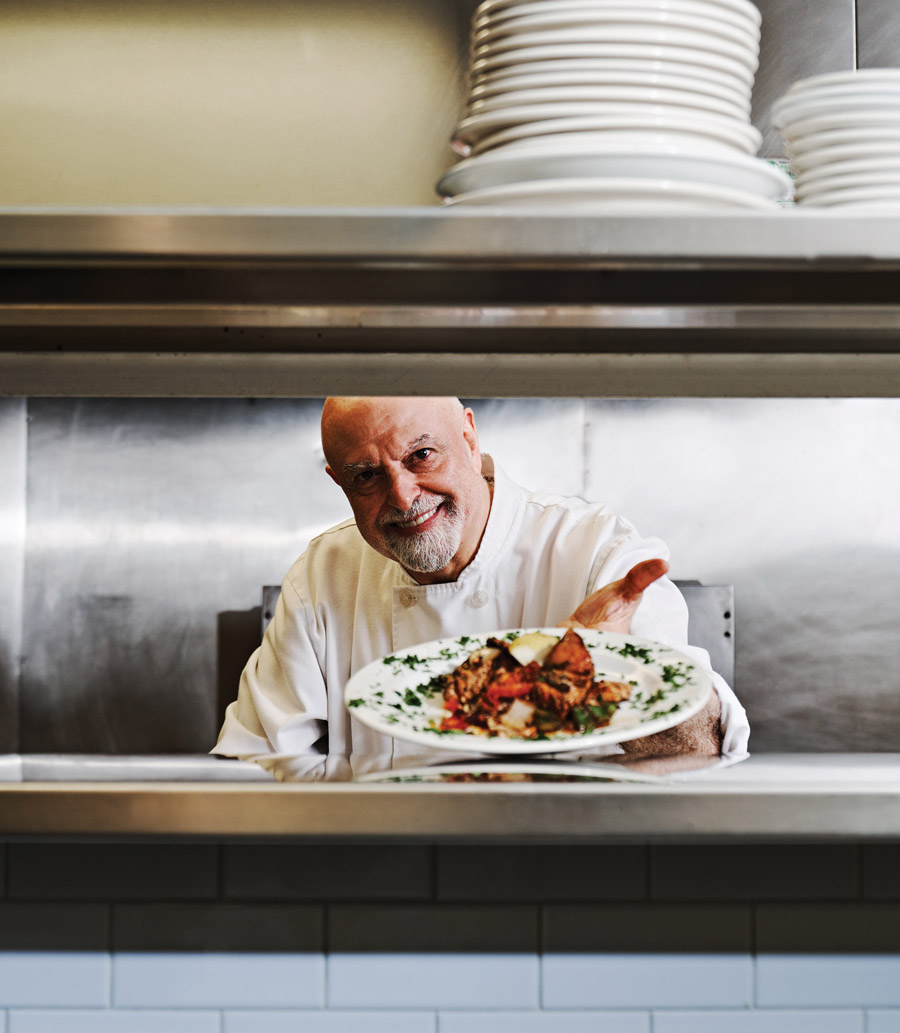 Atlantans is a first-person account of the familiar strangers who make the city tick. This month's is chef Kameel Srouji, as told to Sonam Vashi. Srouji was interviewed at a table in his Peachtree Center restaurant, Aviva by Kameel.
I am from Nazareth, Israel, and I'm the baby of 11 children. But don't think I was spoiled. I started working at 12. My father ran a small grocery store but died when I was 11. My mother was an incredible cook, the freakin' best. Some people cook to fill your tummy; she cooked to show off. [To customers: I love you, habibi. Did you have any of the dessert? Eat, eat!] We didn't have electricity in the house, only a small gas stove. We made everything—cheese, pita, preserves. It was the Garden of Eden.
The first thing I ever cooked was at 13: an omelet with wild asparagus—one of my father's favorite veggies—for my family. Without even thinking, I flipped the omelet in the air, and my family went crazy. I had an innate sense of which spices and herbs to add. Every time there was a party, who's in charge of the food? Kameel. You want to buy a fish? Send Kameel. [Ladies, all good? I've been missing you here.]
When I was 17, I started working at a bank. But I really wanted to cook, so I found a tiny space, only 14 seats. I'd finish at the bank at 4:30 and then go open the restaurant. We offered a couple of dishes, and it was simple, spicy, and delicious.
Today, most of my food has no more than five ingredients. And we only use olive oil here. I cannot tolerate butter or pork. Nasty. I'm a pescatarian, and I believe simple is best. Food is a holy thing. You must put it in your mouth to nourish your body, so it should be the cleanest. Would you sleep in a dirty bed? [Thank you, my sister. I love you!] That's why I'm the biggest asshole to work for: I'm freaky about cleanliness—we clean for hours, more than other restaurants I've worked for—and about freshness. My mom was the same way. She would never eat anyone else's food but her own and her children's. It has to be done my way; otherwise, it's disrespect for the food. It must be the most delicious and nutritious.
At 24, I moved to New York for a better life and worked in restaurants there before coming to Atlanta. In 1980, I opened Cafe Aviva—the name of my favorite sister, my best friend—in Midtown. (She's also crazy about cleanliness.) I remember a few times, I would serve whole fish, and customers would scream, "Look at the eyes!" The Mediterranean diet was unfamiliar to them.
Now, thankfully, it's changing: People want vegan and fresh. I opened more restaurants over the years and eventually sold them in the 2000s to do catering. But I missed the energy of a restaurant, so I opened Aviva by Kameel in 2012 in Peachtree Center. [Everybody happy? I love you, girl. Buh-bye.] We're opening another restaurant near Georgia Tech.
I love watching a customer's face light up after taking a bite of my food. I'm friendly because it's our tradition: to be generous, hospitable. Our neighbors would show up unannounced for my mom's food, and we would serve them. I tell my customers I love them—don't you love the person who supports you? Football fans love their teams. This is my team. I love my team.
This article appears in our February 2020 issue.