As a boy in rural Alabama, John Robert Lewis felt the call to the ministry early. He practiced preaching in front of a friendly audience: the chickens in the henhouse on his family's Pike County farm. He read scripture to his flock, performed funerals, and even conducted baptisms. His bemused family gave him the nickname, "Preacher."
Two decades later, Lewis addressed 250,000 people gathered on the Washington Mall—and millions more on televisions worldwide. As one of the featured speakers at the 1963 March on Washington for Jobs and Freedom, Lewis represented the Student Nonviolent Coordinating Committee and was dubbed one of the "Big Six" leaders of the movement. "We will not stop," Lewis said that day. "We must say 'Wake up, America. Wake up!' For we cannot stop, and we will not be patient."
For all his impassioned oration during the 60 years since he entered public life, the moment that cemented Lewis as an American icon came when he remained silent as he was beaten and bloodied leading 600 people across the Edmund Pettus Bridge in the March 1965 march from Selma to Montgomery, Alabama. His unflinching demonstration of nonviolent resistance was captured on television cameras and ultimately led to an outpouring of support for, and the passage of, the 1965 Voting Rights Act.
Lewis did not stop after that. Over the next five decades he marched into politics, representing Georgia's 5th District since 1987, serving his Atlanta constituents and serving the nation as the "moral conscience of Congress."
When President Barack Obama presented Lewis the Medal of Freedom in 2010, he said: "Generations from now, when parents teach their children what is meant by courage, the story of John Lewis will come to mind—an American who knew that change could not wait for some other person or some other time; whose life is a lesson in the fierce urgency of now."
Lewis died on July 17 at age 80. In December, he announced that he had been diagnosed with stage 4 pancreatic cancer.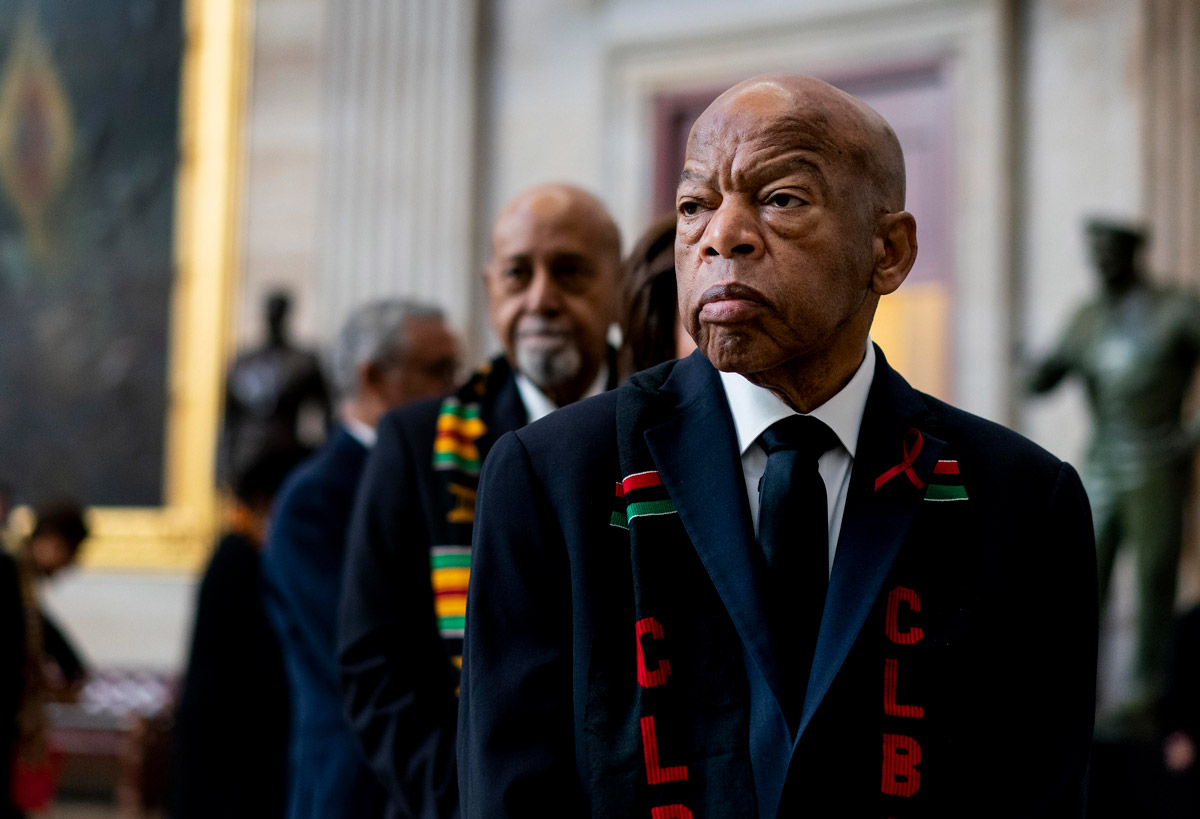 "Getting into good trouble"
Some of Lewis' inspiration for fighting the segregation he lived with in Alabama came from a trip to visit family in New York state when he was 11. When he returned, "the sins of segregation that had perplexed me up till then now outright angered me," he recalled in his 1998 memoir, Walking with the Wind. He was a high school freshman when the 1954 Brown vs. Board of Education ruling was passed by the Supreme Court, and the lack of action in Alabama schools underscored the inequity around him. But it was an event closer to home—the boycott of buses in Montgomery—that inspired him, as he followed the daily news account and listened to radio addresses by the young minister leading the boycott, Rev. Martin Luther King, Jr.
"I can still say that the Montgomery bus boycott changed my life more than any other event before or since," Lewis wrote in Walking with the Wind.
Determined to become a minister, Lewis delivered his first sermon at 16, and that same year, committed his first act of nonviolent protest: applying for a library card at the Pike County Public Library. He was denied and circulated a petition. "It was an act, and that meant something, at least to me," he later wrote.
Lewis enrolled at American Baptist Theological Seminary in Nashville and balanced work in the school cafeteria with immersion in his studies. Still chafing at the lack of integration in schools, he applied, on the sly, to Alabama's Troy State University. When there was no response, he wrote about the application to King, who arranged for a meeting, mailing Lewis a bus ticket to Montgomery. King offered to back Lewis in a legal challenge to Troy, but as Lewis was still a minor, it would require his parents' permission. Anxious about the impact it would have on the family, his parents declined.
Lewis resumed his studies and continued to learn about the movement to challenge segregation in the South. In 1959, he and a group of students in Nashville began challenging segregated lunch counters and, in 1960, joined a wider student movement of sit-ins at cafeterias and department stores throughout the South. Recalling his first arrest, Lewis wrote: "Now I had crossed over. I had stepped through the door into total, unquestioning commitment. This wasn't just about that moment or that day. This was about forever."
59 years ago today I was released from Parchman Farm Penitentiary after being arrested in Jackson, MS for using a so-called "white" restroom during the Freedom Rides of 1961. pic.twitter.com/OUfgeaNDOm

— John Lewis (@repjohnlewis) July 7, 2020
In 1961, Lewis graduated from college (he earned degrees from American Baptist and Fisk University) and joined the Freedom Riders, integrating Greyhound buses. He was beaten. Arrested. But he continued marching and talking and training students in nonviolent action. He helped form the Student Nonviolent Coordinating Committee. When he addressed the crowd at the March on Washington, he was 23 years old.
His family still worried. His mother had always cautioned him about avoiding trouble. But Lewis persisted, developing what would become a lifelong mantra: "get into good trouble."
No event more encapsulated Lewis's willingness to take personal risk than the incident at Selma.
54 years ago today, we were beaten, tear gassed, trampled by horses, and left bloody on that bridge in Selma. But we cannot rest. We cannot become weary. We must honor those who gave their lives for the right to vote. We must continue to find a way to get in the way. #goodtrouble pic.twitter.com/Utygfx9hzc

— John Lewis (@repjohnlewis) March 7, 2019
In March of this year, Lewis made a surprise appearance at the event commemorating the 55th anniversary of the Selma march. "To each and every one of you, especially you young people . . . Go out there, speak up, speak out. Get in the way. Get in good trouble, necessary trouble, and help redeem the soul of America," he said. A documentary about Lewis, aptly titled Good Trouble, was released in July 2020, as the Congressman's battle with cancer intensified.
"A real-life superhero"
Lewis left SNCC and worked to fight voter suppression across the South, first as director of the Voter Registration Project and then, during the Carter administration, as director of ACTION, a 250,000-member volunteer agency. In 1981, he was elected to the Atlanta City Council and in 1986, to U.S. Congress, where he represented the Fifth District, which encompasses a wide swath of intown Atlanta, until his death.
In the intervening decades, Lewis served as a living reminder of the courage of the civil rights movement and nudged his fellow lawmakers to action, whether leading a 2016 sit-in on the House floor in support of gun control legislation or decrying the Iraq war as "evil" in 2002.
In 2013, Lewis took a turn that was about as far from an Alabama henhouse as you could get: producing a graphic-novel memoir. The March trilogy, released in 2013, 2015, and 2016, put Lewis in front of hundreds of college classes, introduced him to tens of thousands of cosplaying fans at comic conventions, secured him a spot on the New York Times bestsellers' list, and earned him a National Book Award.
When the first volume came out, Lewis went on The Colbert Report to promote it, prompting Stephen Colbert to ponder if producing a comic book might be beneath the dignity of a U.S. Congressman. "He was never afraid of what other people thought was dignified. He set his own terms," said Andrew Aydin, a longtime aide to Lewis and his co-author on the March series (which is illustrated by Nate Powell).
What the March books do—"dramatize the conflict"—is what Lewis, King and other civil rights leaders did, said Aydin. As teenagers, Lewis and other future leaders of the Civil Rights Movement had learned about King's work on the Montgomery Bus Boycott by reading a comic book chronicle of the struggle, published by the Fellowship of Reconciliation in 1957. Today, millions of readers have learned about the modern civil rights movement through Lewis' story in graphic novel format.
In 2015, Lewis led a crowd of children through San Diego Comic Con, cosplaying as himself in the khaki trench coat and military surplus backpack made iconic from Bloody Sunday news footage. At Dragon Con in Atlanta he cheerfully posed with costumed guests and signed book after book, attending panel discussions where he was introduced as a "real-life superhero."
The books have been added to college curricula and reading lists: in 2019, the entire state of Vermont read the first volume of March as part of the Vermont Reads program. When the books debuted, "people weren't willing to have the conversation about race they are having today," Aydin said. "He saw new ideas and embraced them before they were considered safe."
"Always so humble, so quiet"
The public concept of Lewis is "an image set in granite," embodied in his determined look captured in news photos of Bloody Sunday, said Aydin, who worked for and with Lewis for more than a decade. "But the man himself was so much fun. So full of joy."
M. Alexis Scott, former publisher of the Atlanta Daily World, knew Lewis and his wife, Lillian, who died in 2012, for decades. "He was the icon of icons, and truly the conscience of America," she said. He also was, she noted, someone who lived life to the fullest.
Lewis, Scott noted, loved to dance—"even if he wasn't really a great dancer." He was always ready to celebrate something or someone. At events, he was "always so humble, so quiet, always concerned about somebody else."
Lewis and his wife were avid art aficionados and put together a collection including work by contemporary Black artists, as well as historical collectibles. On the flip side, they also "loved a good sale" and would hunt for deals at Dillard's and Macy's.
"He was kind of a regular, down-home Southern guy," recalled Scott. "He was just adorable."
Scott said Lewis would go out of his way to recognize people he met and make sure they felt heard, especially children and young people.
Tom Houck met Lewis in the mid 1960s, when he was just a teenager and worked as a driver for the King family. The two became friends and over the past 40 years have spoken almost daily. Lewis loved to gossip, said Houck, and Lillian would refer to the friends as "two leaky refrigerators."
This summer, seeing the millions of people protesting in support of the Black Lives Matter movement, "Congressman Lewis was so excited about this time," Houck said. "John told me, it was 'something I never dreamed of,' and he was so happy to see come about." Despite struggling with stage 4 pancreatic cancer, he was determined to join Washington D.C. mayor Muriel Bowzer to see the Black Lives Matter street mural in Washington, D.C.
"John Lewis was already an icon when I met him in 1965, and he's remained an icon," Houck said. "His politics never changed. His commitment never changed."