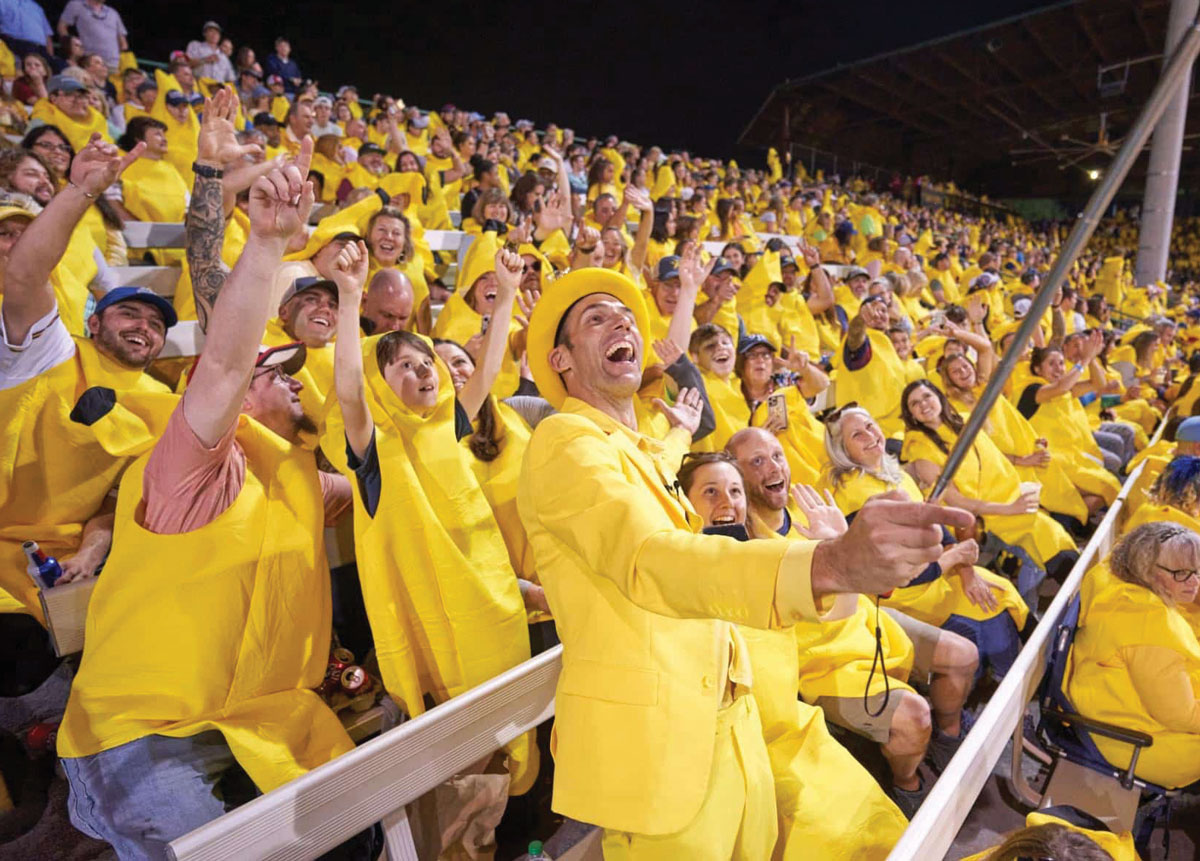 Jesse Cole owns seven yellow tuxedos. He shows me during our Zoom interview, adjusting his camera to fit an open closet door into the frame: sure enough, six canary-yellow tuxes, hanging at the ready. He's wearing the seventh while we speak—top hat included.
Cole is the founder of Fans First Entertainment, which owns and operates the Savannah Bananas, an exhibition baseball team with 5.5 million followers on TikTok, a wait list for tickets of over 100,000, and an ESPN documentary series titled Bananaland. His new book, Banana Ball: The Unbelievably True Story of the Savannah Bananas, was published this spring.
The team's popularity is a miracle, Cole says, considering where they started: "When we first came to Savannah, no one wanted us. People said we weren't real baseball and we'd never sell a ticket. But I'm not focused on proving people wrong. I'm trying to prove the people that believe in us right." In an effort to draw fans, Cole created an altered form of the game and called it Banana Ball. Every inning is worth one point, there's a two-hour time limit, and if a fan catches a foul ball, it's an out. (This year's major league rule changes also hope to speed up the game.) Banana Ball's real draw, however, is the circus-like nature of the proceedings. Players dance on every base, do cartwheels while catching fly balls, and pitch while standing on stilts.
At each game, Cole wears a yellow tux, playing the role of energetic ringmaster. Comfortable before a crowd—the Bananas' home field is Grayson Stadium, in Savannah's Daffin Park—he struggled to get personal in the book. "The first 100 pages were the most difficult to write," he says. "I really like talking about the movement of Banana Ball, our fans, and the players. But people have not heard my personal story, not just with baseball, but also with my theater background." (A native of Massachusetts, Cole took a detour into acting while at Wofford College in South Carolina.) Banana Ball recounts his early passion for the game, how baseball introduced him to his wife, Emily, and the team's wacky 2016 launch in the summer collegiate Coastal Plain League, where they won three championships and had dozens of players drafted. In 2022, the Bananas broke off to play year round, now fielding two pro teams.
Mostly, what Cole hopes readers take away from the book is inspiration to stand out—with or without a yellow tux. "I hope they find the courage and feel empowered to try things that are different even while getting criticized," he said.
In his case, it's the man who makes the suit.
This article appears in our June 2023 issue.