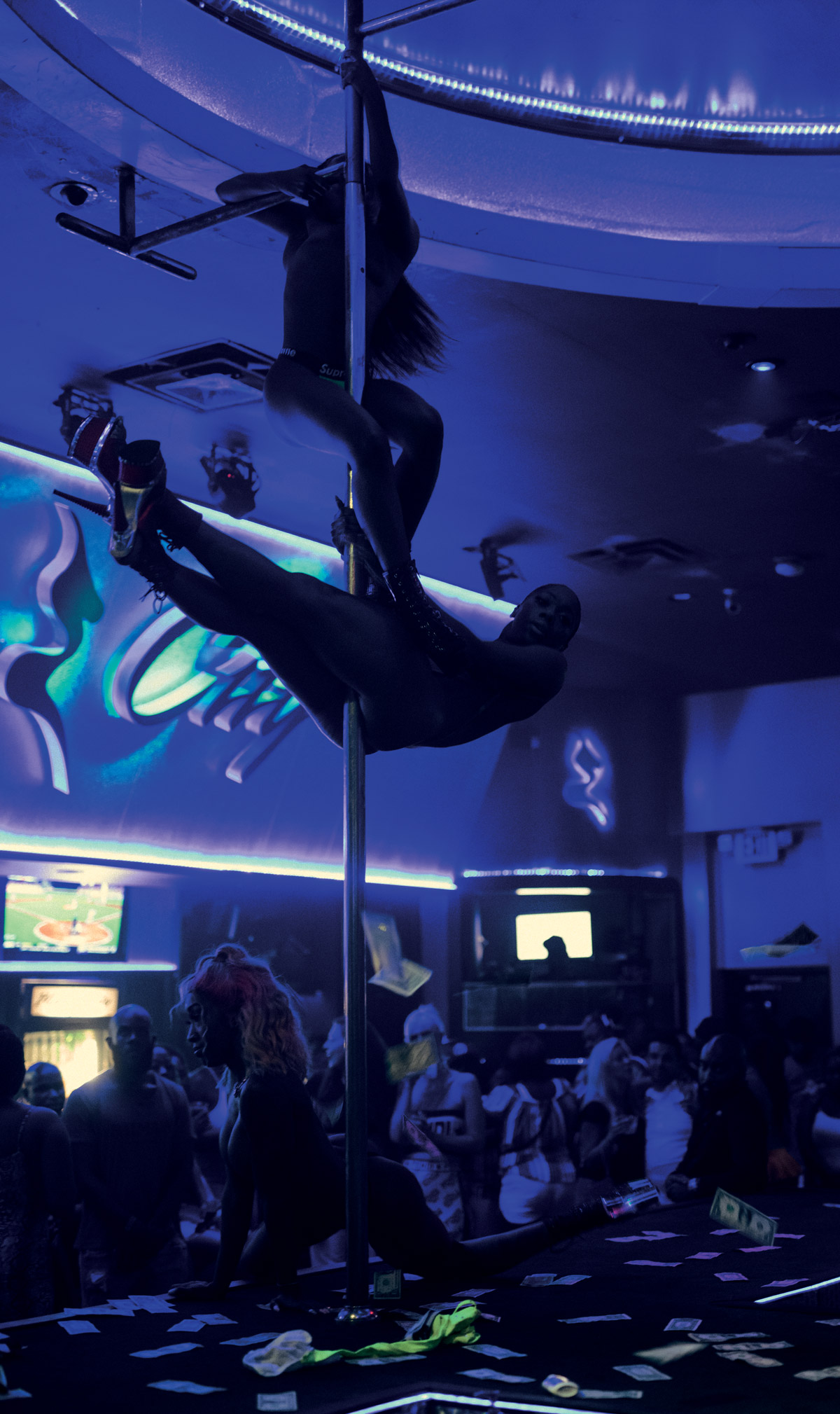 An Oral History of Magic City
The recorded announcement on the MARTA train when it approaches Garnett station namedrops all kinds of nearby points of interest, from City Hall to the gloomy Greyhound terminal just down the stairs. So why no love for Magic City, sitting like a solitary neon beacon on a lonely street in south downtown?
Over the past 35 years, the strip club that was the brainchild of a toner salesman named Michael Barney has become a full-fledged cultural phenomenon, a place where, as Jermaine Dupri puts it in our oral history, "you can go on Monday night and stand beside a millionaire, the biggest thief in Atlanta, the biggest drug dealer in Atlanta, the police, and one of the biggest rappers or R&B artists in the world—all in the same room." 🔊
Somehow, Magic City has survived arson, the arrest of its founder, and the unstoppable march of time. It is durable. It is de rigueur. Heck, when Atlanta United won the city its first major league sports championship in a generation, it was to Magic City where the team took the trophy to celebrate. We asked Dupri, along with Barney and his DJs and his dancers—oh, and of course Big Boi—what made Magic City so, well, magical.
In 1978, Michael Barney graduated with a history degree from Duke University. A native of New Jersey, he moved to Atlanta and sold toner cartridges over the phone. He was so good at the job he earned the nickname "Magic." After visiting his first strip club, Foxy Lady Lounge, he decided the concept could be improved.
Michael "Magic" Barney (Magic City founder): I used to go in [to strip clubs] with a suit and tie and watch them beat people and drag them out. Back then, there was Montre's, Purple Onion. Strip used to be dusty, old spots. You'd go in and sit down, play around for a couple hours, and get out. I always imagined if I could get a higher quality of women, how it would go. That was my goal from the beginning: the nicer woman.
In 1985, Barney leased a building at 241 Forsyth Street—a former print shop—for $10,000 a month. (He would purchase it around 1990.) Magic City, which began with one dancer, focused on customer service. Barney held his workers to high standards of behavior, professionalism, and beauty.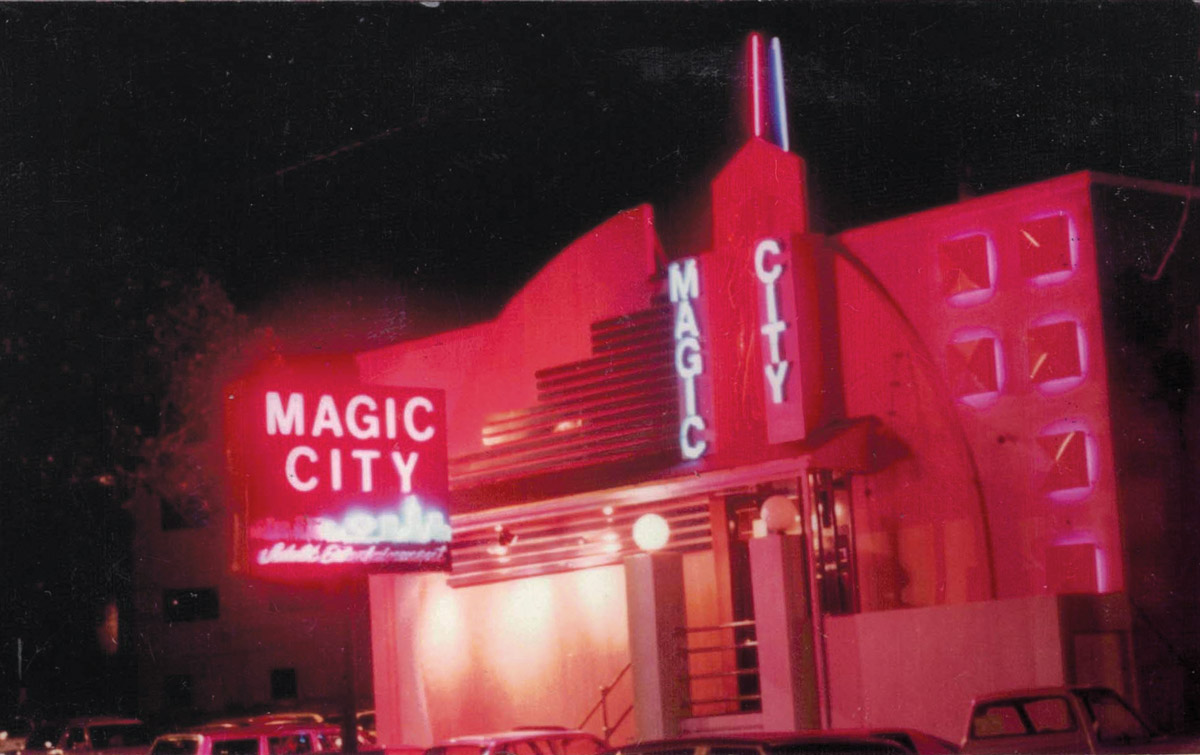 Photograph courtesy of Magic City
Cecil Glenn, aka "DC the Brain Supreme" (member of rap group Tag Team; early Magic City DJ): He was the leader. He's the one who taught the girls how to do it. He taught them the game. That's why so many of them are so loyal. He didn't teach them how to be hoes; he taught them how to be women. He was great for advice because he was so candid.
Barney: In the first years of Magic City, I was married, but I was here most of my hours. I used to put the record on and pour the booze. I started engaging the customers, and I saw that people liked that. I was more in control back then, more hands-on, to keep trouble out of the way.
When I first began, we didn't have but one girl. Then two girls. Then a guy named Andre, who was a DJ, came over and brought his girl, Venus. That was the first time I had a quality girl. Things started growing from there. By '87, it started changing around. We had a full squad of girls.
We learned early to pay your liquor taxes on time, close on time, and keep your permits for the girls. You pay everything on time and you let [City Hall] get their money, because they're running off you. Back in the day, we had politicians we knew. I used to go to City Hall and hand out flyers. But we don't need to now.
Barney saw the power of celebrity after two professional athletes—Deion Sanders and Dominique Wilkins—began to frequent Magic City, bringing with them more customers, who wanted to mix with their idols.
Barney: The sports people started it before the rappers. I used to play football for Duke, so I knew how to relate to Deion and the football players. Then it just grew from there. Deion and Dominique—both of them helped a lot. They were my first real celebrities. Dominique's pulling up in a [Mercedes-Benz] 500. Right then, it's changing. I'm starting to get better caliber people with a little money.
DC: When Deion lost his first playoff game as an Atlanta Falcon, he was so distraught. He came to Magic City, and we were downstairs in the basement. He was mad, man.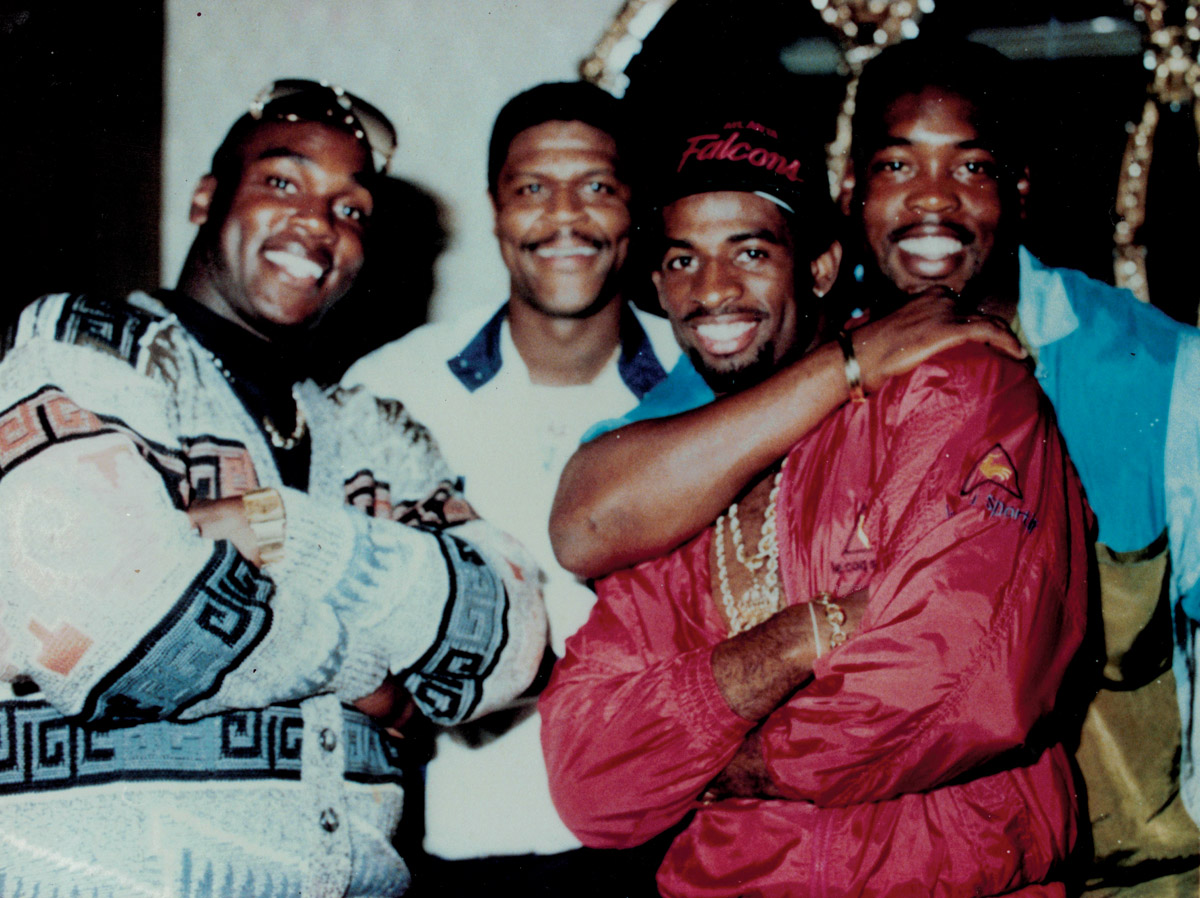 Photograph courtesy of Magic City
Barney: Deion said "Maj, I'm gonna bring MC Hammer!" MC Hammer was "Hammertime" back then. I got to meet Hammer up close. Next thing you know, Shaq graduates and comes through, and it was like a firestorm of celebs. You started seeing the effects that stars have on people.
Sonya Meadows, aka "Platinum" (author, businesswoman, Magic City dancer from 1990–1994): [This one unnamed athlete] used to love me back then. I would be the only one he'd let get his Coke from the bar. He never drank, at all. Period. He was gonna give me his Rolex one night because he wanted me to beat up one of the girls in the club, Strawberry. She was one of the comedian dancers. Strawberry used to go off on guys, and back then, he was wearing a Jheri curl and all that jewelry around his neck, looking like Mr. T. He didn't want to get in trouble, but she had pissed him off.
He said, "Look, I'll give you this watch right now—it's worth $100,000—if you just beat her ass." I started taking off my boots. I said, "Look, Strawberry, you're gonna have to act like I'm gonna beat you up real bad. I'll give you $10,000." And Magic stopped it. "Wait a minute, Platinum," he said. "You ain't doin' that!" 🔊
In 1989, Barney opened a second strip club, called Magic City II, in Birmingham, Alabama.
Barney: It was an opportunity type of thing. But we didn't understand a bunch of shit back then. We were running back and forth from state to state.
DJ Outlaw 3000 (Magic City DJ since 1990): I started working at the Birmingham location first, in 1990. Birmingham was topless-only, whereas Atlanta was totally nude, top and bottom.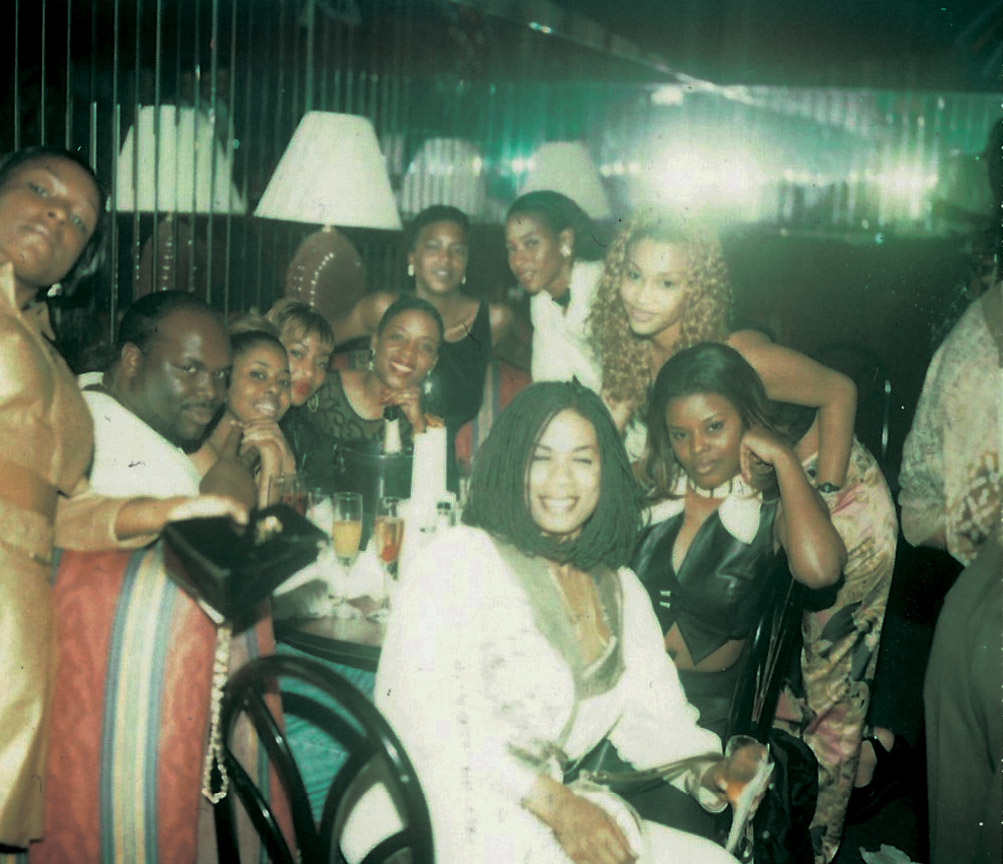 Photograph courtesy of DC Glenn
Sports stars were still front and center in Atlanta, but musicians were elbowing their way in. The arrival of Glenn, aka DC the Brain Supreme, as Magic City's house DJ was a pivotal moment. During his early-1990s tenure, DC created the unofficial blueprint for aspiring musical artists to turn songs into breakout hit records from Magic City's DJ booth. Call it beta testing.
DC: I went to school at Sacramento State University in California. [Friend and fellow Tag Team member] Steve Roll'n had moved down here a year before to go to Arts Institute. He was like, "You've gotta come down here for your break and stay a week." Christmas break of my senior year was in 1988. I got off the plane with like $500 to spend the whole week, and the first place he took me was Magic City. I spent my whole vacation money on two girls: Tinkle and Sparkle. Right then and there, I knew I was gonna move from California to Atlanta.
I arrived the summer of 1989, and I went to Magic City. The DJ was horrible. Big Tim, he was security at Magic City. I said the DJ wasn't doing too good. He said, "You want a job? There goes Magic right there."
The next Monday, I'm in the basement with Magic. He said, "I don't need a DJ, but I need a cook." So I took the job. A couple days later, I made a salad and an order of chicken wings. And I'll never forget: DJ Andre said he was about to mess with a girl. You never let another DJ on your turntables because he will take your shit. That day, as soon as I put my fingers to those turntables, the girls looked up and heard my voice. I started mixing, spitting game. And I made them more money than they'd seen on a day shift in a long time.
Every month on a Sunday, we had a meeting. The whole club had to be there. That weekend, all the girls stood up and said, "We want him." I went from cutting up lettuce for a salad to being the head DJ in less than a week.
Ryan Cameron (radio personality at Majic 107.5, Atlanta native): DC was the first guy to use videos with the girls. He would drop down the big screen, and you saw videos going on with the dancing. You had women dancing, the visual of the video, and the music.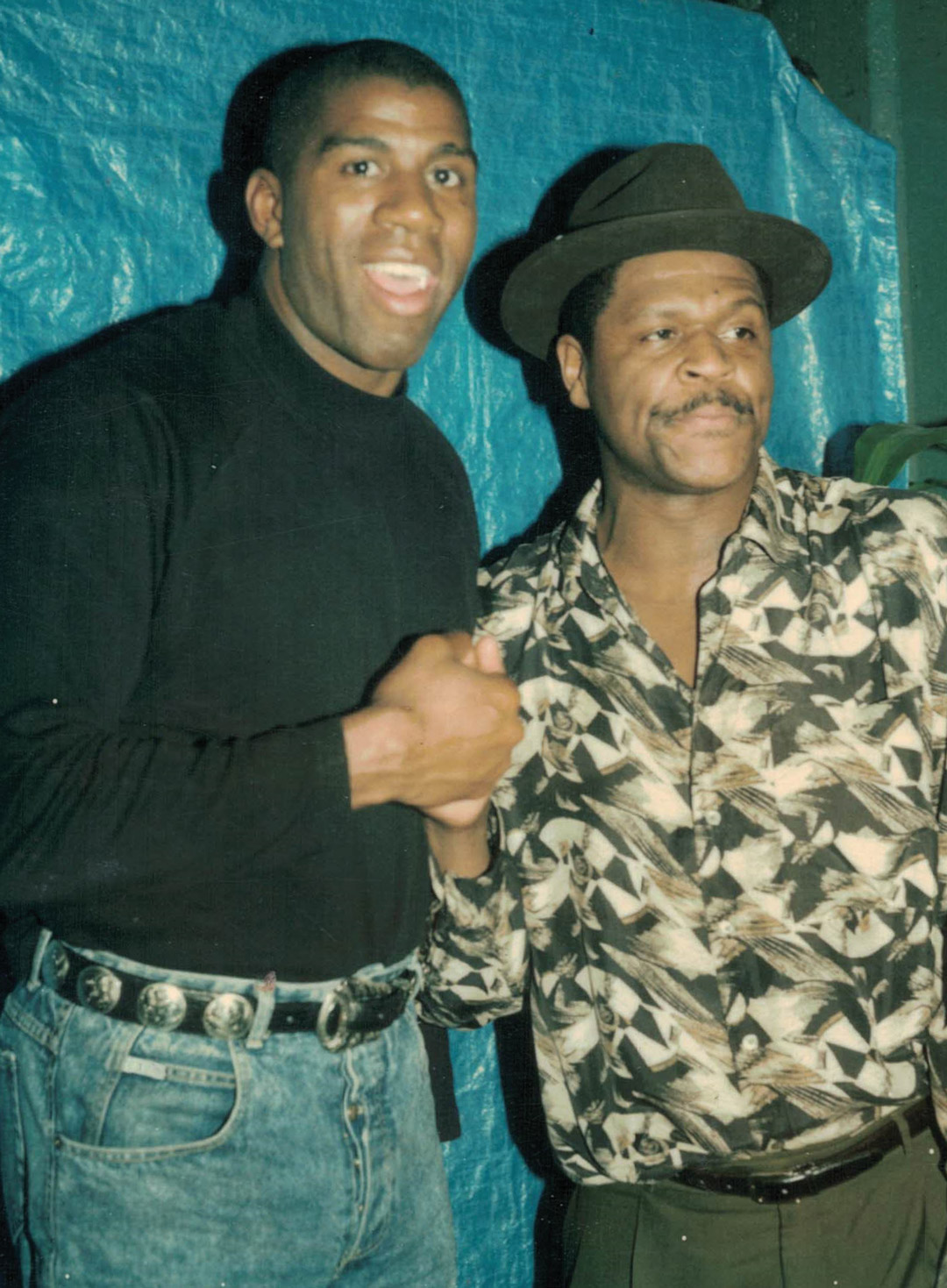 Photograph courtesy of Magic City
DC: Man, Magic City destroyed my life [laughs]. Seriously! I wasn't supposed to do that! I had a job at CNN. My major was communications; I wanted to be an anchor. When I first started, I think I made $400 a night. When I got that, I said, "CNN can wait."
Cameron: DC was the field general out there. He directed everything. He was the quarterback. [Dancers] had a code: They could get totally nude, but they couldn't bend over. That was against the rules. If she bent over, and DC saw it, the manager would be like, "Morgan, Merry Christmas!" That meant she had been fined for bending over.
DC: "Whoomp, there it is" was a saying people had in the clubs. This was our first attempt at a bootyshake record. We recorded "Whoomp! (There It Is)"; I had it on cassette. It was the first record I played at the club that night. Before the song was over, at least eight people came to the DJ booth like, "Hey man, what the hell is that?" I'm sitting here looking at people dance like Africans to this shit!
We rode that thing out about a month. To us, it was another record. I stopped playing it. On to the next one. Fast-forward to February 1993. One of the girls was like, "Hey DC, what happened to that record? You need to play that!" I played it again, and the same thing happened: People started running up on the DJ booth. Ryan Cameron was doing nights on V-103. I gave him the "Whoomp! (There It Is)" instrumental. They didn't really play rap on V-103, but Ryan would play the instrumental as he talked, and that's when people got on it in Atlanta. And my whole third verse is about Magic City. The world thinks that's the cleanest record on earth.
Two weeks later, it was Freaknik '93, and my last day. By May 1 we had sold a million records, dog. The thing that makes a song popular is a big-booty girl shaking her ass to it.
DJ Outlaw 3000: DC was taking off with "Whoomp! (There It Is)." We needed a DJ to fill in for him because he started going on the road. I was working in Birmingham and Atlanta at the same time. I had to be in Birmingham Friday, Saturday, and Sunday. We were closed on Sundays in Atlanta but open on Sundays in Birmingham.
Barney: The next thing you know, we started dealing with Jermaine Dupri. He was a big influence back then [in the mid-1990s]. I got a lot of respect for André, Big Boi, CeeLo Green. I met them back in the beginning. All the Atlanta rappers, they all played a big part.
Jermaine Dupri (Atlanta music producer, executive): The best way for me to describe Magic City is "hip-hop adult Cirque du Soleil."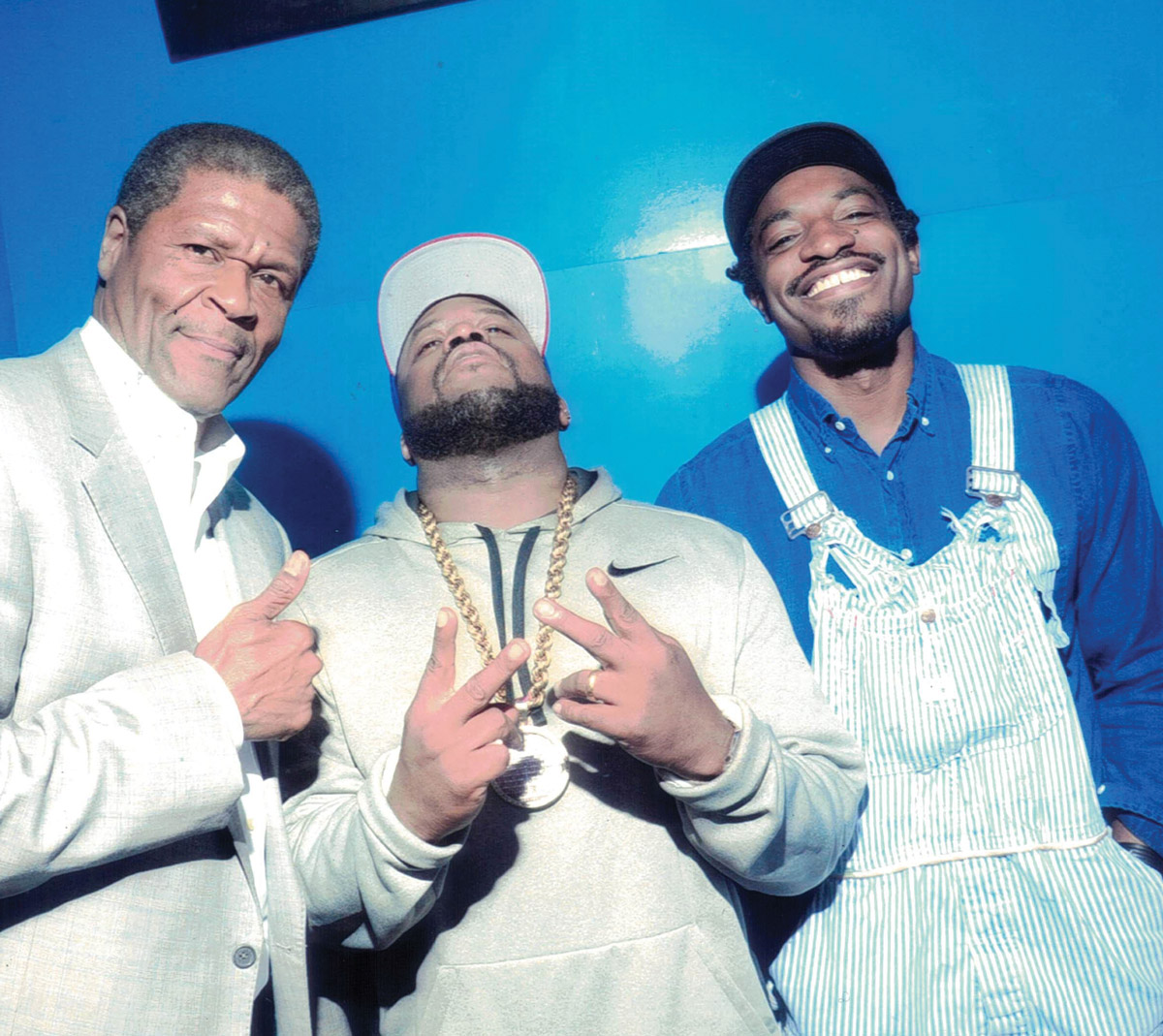 Photograph courtesy of Magic City
Antwan "Big Boi" Patton (rapper, half of OutKast): That's where it all went down at. Andre Rison, Deion Sanders, Dominique Wilkins—that's where all the ballers went to ball. It's like a player's playground. We were teenagers, so we'd have to try to sneak in to the little, smaller strip clubs. We rapped about it, but we hadn't yet been able to get in that motherf--ker yet. We dropped an album, and it goes platinum . . . there's a certain carte blanche you get in the city. And Magic always showed love. To this day.
Dupri: My success came at 19. I could drive around, I had cars, but I couldn't get in clubs. And I thought that, I can probably get in to Magic City. And I had a rude awakening. Magic didn't care who I was or what I was doing—I wasn't getting in his club at 19. Not getting in made me want to go to this club so, so bad.
Big Boi: The first strip club I ever went to—it's in the "Player's Ball" video—it's called Montre's. We were, like, maybe 16 years old, skipping school to go to the day shift. These were the days when porn wasn't just at your fingertips. You had to get the VCR, rewind the tape, count the number, and know where it stopped at. So, to go in there and see this live action, it was like, "Holy shit; I wanna live in here."
Cameron: The first time I went to Magic City, I was interning for Kenny Diamond. He was the nighttime jock at V-103; I met Magic through him. I was a wide-eyed, bushy-tailed baby. I didn't get hired at V until '91; this had to be like '90. Magic had this larger-than-life persona, but he was always one of the coolest people ever. People would go in Magic City and fall in love. The running joke was, whenever you'd ask Magic for something—if you saw a really special girl and wanted her to come over—you knew if Magic was on the floor, you could ask him. And he would always say, "Let Maj see."
Big Boi: My introduction to [Magic City] was right after my teenage years, after Southernplayalistic. We [OutKast] frequented the clubs a lot. Magic City, Nikki's, Gentlemen's Club. Magic City was the hub; it was the premier spot. We were youngsters, but since we were celebrities, we would get in the club. We were young, teenage superstars. We were like New Kids on the Block, but we were Atlanta's own. That's one thing I can say about Magic—he always showed love to us or anybody who represented Atlanta. So we would go on BET, and they'd ask "How is Magic City?" We'd be like, "Shit, you've gotta go there!"
The best way for me to describe Magic City is "hip-hop adult Cirque du Soleil."

—Jermaine Dupri
A wave of challenges came in 1994. Barney was convicted on federal drug conspiracy charges. Before he began serving a 10-year prison sentence, he sold the club to Derrick Cooper, his brother-in-law.
Barney: They tried to say I was the money man. I went to court, they found me guilty, I went away, I think, from about 1994 to 2002. Derrick Cooper was the owner and manager at that point. I didn't have anything to do with anything during that time period.
DC: Magic caught his case. It was a bullshit case, but that was when they changed the RICO [Racketeer Influenced and Corrupt Organizations] laws. Dope boys started telling on other people. Magic's case was nothing but being introduced to somebody. You don't know who you're being introduced to, or what. Somebody could say, "I introduced them, and since he's a drug dealer, he needs to go to jail, too."
His brother-in-law took over the club. We all were family, but you know how it gets when people get locked up. Things happen. Alliances change. Loyalty changes.
In 1995, Magic City caught fire under suspicious circumstances. No one was ever charged.
Barney: I was incarcerated when the building caught on fire. That was an arson-type situation. It took them maybe a year before they were able to reopen. It shut everybody down; everybody was out of work. First, you had to fight the insurance claims, then, you had to remodel and get back open. So, it took a long time. It was probably down for 12 to 16 months.
It was always everybody pointing at everybody, just a conspiracy of different people, but you never knew who did it for real.
DC: The back half burned. It was closed for about a year. And that began the rise of Michael Childs [owner of strip clubs Nikki's and the Gentlemen's Club].
Platinum: I waitressed at the Gentlemen's Club. It wasn't like Magic. That's when the crowd started really changing, to more thuggy.
DC: People still came to Magic because of the name, but the Gentlemen's Club was doing it. That's where Mondays started. It was the night. It was the night that catapulted it to another level.
In 2001, Barney was released from prison. Two years later, Cooper sold the property to Joseph Saba, a metro Atlanta physician who knew Barney from their college days, for $400,000.
Joseph Saba (neurologist, owner of Magic City from 2003 until 2008): I went to school at Wake Forest, and [Barney] played football at Duke. We became great friends but we lost contact. We reconnected and then I tried to help him. I did own the club for a little bit. He's really a fine gentleman. He's got a gold heart. We've had some business together. If this guy gives you his word and shakes your hand, it's as good as gold; you do the paperwork later. He is an unbelievable man. I love him to death.
In 2008 Saba sold the property to M Entertainment Properties for $2.85 million. M Entertainment is owned by Barney. However, Magic City the business is owned by Paradise Entertainment Group, run by a man named Marvin Brown, who owns and operates Magic City per a lease agreement with Barney. Brown and Barney met at Duke in 1976. Barney describes his own role today at the club as "consultant." When he returned to Magic City after serving his sentence, Barney found Atlanta's strip-club scene had changed, this time in his favor. Rival clubs were closing, the era of "making it rain" began, and Monday became Magic City's most popular night of the week, led by DJ Nando, who emerged as a major musical tastemaker before being shot and killed in 2014 outside his home.
DC: Nando started at Magic City as a barback. He watched me for years and started to become a good DJ around 1998.
DJ Outta Space: Rest in peace, DJ Nando. He was the originator of Magic City Mondays. That was my mentor. When it comes to strip-club culture in Atlanta, you can't talk about it without talking about Nando. He opened the door to show other DJs that this could really be a lucrative business for you if you did things a certain type of way.
Dupri: You can take your music into the club, and if you pay the DJ, he'll play your record. Now, that might seem like payola. [But] it's not radio; it's having someone put your music on for the girls to dance to. You're actually tipping the DJ for your record. I know I'm not the first person that started it, so I'm not taking credit: Walk in the club, go to the DJ booth, meet the DJ, talk to the DJ, leave the DJ a tip, and ask him to play your record. If you get a new record and you actually get it played, you look around the room at people actually moving to it. The girls are dancing. It becomes a test for a lot of the records in this city.
Big Boi: In strip-club etiquette, if you go in and they're just running your songs back-to-back, you give them a couple hundred dollars or something. You might just give them a stack of ones. But that's just something you did out of appreciation. Sometimes, you hit the door—boom—your song comes on. And if they show love, you show love back.
Katrina Fuqua (Magic City brand manager since August 2011): The music is what draws a lot of people here because they know, if it's a hit in Magic City, nine times out of 10, it's going to be a hit, period. That's just the way the music industry has gone. Most records are broken in strip clubs.
DJ Outta Space: I started working at Magic City in January 2011. That's the same month Future dropped [the mixtape] Dirty Sprite. People didn't even know who he was. Young Thug, Rich Homie Quan, Migos, when I first started, these artists weren't even around. [Back then] the music was tailored for you to have fun and dance, and get up off your feet, twerk. Now, the mood is more trap-heavy. Even the girls are trapped-out. They wanna hear all the trap shit. Everything's trap-trap-trap.
Big Boi: A lot of the new music you heard came out of the strip club. We started testing out the songs at the strip club. We'd record something here at the studio, go to the strip club, have the DJ put it on real quick, see how the girls dance, come back, finish the record. It's been like a secret A&R a little bit, just to get the vibe. Because the girls know. 🔊
DJ Outta Space: I'm aware that people want to come in and get their music spun. I'm pretty receptive as long as you're respectful. A strip-club DJ is different from a normal DJ because we're literally controlling the entire club—making sure the girls are getting money, making sure you tip the waitress, making sure you take care of the bartenders, calling the girls out for each stage set.
DJ Outlaw 3000: One of the biggest songs we had that still is a strip-club anthem is "Pussy Poppin." And the Nelly era had taken flight back then. The So So Def [Dupri's label] camp. Tip Drill! That phrase had taken off. That was the big thing before the "make-it-rain" era took over. It was all about the Tip Drill. It went from Tip Drill to "make it rain in this bitch." It was different lingo back then.
DJ Outta Space: The number one classic song at Magic City since I've been there is "Dreams and Nightmares" by Meek Mill.
Barney began printing glossy calendars featuring Magic City dancers, distributing them in unorthodox places such as jails and the military, to expand the club's notoriety beyond the southeastern U.S.
Barney: We have a lot of military people we mess with, and we give them cases of stuff every year. They go overseas and come back and get them again every year. We catch soldiers at Greyhound who are heading over to other countries, and we load them up. When we see them at the airport, we give them away. We know they travel far and near.
DC: It was Instagram before Instagram!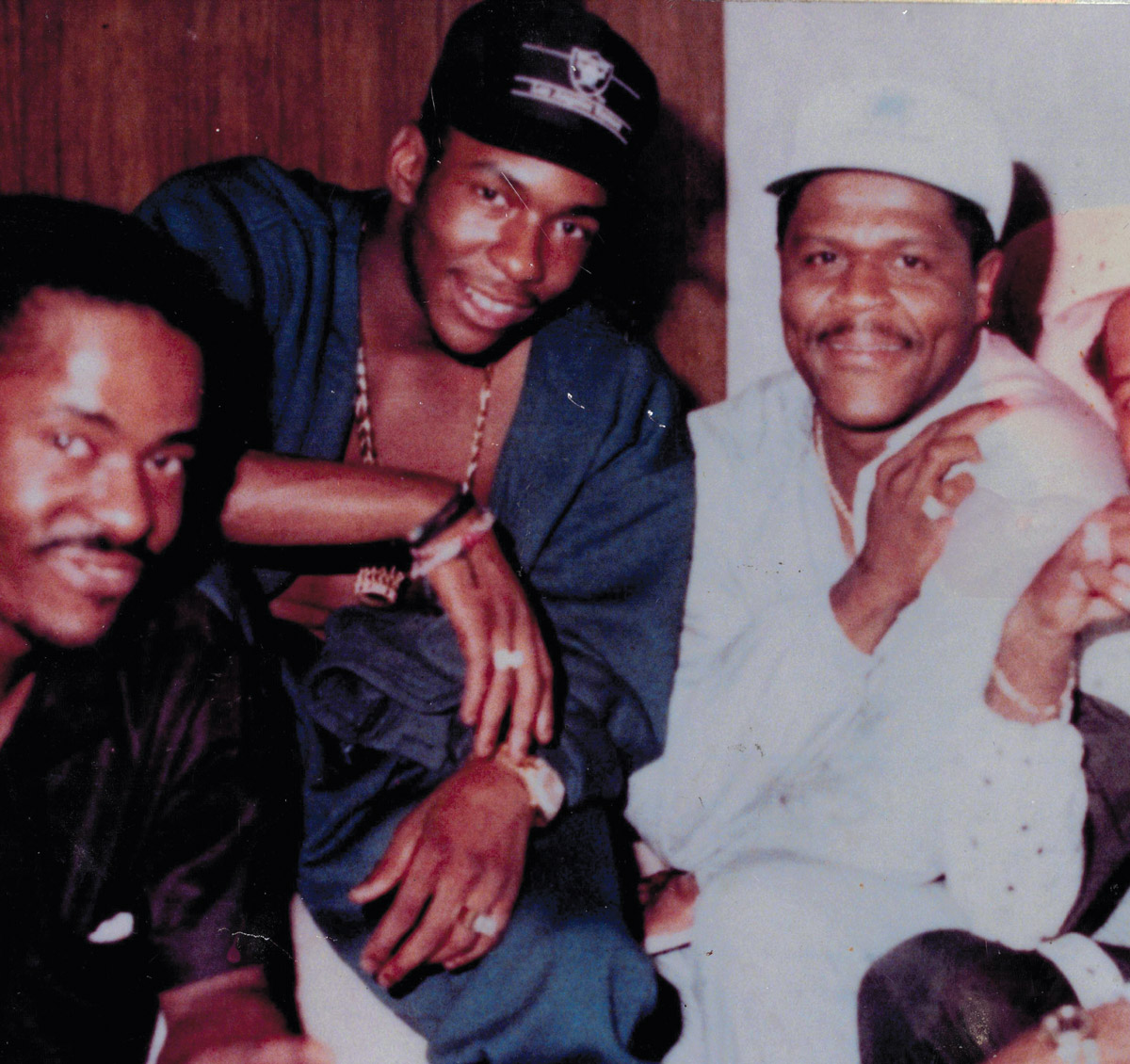 Photograph courtesy of Magic City
Barney: It became a theme: Come to Atlanta, come to Magic City. Just stick your head in the door, and let the ass do the rest. The King Center should have been pushing their stuff like that, but people weren't pushing it like we were pushing it.
Big Boi: Whyte Chocolate was definitely a legend. OG India, she was always fit. She was a little older, but she was just bad. Strawberry used to be one of the ones. A little cutie pie, like, why nobody ain't marrying this girl? But Whyte Chocolate definitely, from the "Tip Drill" video—you can put a statue of her up there.
Platinum: Magic liked "ladies" then. Now, it's a different generation, so you have to adapt to what's going on now. I think he misses the part of us being ladies, because we had to be in dresses and gowns. All the girls had long, pretty gowns back then, from Jean and Elaine, the house moms. Elaine was the costume-maker. She was the one who made us superstars. When you came in the door, we felt like you came to see us. We were the celebrities.
Cameron: Morgan was my favorite. I wanted to really, really, really do what most idiots do: Get a girl that's your favorite, and rescue her from the club. She had these two Pippi Longstocking braids, and she was the prettiest thing you ever seen.
Dupri: Back when I was going at my early age, it was really about the dancers. You knew the dancers by name. You used to have Whyte Chocolate. You used to have these girls that were almost stars—before Instagram, by the way. Strawberry, Destiny—you would go to the club specifically to see these girls dance. Now, people are just throwing money at every girl. You're just going to the club to throw money; it's not really about the dancing.
Barney: Seeing them strut with these little teeny waists and stuff puts pressure on them. It's hard. This fake hair and the fake titties, fake butt, has damn-near taken over. It's hard for you to find one without. I try to coach beautiful women: "Stand your ground; stand for what you are. You're a nice-looking woman! There are a lot of people that like what you have. Don't lose confidence."
Yesmeen Jiles (14-year former Magic City dancer, author): This is what you do for a living. It's not necessarily who you are. There were times when I would be out in public with my girlfriend, and I would run into some of my customers. And they would be a bit confused, because I was such a great actress in the club. They would be shocked to learn that I was in a same gender–loving relationship. Thank goodness for me that I met my wife during one of my shows, so she knew right away what I did for a living, and she supported me all the way up until it was time for me to retire.
Dupri: I used to throw the money up to the ceiling and let it shower the girls. So, what other people are doing now, I used to do it specifically just to hit the ceiling because then the money would just splatter everywhere. I threw up a thousand dollars; the ceiling would make it fly all over the room. The money would stick to the ceiling, and the girls would stand with their feet on the couch and get their money back. I started that.
DC: Nah, dude. Making it rain started at an afterparty in 1991 in Magic City. Jermaine would come every now and then, but not like that. There was a guy named Easy. Easy was a cat from L.A. They had ballers back then, but Easy was special. He would come in, and he'd do it big. Bigger than we'd seen it back then. One night, I was playing Prince, and two women, Jasmine and Tori, started doing a nasty dance, where they just freak on each other but didn't touch each other. It was so seductive. You could just feel the sexual energy in the room. Easy took bottles out of the Champagne bucket and poured it on them, and they were just wet. It was incredible. Then, he started throwing money. He started throwing his ones, his fives, his 10s and his 20s. It killed the garter belt. It was the transition from the garter belt to money being thrown. That was also the beginning of girls coming out of the closet. Before that, maybe four girls were openly gay. After that night, 50 percent of the girls in there were gay, and every girl started doing sensual dances and touching each other.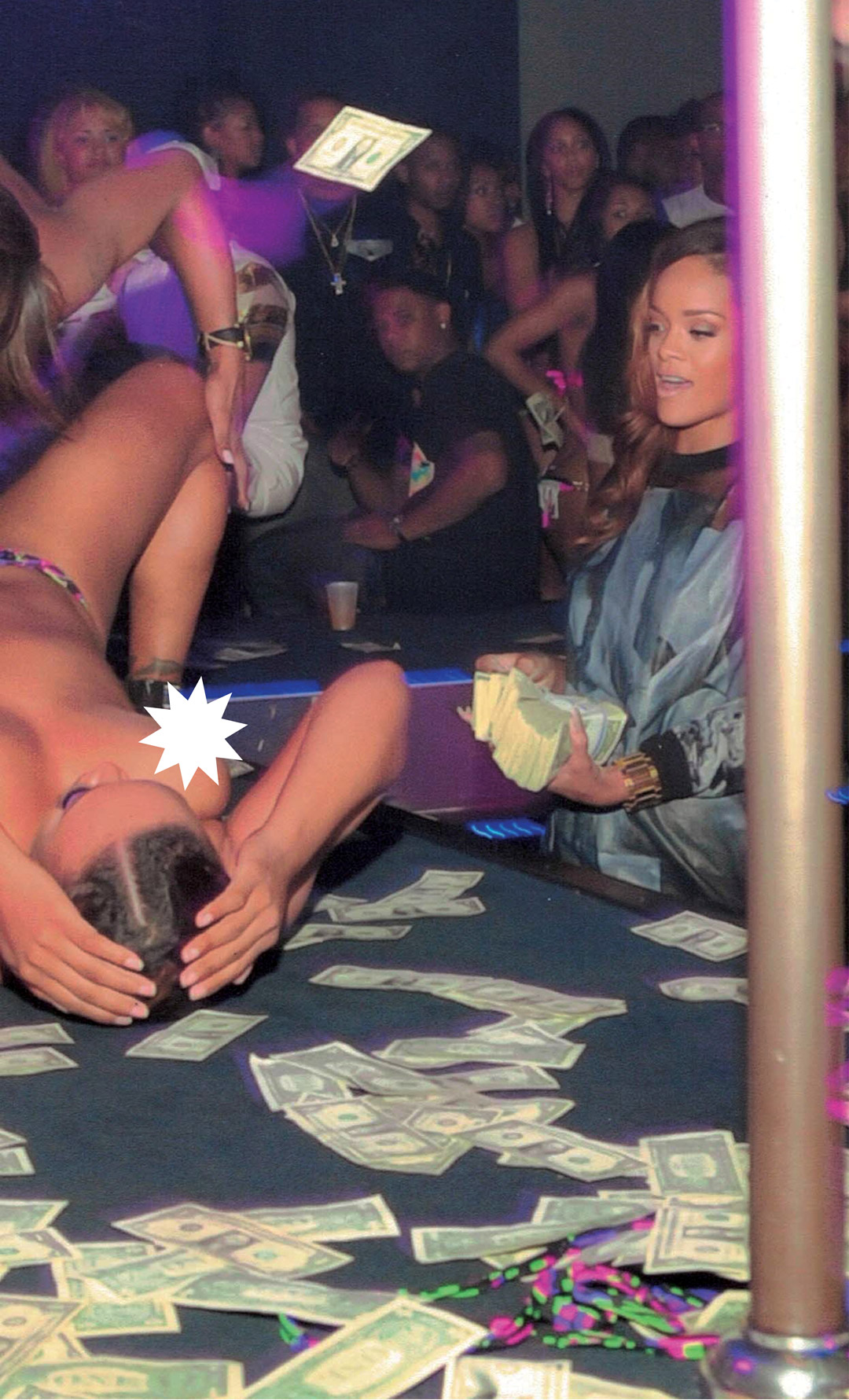 Photograph courtesy of Magic City
Platinum: Easy is the one who started making it rain and shutting the club down. Paying Magic extra money to have his friends fly in and have an extra afterparty.
Cameron: The era was all about the high end. People were paying for cars with cash out of shoe boxes.
Big Boi: I kind of gauge it like, if I'm gonna go in the club, I know I'm gonna throw about 20 PlayStations. A PlayStation is like $300 apiece. So, I'mma throw 20 of 'em, 30 of 'em. That's how I gauge it, because I have three kids. Every time I'm throwing it up, I'm like, there goes 10 video games. Five pairs of shoes.
Jiles: Oh my God. Money! Rain! Back home where I'm from [in Milwaukee], I could maybe make $150, maybe $250 a night. At Magic City, one of my greatest nights I left out of there with about $3,000. A group of guys kept just throwing money, you know, smacking me on my back with wads of money.
It was amazing to have the bragging rights with my friends back home that I work in such a big club and I have thousand-dollar nights and I'm partying with the greats. Usher came in and just threw money at everybody. You didn't see him single one person out and give her more money. He shared with everybody. Jermaine Dupri is more reserved. He has his entourage throw money.
Dupri: I started dating Janet Jackson. One night, I took her to Magic City. Every girl in the club wanted to dance for her. And this was when the construction of Magic City was different—they had rooms. We were in one of the biggest rooms they had, and everybody was trying to get in the room. I took Quincy Jones to Magic City, and that was a phenomenal night, because he didn't have to pay nobody. Girls wanted to dance for him for free. I was like, "Damn, I don't get no free dances!"
Barney: In the last 15 years, they don't even look at the girl no damn more. There's more guys stunting here at Magic City on each other, showing off. It ain't even about the quality of women like it used to be.
Jiles: A lot of times, when guys are throwing money on the stage, they're not necessarily throwing it because they admire the dancers. They're throwing it because they want to throw more money than somebody sitting in the VIP booth across from them.
In 2014, a group of Magic City dancers filed a lawsuit against the club claiming they had been misclassified as independent contractors instead of employees, which meant they were denied minimum wage and overtime, in violation of the Fair Labor Standards Act (FLSA). The lawsuit was part of a wave of litigation between exotic dancers and nightclub owners in Atlanta. In 2017, Magic City agreed to a maximum settlement with 28 dancers of $1.1 million.
Barney: The legal fees were just astronomical—a two- or three-year battle with them, and the lawyers playing games, playing ping-pong, you know? It was about maybe 43 girls, and they got whittled down to maybe 20 something. But you had to battle.
Today, Barney says he's focused on maintaining the quality of entertainment and customer service at Magic City.
Barney: Customer service is the number-one thing we need to get better at. The thank-yous have diminished over the years. The guy used to give a girl $40, she would jump up and kiss him, because it wasn't no making it rain back then. Forty dollars was a big tip back in the day. Now, you get big-ass bags full of money, but the thank-you is not as genuine and as appreciative as we should be. You know, some girls take home $1,000 in a day. You be forgetting how hard that is to do in the real world, so there's a disconnect.
Even $500 in one night. "Honey, you got here at 11, and you go home at three, and you guys say '$500?' That's a blessing!" Out of all the years, I think my '89 squad of girls might have been the most understanding of that.
At my funeral, don't cry. I had a hell of a run. Ain't no need for no tears, man. I owe it all to the people. The people did it. It wasn't me. It wasn't no "magic" behind it.

—Michael Barney
Cameron: I don't really frequent strip clubs like I used to. I'm kinda jaded with the amount of money, people trying to floss and flex against other people. They have a machine that spits out dollar bills like streamers. Nobody did anything like that back in the day. It's so much of a show that the regular guy doesn't stand a chance. And there's $30,000 on the floor, but you'd better not try to pick it up.
DC: The strip club is a ferocious environment. You're dealing with thieves, drug dealers, pimps, hoes, killers. Every aspect of life. And you've gotta navigate that shit. And nobody stays around.
Barney: I've seen the sleazy all around the world, where you can go in the room, have sex with the girls. But I didn't think it would hold up, and I never liked that. Take her home! Go away from me if that's what you wanted to do. I never liked it around me because I always dreamed that sexually something bad would happen, and we would get the blame. So, I stayed away from that part of it.
Dupri: There's no place in the world like Magic City. When I say this, a lot of people say, "Jermaine, you just love your city so much." It's not that. Magic City is the only club in America where you can go on Monday night and stand beside a millionaire, the biggest thief in Atlanta, the biggest drug dealer in Atlanta, the police, and one of the biggest rappers or R&B artists in the world—all in the same room. That's unheard of.
Barney: You don't know who's coming across the door. So, I try to tell everybody, the way you treat people is so important. The average guy who makes a regular worker [salary], he can come out and have a good time, but he can't afford to throw his money. He's busting 50 hours, so he can afford to give away his $50 or $100, and he's cool. But we want them to have a good time, too, you know. It takes all of those to make that jambalaya.
Big Boi: With Magic, he'll come out and shake everybody's hand. He's a hands-on owner, and I think that's what people gravitate toward, because he shows love. They'll put it in the music videos, countless movies. I think that's why he stood the test of time—his staff and the girls. He's hand-picking the talent. He's got a good eye, goddammit.
Barney turns 65 in December. These days, he might spend just a single night per week at the club, with his son Michael "Lil Magic" Barney handling management. He spends much of his time on real estate and other investments. Before retiring completely, though, he's considering a refresh for the club.
Barney: I'd like to dust the whole building out, and the only thing we can do with the building is build up, but you can't close for three months no more. You'd be out of date. So, we try to work in between and do as much as we can. We are going to have to start coming up with some solutions on it.
Next year, we're going to have a 35-year anniversary party. [And someday,] I would like to do a Magic City Sunday on a big yacht somewhere. But you'd have to plan it out and just kill it all in one night. You can't go no further. You gotta push the boat off at four o'clock on a Sunday and bring the boat back by about six in the morning. Ooh-wee! Good God almighty. That would be something.
The other day, when I went to the Toyota place to pick up my truck, I had my Magic City shirt on. "Old man, what do you know about Magic City?" I said, "Man, I don't know much." Then he said, "Look, if you know somebody down there, my birthday is coming up, and I'm gonna be 30. If there's any way I can get a hookup . . . ."
I've been truly blessed. Even when I run into trouble or I've been spanked by life, I rebound. I believe that rebounding is a blessing, and I just believe that I'm truly blessed.
At my funeral, don't cry. I had a hell of a run. Ain't no need for no tears, man. I owe it all to the people. The people did it. It wasn't me. It wasn't no "magic" behind it. 🔊