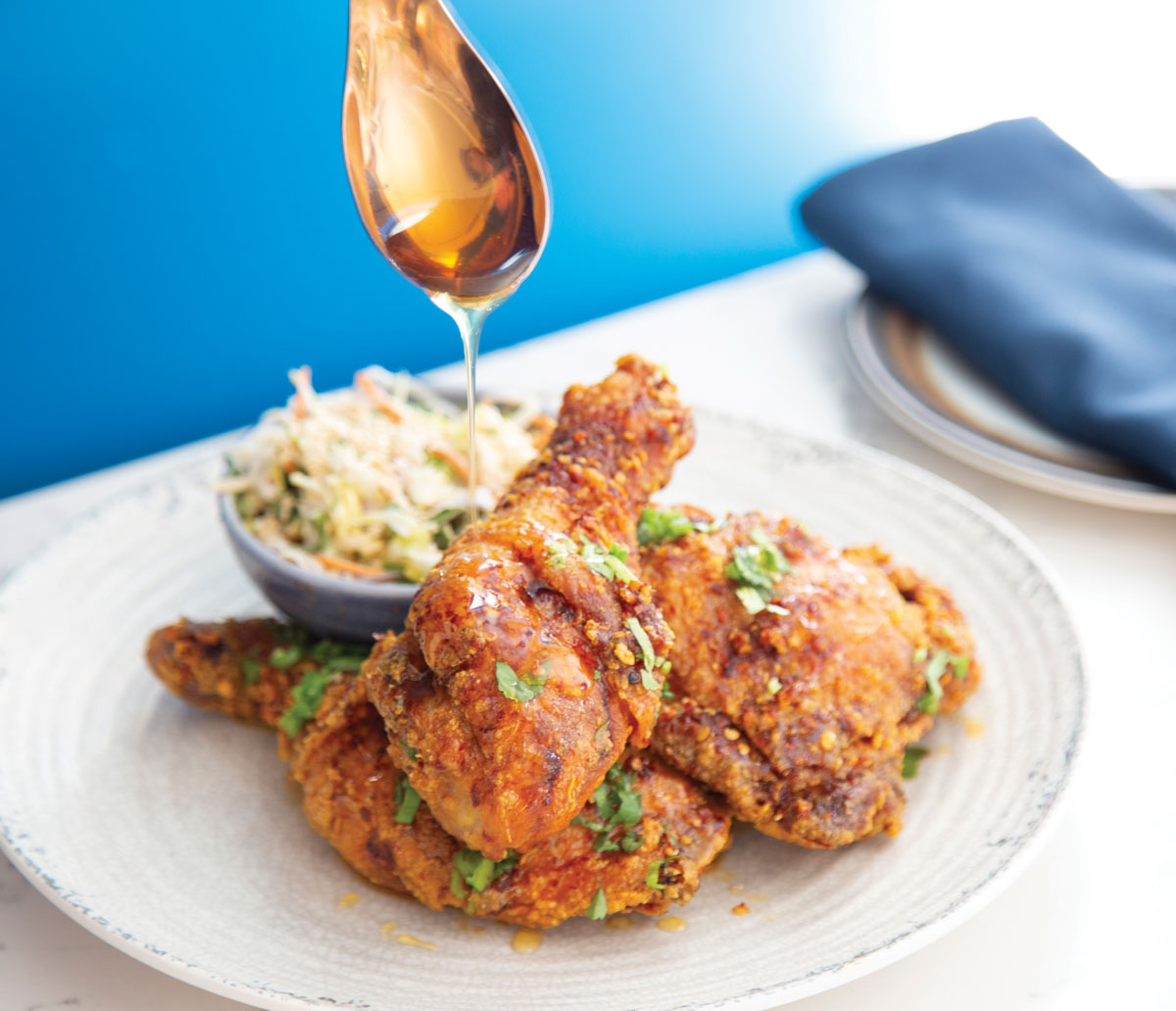 The opening of a second restaurant can be a great opportunity for an ambitious chef seeking to expand their brand. In 2016, Ron Hsu's return from New York marked a big coup for Atlanta dining: In a scene that can lack technique and maturity, he rode into town with an inspiring combination of natural talent and high-level training, courtesy of 10 years working for Eric Ripert at Le Bernardin. He brought that experience to bear at his first venture, the high-end Candler Park restaurant Lazy Betty, which he opened in 2019 with Aaron Phillips—and which has garnered wide acclaim, including a James Beard nomination. I consider Hsu one of the best and most original chefs in the city.
For their second outing, Hsu and Co. turned to a more casual format and a more specific focus: In December, they launched Juniper Cafe (2260 Marietta Boulevard, Bolton), devoted loosely to the fare of Vietnam. Why this direction? It's not just that Vietnamese is a favorite cuisine of his, Hsu told me—it also sits at the precise intersection of his Chinese roots and French training. Also, in addition to his time at Le Bernardin, Hsu worked in Manhattan at the unfortunately named French-Vietnamese restaurant Le Colonial, whose outposts in Atlanta and elsewhere have been accused of romanticizing—well—French colonialism. Juniper Cafe learned the lesson and avoided the pitfalls.
With none of these exoticizing tendencies on display, Juniper Cafe is chill rather than precious—a sleek, modern all-day eatery that attracts many young families. Its enclosed patio is almost as big, and nearly as attractive, as the dining room, which includes a chef counter and some intimate nooks. Hsu and Phillips both spend time in the kitchen here, but the constant is Hsu's cousin Evelyn Ling, who's always behind the stove.
In the morning, Juniper is a great stop for Vietnamese coffee (strong Cafe du Monde, hot or cold, sweetened with condensed milk) and fresh croissants, pork buns, and danishes, all courtesy of baker Chao Wen, who emerges as a hugely accomplished, highly versatile pastry chef. Wen's greatest hits are the boundary-breaking Turkish egg bread (savory and boat-shaped, with an egg baked right in the middle) and tiny, meltingly tender Portuguese egg custard tarts that are made throughout the day to ensure flakiness.
Hsu calls Juniper Cafe a "craft restaurant"—and I feel it in every bite. Everything is homemade: baguettes, pâté, lemongrass-perfumed Vietnamese sausage, and all the pickles, preserves, sauces, and condiments, including a gloriously spicy chili crisp. Used for banh mi, the baguettes—slimmer and lighter than most—enclose ingredients such as sausage, caramelized pork, spicy chicken, and even eggplant, in addition to pâté, cilantro, and pickled vegetables. A breakfast banh mi is filled with sausage and eggs cooked like a thin frittata.
At dinner, lively starters include a bowl of pleasantly salty shaved fried okra; a delicate pear, citrus, and papaya salad finished with toasted coconut; and fried imperial rolls filled with pork and shrimp. Fresh summer rolls, on the other hand, can be thick and gluey. A forthright spiciness and crunchy surface lend a lot of pleasure to Hsu's Vietnamese hot fried chicken, which is soaked in buttermilk and ginger, then coated in crumbled fried shallots, garlic, and chili crisp. (The bridge this dish creates between Southeast Asia and the Southeast U.S. is further elaborated by the jicama-cabbage slaw with which it's served.) "We don't open boxes of fried shallots and fried garlic," Hsu told me. "We fry our own and use the flavored oil in our salads"—a technique that gives a lot of flavor to dishes like bun, the Vietnamese noodle salad.
A fair criticism of elevated cuisine is the shrinking size of its portions, evidenced here in a petite serving of plump mussels in a wonderfully fragrant lemongrass-coconut broth with a few slices of grilled baguette on the side; also the miniaturized banh xeo, a crunchy rice crepe made of coconut milk and turmeric and filled with shrimp, Chinese wood-ear and local shiitake mushrooms, and fresh herbs. When I ordered the lemongrass pork chops, likewise, I didn't anticipate thinly sliced boneless meat. (Speaking of the bang-to-buck ratio: Be aware of the 20 percent service charge added to every bill, which aims to remedy inequalities between the front and back of house—but can be easy to miss.) No complaints, though, about the pho: Made from beef marrow bones and oxtail simmered overnight with star anise, charred onions, fish sauce, and other seasonings, the deeply flavored, almost syrupy broth is poured over raw, thinly sliced eye of round that cooks on contact. Vegans will be pleased about a plant-based pho and vegan fish sauce.
The drinking scene, nearly as ambitious as the eating one, is a big asset. Even before its liquor license came through, Juniper Cafe distinguished itself by bottling its own natural sodas in flavors such as calamansi, acerola black cherry, and a combination of kumquat and yuzu. Juniper's jewel-colored cocktails are more apt to intrigue diners than overwhelm them with excess sugar and alcohol, and the pan-Asian beverage menu also includes Chinese baijiu, Japanese sake and shochu, and Korean soju and makgeolli, along with a broad selection of beer and wine.
Eggs for days
Juniper Cafe serves beautiful sandwiches and pastries—for breakfast and beyond.
Boat-shaped Turkish egg bread has an oozing yolk in its center.
Breakfast banh mi is stacked with eggs and Vietnamese sausage.
Flaky Portuguese egg tarts are filled with a rich custard.
This article appears in our June 2022 issue.