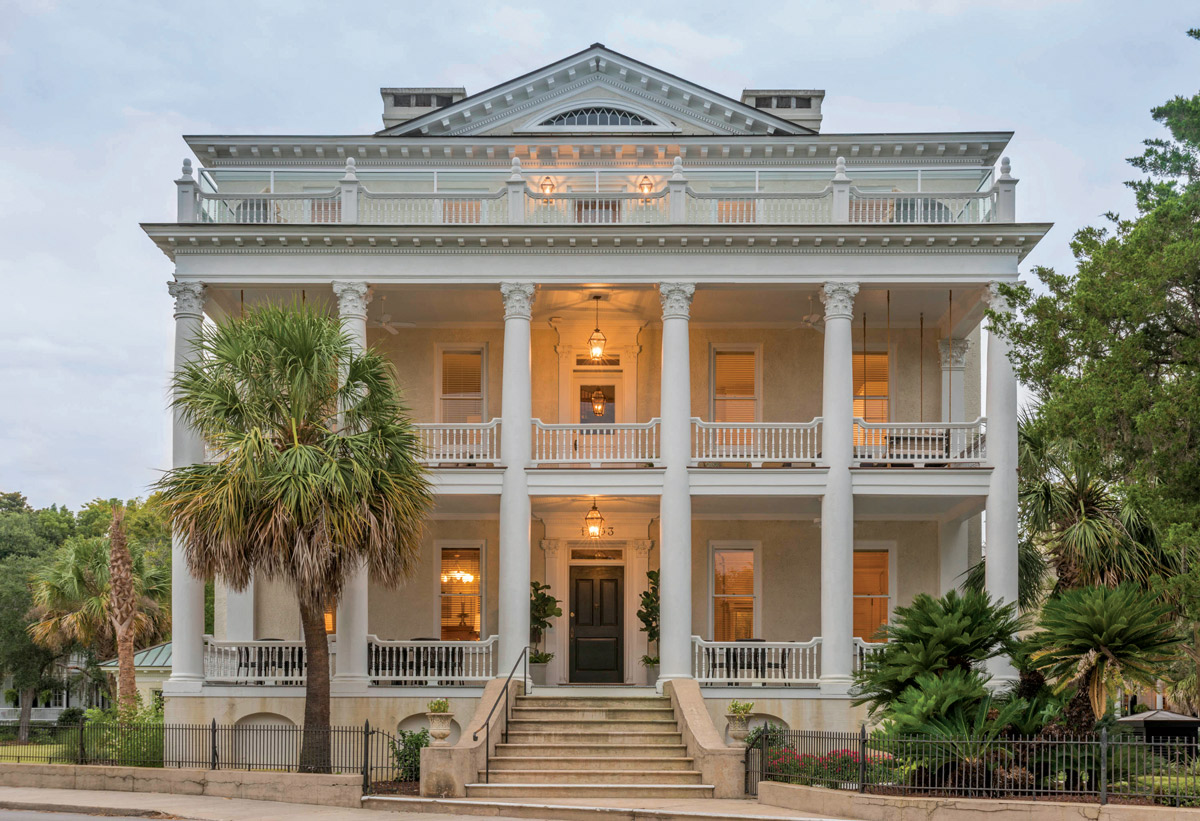 Spared by Sherman's troops during the Civil War, Beaufort is among the South's most well-preserved cities. Think quiet streets lined with antebellum homes painted in soft pastels, centuries-old oaks draped with Spanish moss, and historic churches set among residences and businesses. Anchorage 1770, a boutique inn on the Beaufort River, fits right in.
As its name indicates, the inn was constructed in 1770. ("Anchorage" references the naval background of Admiral Lester Beardslee, whose family owned the home from 1891 to 1931.) Originally built as a summer home for a wealthy cotton planter and politician, William Elliott, the property served as a Union hospital during the Civil War, the raucous Ribaut Social Club in the 1890s, and all manner of offices, restaurants, and guesthouses over the years.
In 2014, innkeepers Frank and Amy Lesesne purchased the inn and set about updating it while still maintaining its historic integrity. Detailed plasterwork from the late 1800s, fireplaces with Adam-style mantels, and four-poster beds nod to the building's past. Dual showerheads and a white-noise machine in each room (sound tends to travel in centuries-old buildings) bring you back to the present. Each of the fifteen rooms has a unique layout, but the understated decor and subdued shades of cream and white throughout act as a blank canvas, leaving one free to imagine what the room's former purpose might have been over the centuries. The inn's three floors of porches, including a rooftop deck with one of the best views in Beaufort, are outfitted with hanging beds and upholstered rocking chairs—ideal for taking in views of the sun setting over the marshy waters.
The Lesesnes are quick to make guests feel at home, starting with a complimentary glass of prosecco upon arrival. In the mornings, enjoy breakfast served to you in bed, and during happy hour, mix your own cocktail at the well-stocked honor bar. Sate your sweet tooth at bedtime with fresh-baked cookies delivered to each room at turndown.
There's plenty to see and do around town, so leaving the inn is a must—if only for a little while. Take Amy's advice and hop on a horse-drawn carriage to learn about other storied homes in the area, including one where Pat Conroy wrote several of his famous novels. Follow it up with a spin along the Spanish Moss Trail on one of the inn's complimentary bikes. But the inn's porches—which have held soldiers, authors, socialites, admirals, politicians, and countless guests before you—will surely beckon. Let them.
1103 Bay Street, Beaufort, South Carolina • (877) 951-1770 • anchorage1770.com
More to Explore
John Mark Verdier House
Built in 1804, this antebellum home is the only historic planter's house in the city open to the public. John Mark Verdier built this Federal-style mansion after a successful career spent trading indigo and growing Sea Island cotton. It was a symbol of his newfound wealth and upper-class status. Fun fact: The house was the first in Beaufort to have a telephone. Docent-led tours are available Monday through Saturday.
This article appears in our Spring/Summer 2020 issue of Southbound.