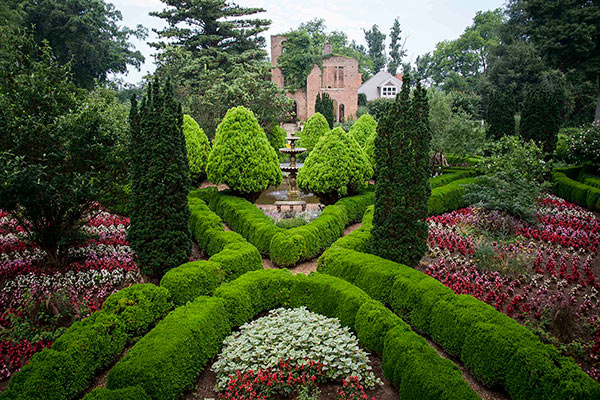 I have a fairy godmother. She lives midway between Chattanooga and Atlanta, at a place called Barnsley Resort in Adairsville, Georgia. She knows I love peanut butter cups, salted caramels, and Champagne. And when I visited the resort on my birthday this year, she left them in my suite, along with a handwritten note to enjoy my special day.
I guess it makes sense that Barnsley Resort has a fairy godmother-in-residence; after all, the whole place is rooted in magic. In the early 1840s, shipping magnate Godfrey Barnsley purchased the land on which the resort now sits and set about building a mansion for his wife, Julia. Before it was finished, Julia died, and a grief-stricken Barnsley halted all work on the building. Legend holds that as he wandered the grounds a year later, he saw a vision of Julia, who asked him to complete the estate. And so he did. The property remained in his family until the Great Depression, when it fell into disrepair and was sold at auction.
More than forty years later, Prince Hubertus Fugger of Bavaria (yes, a real prince) purchased and revived the estate, opening it as a historic garden and museum in 1991. In 1999, he went even further by turning it into a village-style resort with cottage-like rooms, a Jim Fazio–designed golf course, and a luxurious spa. Fugger later sold the resort, but before he did, he crowned a spry blonde named Denise Webb the resort's official "Fairy Godmother." She still carries the crystal-encrusted wand he gave her as she goes about her tasks, like preparing a candlelit dinner in the bamboo garden for a proposal or scattering salted caramels and Champagne in a cottage for a birthday (ahem).
Besides a fairy, Barnsley Resort employs a number of other, shall we say, nontraditional staff members. There's Clent Coker, the on-site historian with a penchant for safari-print shirts and dark-lensed glasses, who has been obsessed with the mysterious Barnsley family since he was a teenager in the 1950s. Step into the history museum next to the original manor's ruins, and he'll regale you with tales of the family's pluck, grit, and intrigues. Meanwhile, the amiable Greg Teague, who carries the title of "Wine Snob" at the resort's two full-service restaurants, sips with guests and offers pairing suggestions.
This being a 3,300-acre resort, there's quite a lot to do here besides talk history and drink wine: You can ride horses, tour the gardens, shoot clays, relax by the pool. In the evenings, the beer garden attracts a crowd; during my stay, we sat at a picnic table near the garden's communal bonfire and listened to another guest play guitar as sparks fluttered into the air.
Before we departed, I spotted my fairy godmother walking the grounds. "I hope you had a wonderful birthday," she called to me in a singsong voice. Then she quickly curtsied and walked away, clutching her well-used wand.
597 Barnsley Gardens Road, Adairsville, Georgia, 877-773-2447, barnsleyresort.com