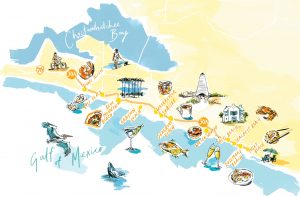 As 30A continues to grow, so does its culinary scene. We explored the 12 Florida Panhandle neighborhoods linked by 24-mile County Road 30A, where we discovered ample options for each meal of the day—plus plenty of happy-hour hideaways. We also got to know some of the talented chefs who are raising expectations for beach-town dining. Here, we share some of our favorite finds.
MIDDAY HIDEAWAYS
Whether you're hungry for lunch, brunch, or simply a grab-and-go snack, there are plenty of places along 30A to satisfy your appetite. Chanticleer is a local lunchtime favorite, hidden off the beaten path just north of 30A in Grayton Beach. It's beloved for baking its own breads—including the buns for its bestselling half-pound cheeseburger—and making its soups from scratch. In Alys Beach, Fonville Press Market and Cafe is perhaps the area's trendiest lunch spot, with plenty of outdoor seating perfect for enjoying a Cobb salad and a glass of wine or a craft cocktail. Next door, Raw & Juicy serves healthy options like antioxidant smoothies and lentil-beet burgers on its covered deck. For something more traditional, Great Southern Cafe in Seaside and Scratch Biscuit Kitchen in WaterColor both have all the pimento cheese, biscuits and gravy, and crispy fried chicken you can handle. In the mood for a quick avocado tartine and a cup of Stumptown Coffee? Fast-casual Black Bear Bread Co., with locations in Grayton Beach and Seaside, has you covered. For an elevated experience, try Havana Beach Bar & Grill in Rosemary Beach, the Pearl Hotel's AAA Four Diamond restaurant. It serves brunch seven days a week—a rarity on 30A. (Try the Hemingway Shrimp and Grits with crawfish gravy.)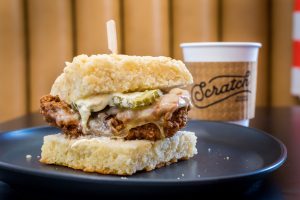 Skip the Seafood Basket
Just because you're by the water doesn't mean you have to eat fried fish at every meal. A growing number of dining options have popped up along 30A, like the newly opened Mimmo's 30A in Blue Mountain Beach. An outpost of the popular Destin-based Sicilian restaurant, it serves classic pasta dishes (ravioli al formaggi, spaghetti Bolognese) alongside Negronis and Aperol spritzes. Also in Blue Mountain Beach, Basmati's offers a variety of Asian cuisines in a converted house, while Blue Mabel barbecue restaurant smokes brisket and bacon outside its barnlike digs. Those craving nigiri or sashimi can hit up Shaka Sushi in Inlet Beach, and Nanbu Noodle Bar in Grayton Beach offers 30A's only ramen fix.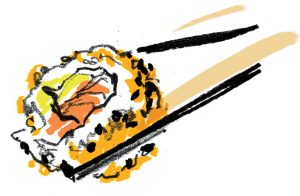 CHEF SPOTLIGHT
ROUX 30A / NANBU NOODLE BAR
Nikhil Abuvala
Signature dish: Indian-spiced braised octopus with coconut cream and sweet potato
If Chef Nikhil Abuvala could travel back in time to 2012 and tell his 22-year-old self one thing, it would be this: Keep dreaming big. Back then, paying $700 a month for a tiny restaurant space in a Grayton Beach office park was a major risk. So was his plan to offer cuisines from the far-flung places he loved to travel, like Peru and Thailand. He began Roux 30A as a catering company "because it was all I could afford," he says. Over time, he was able to offer a once-a-week tasting menu, then Sunday brunch. By 2018, Roux 30A was a popular supper club, and his second Grayton restaurant, Nanbu Noodle Bar, a bona fide hit. "The clientele on 30A was becoming increasingly sophisticated," he says. "They appreciated that we challenged what food could be in this area." These days, Roux 30A offers a six-course tasting menu six nights a week, and reservations are hard to come by during high season. "Our hidden gem is a little less hidden than it used to be," he says. "I'm not complaining."
Verified Views
Come for the food, stay for the incredible Gulf views offered by many 30A restaurants. Crabby Steve's is situated directly on Seacrest Beach with unrestricted visibility—in fact, the best way to enter the seafood spot is from the sand. The Vue on 30A in Dune Allen can't quite make that claim, though it does sit just behind the dunes with panoramic floor-to-ceiling windows. Fish Out of Water in WaterColor looks onto a charming dune boardwalk leading to the Gulf and prides itself on its family-friendly atmosphere. Shunk Gulley Oyster Bar in Gulf Place draws a young crowd to its second-floor, open-air space overlooking the beach on the other side of 30A. And in Rosemary Beach, rooftop watering holes reign: You'll discover them at Pescado, with both indoor and outdoor seats facing the sunset, and the Havana Beach Rooftop at the Pearl Hotel, overlooking the neighborhood's Western Green park and the water beyond.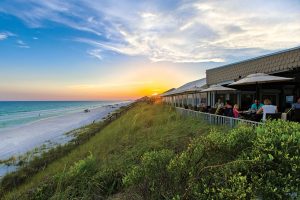 THE OLD GUARD
Though 30A's landscape is ever changing, some restaurants have stood the test of time. Cafe Thirty-A has been a Seagrove institution since 1995, serving icy martinis and upscale fare like grilled Georgia quail atop a plate of creamy grits. Another longtime Seagrove standby is Old Florida Fish House, which opened on a coastal lake in 2005 and expanded in 2015 to include a screened-in porch and bar. It's popular among locals for its live music, especially its dueling-piano nights. In Grayton Beach, Hurricane Oyster Bar & Grill has remained proudly nonconformist since 2007, with dollar bills covering the walls and "Hurricane Debris" nachos (tortilla chips topped with "everything the storm blew in")
on the menu. On the more refined end of the spectrum, George's, a popular Alys Beach spot since 2008, still commands a wait for its lobster quesadillas and jerk-crusted snapper served in a charming cottage. And Seaside favorite Bud & Alley's has been famous for its cold beers and shaded rooftop tables overlooking the Gulf since 1986.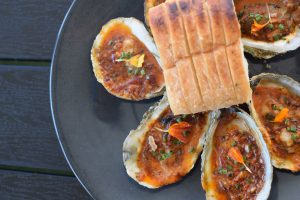 DATE NIGHT!
Romance is in the air all along 30A. It's easy to impress your better half at Alys Beach hotspot the Citizen—since opening in 2021, tables have been hard to come by. Designed by Khoury-Vogt Architects (the team behind the Alys Beach neighborhood), the restaurant's facade mimics the neighborhood's streamlined aesthetic, while the interior's coffered ceilings, gold accents, and pops of bright blue lend big-city glamor. Don't miss popular dishes like wood-grilled swordfish; the well-rounded wine list offers a lengthier-than-usual selection of bubbly options, perfect for toasting. For another design-forward experience, check out Surfing Deer. With its art deco exterior, it looks like it might belong in South Beach instead of Seagrove Beach. Inside, there are a number of romantic spots, from seats at the chandelier-crowned bar to a table on the patio lined with lighted pools and trickling fountains. Named in honor of Seagrove founder Cube McGee, who often played in the waves with his pet deer, the restaurant has a menu filled with throwback favorites like chilled jumbo shrimp and pesto pappardelle. Over in Grayton Beach, Roux 30A is a star on the rise. Tucked away in a nondescript office park, it offers a six-course tasting menu with thoughtful wine pairings in an intimate, 1,000-square-foot dining area. Meanwhile, sexy newcomer Gallion's in Rosemary Beach solidifies its position as a date-night spot with its no-kids-allowed policy. Designed by local Erika Powell, its patterned wallpaper and pea-green padded-leather booths lend a Mad Men vibe. Start with a cocktail at the large quartz bar, then settle into a table for blistered shishito peppers, lemongrass-crusted ahi tuna, and housemade pistachio-rose ice cream. And if you don't have time to make a reservation, don't worry: Edward's Fine Food and Wine, also in Rosemary Beach, is always first come, first served. It's worth waiting for an al fresco table, where you can enjoy seared diver scallops and steak frites while watching the action along Main Street. Be sure to try the dark-chocolate flourless torte, a decadent (and shareable) creation.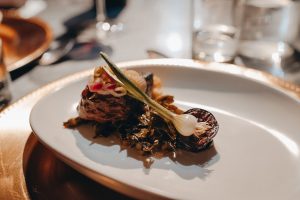 CHEF SPOTLIGHT
VUE ON 30A
Isley Whyte
Signature dish: Shrimp and grits with sauteed onions and tomatoes in a lemon-caper beurre blanc sauce
Chef Isley Whyte can't remember a time he didn't cook. The oldest of 11, he prepared family meals alongside his aunt and grandmother with produce they grew themselves. "We could only have something special like oxtail at Christmas," he says. Whyte moved from Jamaica to America in 1998 on a work visa and began his career in restaurants as a dishwasher. Thanks to his tenacity, he quickly moved up to line cook, then sous chef. "I believe that no work is degrading, as long as you're getting paid," he says. In 2014, he joined the Vue in Dune Allen as sous chef; five years later, he was named executive chef. "The whole front of the house gave him a standing ovation," says general manager Michael Bickett. "I've never seen that before." Whyte blends Jamaican flavors with fresh coastal fare, and his jerk remoulade sauce is a cult favorite. Thanks to his success, he's put all 10 of his siblings through school. "My mother cries sometimes, she's so proud of me," he says.
STAY IN STYLE
While rental homes abound along 30A, a growing number of hotels allow for shorter visits with plenty of perks. Fresh off a redesign, the 55-room Pearl Hotel in the heart of Rosemary Beach lives up to its Forbes Four Star, AAA Four Diamond ranking. It offers a host of amenities, the most impressive of which might be its private stretch of sugar-white beach with complimentary beach chairs and umbrellas. Valet parking (with unlimited in-out privileges) is also a major perk in this jam-packed neighborhood. (Rooms start at $399.) In Seaside, the former "No Tell Motel" now embodies coastal chic as the Court. Each of its eight rooms is filled with Serena & Lily furniture, while the private decks have locally made teak hanging beds. The central courtyard is dotted with live oaks, palms, and palmet-
tos, lending an Old Florida vibe. Guests have access to Seaside's bikes and pools, and designated parking spots are worth the price of the stay. (Rooms start at $390.) And 60-room WaterColor Inn, the flagship hotel of its namesake neighborhood, recently unveiled a new zero-entry family pool with a shallow kids area, along with new kitchen-equipped family suites. Request complimentary kayak rentals to explore nearby Western Lake, or ask the staff to build a beach bonfire at sunset, complete with s'mores fixings. (Rooms start at $399.)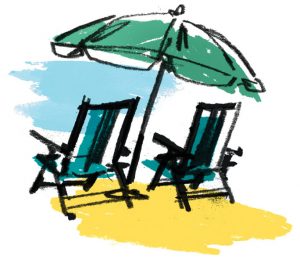 Don't Forget the Doughnuts!
Nothing complements bathing-suit season better than a hot, glazed doughnut, right? The 30A area has plenty of spots to savor the tempting treat—and other pastries as well. Charlie's Delights in Alys Beach is known for its sour-cream poundcake doughnuts, while Inlet Beach institution the Donut Hole has been offering full-service breakfast to accompany its signature glazed creations since the '90s. At Dough Sea Dough Donuts in Seagrove, the maple-bacon doughnut is a bestseller. And Nectar in WaterSound offers other breakfast breads, such as cinnamon rolls, Danish pastries, and Nutella-buttered toast.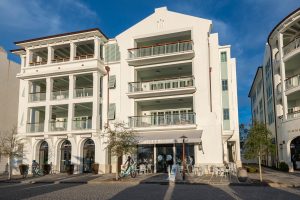 Raise Your Glass
Toast a great day on the Gulf at one of 30A's watering holes. In Grayton Beach, Beach Camp Brewpub pours eight homemade craft beers, including the easy-drinking "Blonde With No Name." Over in Seagrove, Coastside 30A offers wine and beer to sip in Adirondack chairs facing a peaceful coastal-dune lake. (If you're feeling adventurous, rent a kayak or stand-up paddleboard and take it out on the water.) Perhaps the best-known drinking den on 30A is the Red Bar, open in Grayton since 1995. A 2019 fire burned the place to the ground, but it reopened a year later with its red-walled interior restored in all its kitschy glory.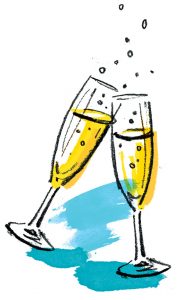 COMING SOON
It's a big year for ribbon cuttings along 30A. Scheduled to open this summer, 75-room Camp Creek Inn on WaterSound's private Camp Creek Golf Course has the area abuzz. It will feature two private restaurants, a golf academy, pickleball courts, and the largest wellness and fitness facilities on 30A. Over in Seagrove, the Lodge 30A will also open this summer, offering some of the area's most affordable rooms (starting at $229 a night). Take a dip in the on-site hotel pool, or drive five minutes to WaterSound Beach Club, where you'll have access to amenities like poolside dining and a private beach. Adjacent to the lodge, the new Greenway Station development will introduce a little bit of everything throughout the year, from Wild Olives Tapas and Wine Bar to YOLO Board & Bike. And later this spring in Seaside, Daytrader Tiki Bar will take over the former Bud & Alley's Pizza Bar space, serving sophisticated cocktails and bites in a leafy, Polynesian-themed space.
CHEF SPOTLIGHT
Gallion's
Keeley Wiggins
Signature dish: Grilled Gulf grouper with sundried tomatoes and pineapple beurre blanc
Chef Keeley Wiggins does not hold back in the kitchen. To her, "cooking steaks" means selecting bone-in 30-day dry-aged rib eyes, rubbing them with black garlic before grilling them, and topping them with her own Roquefort compound butter and veal jus. She makes all her ice creams from scratch, and her bourbon-pecan flavor is strong enough to get you pleasantly buzzed (it's only served to diners 21 and older). She whips up every sauce on the menu and churns her own butters; absolutely nothing comes from a box. "I cook with boldness," she says. "It suits my personality." Wiggins grew up in the 30A area, attending Fort Walton Beach High School. After learning classical French culinary techniques at Le Cordon Bleu, she sold all her possessions and moved to Europe, hopping from Barcelona to Paris to Rome. ("It was such a great experience—I learned a lot about the food," she says.) When she returned stateside, she settled in Chicago and became a private chef. It wasn't until she was offered the chance to open Gallion's in Rosemary Beach that she realized she was ready to return home. "This restaurant gives me the platform to showcase my culinary experience and also be back in the area I love," she says. "I'm out here kicking butt."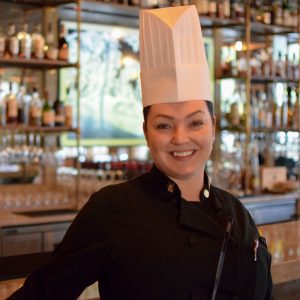 ________________________________________________________
This article appears in the Spring/Summer 2023 issue of Southbound.