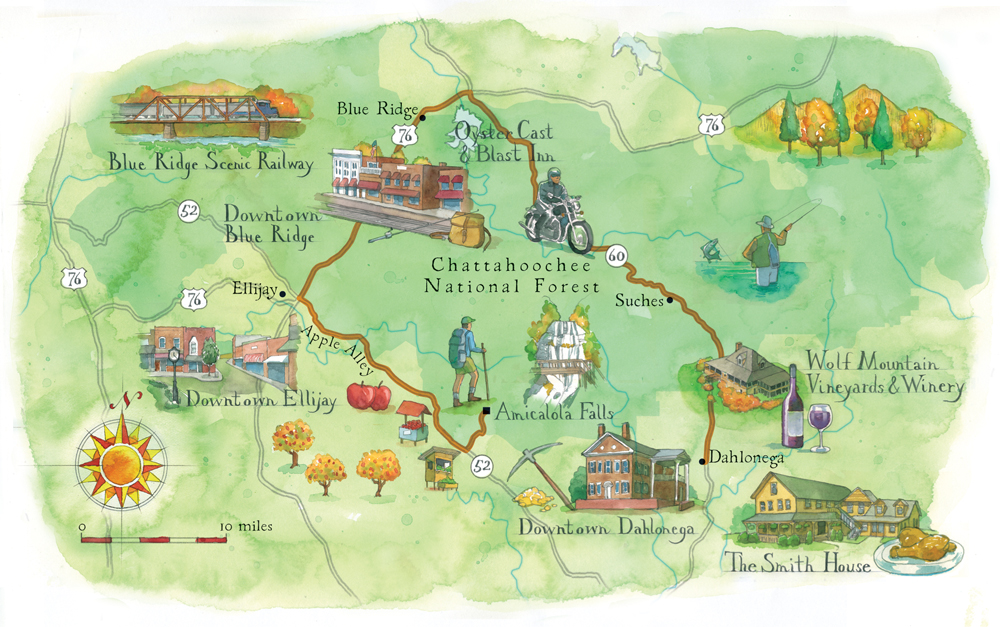 The mountains of north Georgia were the site of America's first major gold strike. In 1829, treasure seekers flooded into the area surrounding Dahlonega, hoping to make their fortunes. Today, people continue to be drawn to the Southern Appalachians, as the mountains offer up new riches.
Terraced vineyards ring many of Dahlonega's peaks, and the area is regarded as the heart of Georgia's wine country. Moving west, vineyards give way to apple orchards, with apple houses dotting a stretch of Georgia Highway 52, aka Apple Alley, which rolls into Ellijay. During the second and third weekends of October, the small town plays host to the Georgia Apple Festival, which draws thousands of visitors to Gilmer County, the Apple Capital of Georgia.
To the north lies the town of Blue Ridge, the Trout Fishing Capital of Georgia. Fittingly, it's home to Oyster Fine Bamboo Fly Rods, one of the world's premier fly-rod studios. The Chattahoochee Forest National Fish Hatchery—open to visitors—is located in nearby Suches.
As you travel from town to town through the Chattahoochee National Forest, you'll also be treated to some of the finest fall color in the nation. The seasonal show attracts motorists and bikers and teems with hikers, many of whom are wrapping up months-long hikes at Springer Mountain, the southern terminus of the Appalachian Trail.
The Smith House
In 1922, Henry and Bessie Smith purchased the property just steps from Dahlonega's public square and opened a boardinghouse. Word soon spread of Bessie's buttermilk fried chicken, country ham, and garden-fresh vegetables, and crowds have been packing the dining room's long communal tables ever since. In addition to legendary family-style meals, guests will find beautifully appointed rooms and a newly rediscovered mine shaft just steps from the dining room. smithhouse.com
Downtown Dahlonega
Learn about America's first major gold rush at the Dahlonega Gold Museum, located in the historic county courthouse on the square. Discover gold pans, tin signs, and other treasures at the Dahlonega General Store, and pick up a treat at Paul Thomas Chocolates or Outlaw Jerky & Trail Grub. Then hit the city's welcome center and purchase a Wine Walk Passport, good for four tastings of Dahlonega's "liquid gold" at each of four downtown tasting rooms. dahlonega.org
Wolf Mountain Vineyards
One of five Dahlonega wineries, Wolf Mountain has distinguished itself with its production of fine European-style wines, winning more than 100 medals in major competitions and earning the distinction of producing the first Georgia wine poured at the James Beard House in New York. Plan on lunch or a themed Sunday brunch (November spotlights red wine and wild game) at the Vineyard Cafe, renowned for its stunning views. Then join one of the winemakers for a vine-to-bottle tour of the mountaintop operation. wolfmountainvineyards.com
Cast & Blast Inn
While most of the world's top makers of fly-fishing rods zealously guard their secrets, William "Bill" Oyster, whose rods have graced the grips of anglers including former president Jimmy Carter, welcomes students from around the country to his Blue Ridge studio for weeklong classes. Many stay in the new inn, situated above the Oyster Fine Bamboo Fly Rods workshop, and leave with a rod they crafted with their own hands. When school's not in session, Oyster and his wife, Shannen, open the smart little downtown inn to the public. oysterbamboo.com
Downtown Blue Ridge
Founded in 1886 when the railroad came to Fannin County (dubbed the Switzerland of the South), this idyllic mountain town once welcomed visitors drawn to the area's pure mineral springs. Today, it remains a favorite high-altitude escape. Start the day with breakfast at L&L Beanery, situated in the historic bank building, and then check out the dozens of specialty shops, boutiques, and galleries along Main Street. For dinner, snag a table at Harvest on Main and order the locally sourced, pecan-crusted rainbow trout. blueridgemountains.com
Blue Ridge Scenic Railway
No visit to Blue Ridge would be complete without a ride on the Blue Ridge Scenic Railway. Board the train at the century-old depot in the heart of town for the four-hour round-trip excursion along the Toccoa River. Whether you opt for climate-controlled or open-air cars, you'll be treated to spectacular scenery and a history of the railroad. Fall foliage excursions are offered daily during October and on weekends through mid-November. brscenic.com
Downtown Ellijay
Home to the Georgia Apple Festival, Ellijay rolls out the red (and green!) carpet the second and third weekends in October in celebration of the fruit we love to the core. In addition to the requisite parade, beauty pageant, and vintage car show, attendees will enjoy demonstrations by scores of craftspeople and an array of apple confections. More sweet finds await at a trio of area antique shops: Antiques on North Main, known for its fine English china; Southern Flare Antiques, filled with wood furniture; and Black Bear Antiques, with unique decorative items, such as deer-antler wall art and vintage fishing rods. georgiaapplefestival.org, gilmerchamber.com 
Apple Alley
This ten-mile stretch of Georgia Highway 52 extending east from Ellijay is home to seven of the town's eleven apple houses. Make a day of it and hit several. Indulge in fried pies, fritters, and cider slushies at R&A Orchards, then load up on applesauce, pecan-apple butter, Dutch apple preserves, and apple chutney at Aaron Family Orchards. Pick a basket or a bushel of Arkansas Blacks or Granny Smiths at B.J. Reece Orchards. Finally, get in on the family fun—pig races, wagon rides, live music, and a petting farm—during Hillcrest Orchards' season-long Apple Pickin' Jubilee. Download a map at georgiaapplefestival.org
Amicalola Falls State Park
At 729 feet, Amicalola Falls is the tallest waterfall in the South. Visitors may view the tumbling waters from walkways and observation areas at the base of the falls or hike the somewhat challenging series of paths and staircases to the crest of the cascade. Overnight guests may stay in the impressive mountaintop lodge or make the five-mile trek to Len Foote Hike Inn, Georgia's only backcountry lodge and a popular stop for hikers on the nearby Appalachian Trail. gastateparks.org/amicalolafalls