The Ace Hotel New Orleans is cooler than I am. For starters, I'm holding the most out-of-place object in the room: Mardi Gras beads from the airport. As I stash them, I take in my surroundings. The 1928 Art Deco building, formerly a furniture store, looks exactly like an Ace Hotel should: urban and upscale, yet distinctly local. (Case in point, at the front desk, you'll find a mural by third-generation New Orleans Opera House set painter Nathan Arthur.) The boutique hotel brand—with locations in major cities around the world—prides itself on reimagining old properties as hip reflections of their hometowns.
Open one year, this 234-room hotspot in New Orleans's burgeoning Warehouse District exudes a Southern Gothic vibe. The lobby, original terrazzo floors intact, is somehow both moody and inviting. Here, artfully mismatched furniture in hues of tan and green mingles with a hodgepodge of decorative lamps, their bases covered in shells or carved into root-like twists. A sleek bar draws steady crowds of guests and passersby.
My room echoes the entryway's color palette and dichotomy. The light-gray industrial space is warmed by thoughtful touches: a fully stocked, pea green Smeg refrigerator, soft French terry robes, and the jewel, an armoire hand painted with Louisiana landscapes.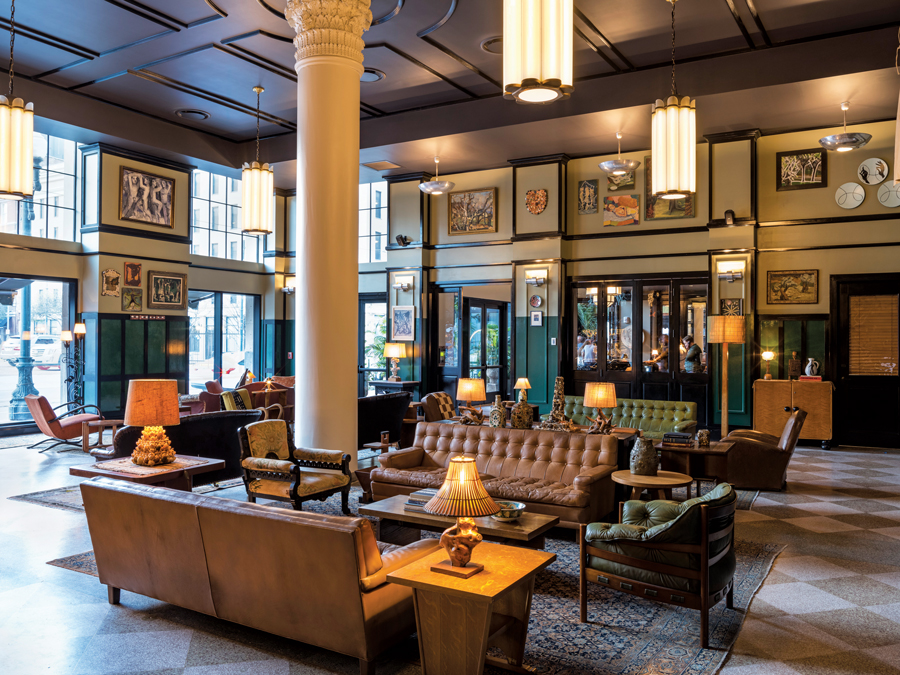 After freshening up, I head for a pre-dinner cocktail at Alto, the rooftop garden and pool. Nine stories up, the bustling tiki bar overlooks the entire Warehouse District. In the nineteenth century, this was an industrial area used to store the grain, coffee, and produce that passed through the Port of New Orleans, but today it's a hub for art galleries and museums. The cityscape is familiar—in many respects, it looks like every other American downtown—but a smattering of old-time government buildings and city squares help it still feel like New Orleans.
By the time I leave Alto, both the roof and lobby bars are buzzing. A laughing couple emerges from a silver photo booth by the elevator, and well-dressed thirty-somethings mill about in the in-house art gallery. I walk next door to oysters-and-cocktails venture Seaworthy, one of two Ace restaurants. Set up in a historic townhome, the restaurant is a study in intimacy. Mottled walls, worn wood floors, and industrial lighting make the room feel cozy, and my cafe-style table next to a mantel covered in melted candles is just large enough for two. My server helps me, an oyster novice, navigate the menu, which is divided by East, West, and Gulf coasts. I order some from each, and when they arrive, she returns to talk me through their subtle differences.
That she's so engaged in my experience seems to be an Ace marker; the brand could take the old adage "God is in the details" as its motto. I leave satisfied, if a bit drowsy from wine and travel. Thinking I'll tuck in early, I scoot through the lobby, where the doors to Ace's music venue, Three Keys, have been thrown open and an accordion's gypsy melody bellows. Upstairs, I find two fresh-baked cookies on the minibar, along with a note that reads, "Laissez les bon temps rouler!" Perhaps I could go downstairs for one more drink.
600 Carondelet Street, New Orleans, Louisiana • (504) 900-1180 • acehotel.com/neworleans
While You're There
Dais of Yore
After Hurricane Katrina ravaged the Orpheum Theater, the vaudeville darling needed a thirteen-million-dollar renovation to restore its century-old splendor. Now home to the Louisiana Philharmonic Orchestra, the 1,460-seat, Beaux Arts–style venue hosts a full calendar of concerts, film screenings, even the occasional movie premiere (such as the one for Deepwater Horizon). And with 2017 comes a new addition: The Orpheum will open a basement speakeasy in the same spot where, in the days before air conditioning, ice blocks once cooled theatergoers above. orpheumnola.com
To Market, To Market
Every Saturday morning, a veritable gumbo of farmers, bakers, cheesemongers, and chefs gather at Carondelet and Julia streets for the Crescent City Farmers Market. Snag a savory tomato-and-Parmesan puff pastry from Rivista Bakery, or take home a jar of Lilly Jane's seasonal preserves. Note to caffeine addicts: Coffee is available at the welcome tent. crescentcityfarmersmarket.org