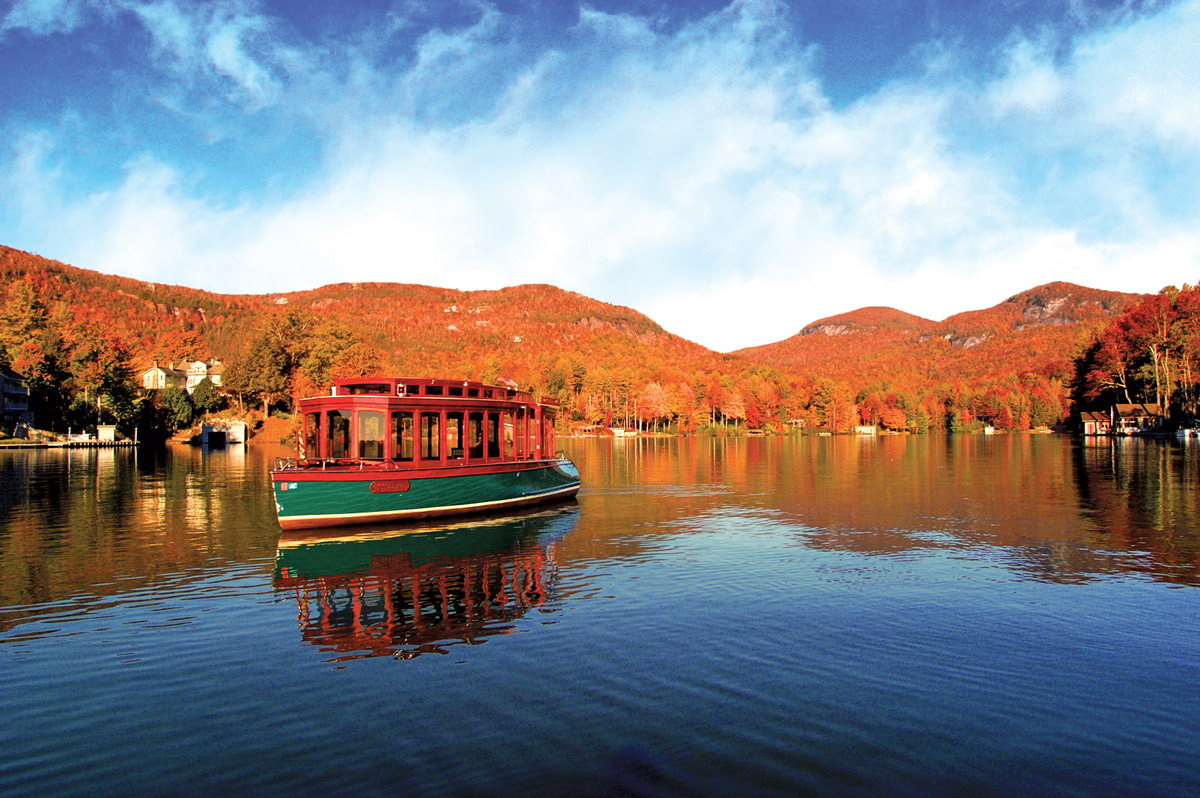 As we descend the narrow, stone-lined path down the hillside leading to the boathouse, raindrops begin to fall. Our group continues on, climbing aboard the polished mahogany Hacker-Craft called Miss Lucy for a sunset cruise. But less than three minutes into our trip, heavy rain pelts down and we return, resigned to wait until tomorrow. An inn employee rushes down the path with umbrellas, and we clamber up the hill for cocktails in the mansion instead.
Making the best of life's storms is something Lucy Camp Armstrong, for whom the boat is named, knew well. The Greystone Inn, situated on North Carolina's stunning Lake Toxaway, was once a private vacation home she shared with her shipping tycoon husband, George. Lucy had fallen in love with the area, petitioned George to build a home, and in 1915, Hillmont mansion was complete. It was a glittering time for Lake Toxaway, with the Vanderbilts, Rockefellers, and other industry titans also summering at the privately owned lake. But the good times didn't last: After a dam break and flood in 1916, the lake dried up and along with it, the local economy. Lucy continued to come every year and moved here permanently after George died in 1924. (She later married lumber magnate Carl Moltz.) In the early 1960s, developers rebuilt the dam and restored the waters, returning the lake to its original grandeur. After Lucy's death in 1970 and some years of disrepair, Hillmont was purchased and became The Greystone Inn in 1985. It recently reopened after changing ownership and undergoing extensive renovations.
It's no wonder Lucy was enchanted by this place. Often called "the Switzerland of America," 640-acre Lake Toxaway is surrounded by breathtaking mountains. The inn is situated on a peninsula and offers spectacular views best enjoyed from the Adirondack chairs dotting the sloping lawns and lush gardens.
The main house, called Moltz Mansion, includes an intimate restaurant and bar, a library with books and games, and antique-filled sitting areas. In an adjacent building, the Lakeside Dining Room offers floor-to-ceiling water views and deliciously prepared specialties, such as North Carolina trout and beef filet with wild mushrooms.
Guest rooms marry comfort and luxury, with soft bedding, spacious bathrooms with deep tubs, and nightly turndown service. Mine has a private porch with wicker furniture, where I sip my coffee each morning and watch the mist rise over the Blue Ridge Mountains.
After a morning massage in the cozy spa, lunch in the mansion bar, and an afternoon of canoeing and paddle boarding, we embark on the Miss Lucy once again. With late afternoon sunshine filtering through the trees and sparkling on the water, the boat glides out on the lake. It's breezy and peaceful. For all the hardship and change this area endured over the course of the last century, the calm waters are restored, and it seems blue skies are ahead.
220 Greystone Lane, Lake Toxaway, North Carolina • (828) 966-4700 • greystoneinn.com
While You're There
Fall leaves and waterfalls
Transylvania County boasts 250 waterfalls. In Panthertown Valley, School House Falls descends into a pool that's safe for swimming and wading. Nearby Whitewater Falls can be accessed via a family-friendly hike; the trailhead has a parking area with picnic tables and restrooms. wncwaterfalls.info
Book early
December 16 through February 28, Greystone guests may purchase a snowboarding package that includes a private snowboarding lesson and two full-day lift tickets for two at nearby Sapphire Valley ski resort. During Christmas, request a live, decorated Christmas tree for your room (additional fee), and treat the tots to an Elf Tuck-In with milk, cookies, and a bedtime story. greystoneinn.com/experience-enhancements
This article appears in our Fall/Winter 2018 issue of Southbound.